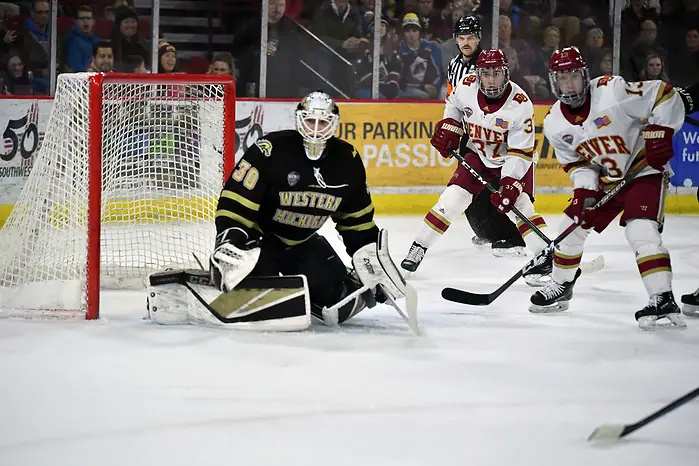 Western Michigan has been looking for a solid, defining performance. It came on Friday when they played No. 4 Denver.
The Broncos scored twice early – goals by Mattias Samuelsson and Ethan Frank in the opening period, and then relied on a solid defense, backboned by goaltender Brandon Bussi, to earn the upset victory, 2-1 over the Pioneers, in NCHC play.
Bussi stopped 13 in the first, 14 in the second and eight in the third to earn the win. After a 6-3 loss at home last Saturday vs. Omaha, the victory restores the winning ways for the Broncos who are now 5-1-1 in their last six, including a 3×3 overtime victory versus Colorado College.
Friday's game is the start of eight straight against teams currently ranked in the top 10 of the USCHO.com poll, including North Dakota (home), Notre Dame (home and home) and Minnesota Duluth (away).
No. 6 Penn State 5, No. 11 Ohio State 4
Just 44 seconds after the visiting Buckeyes seemingly made things a game, closing the lead to 3-2, a Liam Folkes goal extended host Penn State's lead to two goals and they survived a furious late rally, winning 5-4.
Sam Sternschein scored twice for Penn State, while goaltender Peyton Jones made 28 saves in earning the victory.
BFL line hard on the fore-check leading to a Liam Folkes tally!! #WeAre #HockeyValley pic.twitter.com/Ehz9zHQi4Z

— Penn State Men's Hockey (@PennStateMHKY) November 23, 2019
Sternschein's eventual game-winner was into an empty net, giving Penn State a 5-2 lead 2:15 left. But Ohio State refused to roll over.
Matthew Jennings and Tanner Laczynski scored 33 seconds apart in the closing minutes and had the final 53 seconds to try to get the equalizer, an effort that was unsuccessful.
Minnesota 4, No. 16 Wisconsin 1
In a solid bounce back victory after a weekend sweep at the hands of Penn State, Minnesota never trailed and skated to a 4-1 victory over No. 16 Wisconsin.
The Gophers distributed the scoring with four different players recording a goal and nine recording a single point.
This goal was anything but so so.

Better watch out when @jsoso4 is on clean up duty in front of the net. pic.twitter.com/hmu4GDXTK3

— Minnesota Men's Hockey (@GopherHockey) November 23, 2019
Jack LaFontaine started the game for Minnesota and made a season-high 34 saves before being replaced late in the game by Jared Moe. There wasn't an explanation on whether or not LaFontaine was injured.
Connecticut 3, Providence 3 (F/OT)
In a back and forth game, Connecticut's Carter Turnbull's goal at 2:04 of the third period leveled the game, as UConn and Providence skated to a 3-3 tie in Hartford, Conn.
Turnbull's goals was his second of the game. Tyce Thompson, whose brother Tage once played for UConn, led the offense for Providence with a goal and assist.
Tomas Vomacka made 36 saves for UConn, while Michael Lackey countered with 28 saves himself to earn the tie.
Tomas Vomacka with two fantastic stops, back-to-back, to keep this game tied at 3-3 #IceBus pic.twitter.com/ozkRpM1i0n

— UConn Men's Hockey (@UConnMHOC) November 23, 2019