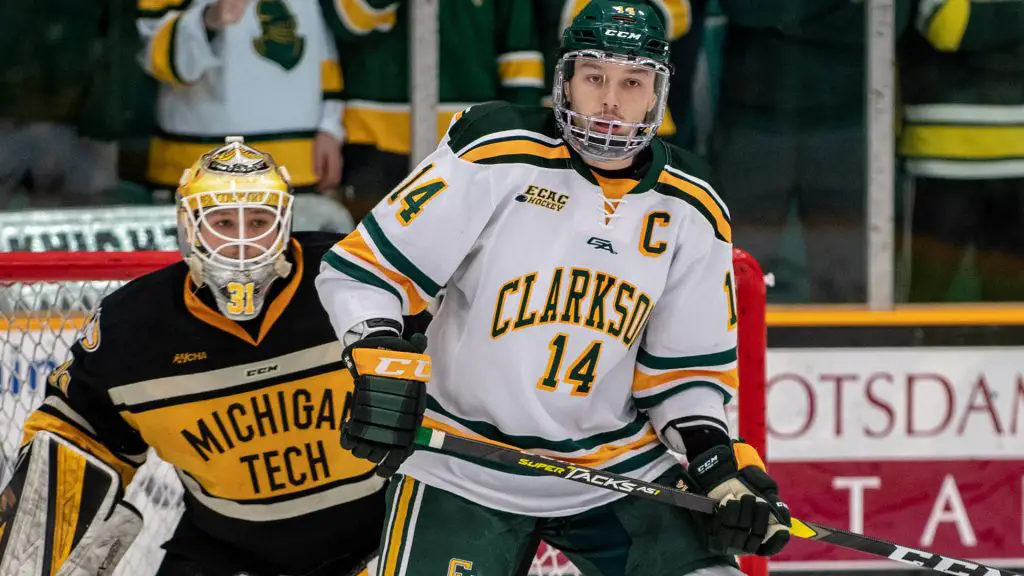 Seven different teams have won the ECAC Hockey playoff championship over the last ten years, but remaining competitive year in and year out is a feat that fewer teams have accomplished.
After a stretch of lean years and middle of the pack finishes, Clarkson has established itself as one of ECAC Hockey's perennial contenders.
The Golden Knights are on pace to make the NCAA tournament for the third straight year, which is the longest streak for the program since it made five straight appearances from 1994 to 1999. Prior to 2017, Clarkson hadn't made the national tournament or finished in the top four of the league since 2008.
The Golden Knights are having another strong season despite losing Hobey Baker finalist Nico Sturm and Mike Richter finalist Jake Kielly.
"We didn't lose a ton but we had some key pieces that we lost, some heavyweights there. We're trying to replace them with strength in numbers," Clarkson coach Casey Jones said.
Two transfer students have helped fill the vacancies left by Sturm and Kielly. Zach Tsekos (Sacred Heart) centers Clarkson's second line, while Frank Marotte (Robert Morris) has seamlessly replaced Kielly in net.
Marotte has a .938 save percentage and has played every minute in goal so far for Clarkson. That performance through the first half of the season has continued a trend of above average goaltending for Clarkson over recent seasons.
"We had good goaltending [in previous years], but we've had guys playing at the great level lately, which is the separating factor," Jones said. "When you have that, then you win some games when maybe your team is not playing their 'A' game. Those are valuable. Two or three wins can flip a season big time."
But competitive programs don't remain that way just by adding newcomers from outside the program. Internal development is an important component as well.
"I think sometimes the answer is always thought about in recruiting, and recruiting is absolutely paramount, but you need to have a development model that continues to trend in moving guys forward," Jones said. "Guys keep getting better and you see a little pull from within and you're not just looking for answers coming through the door.
"You've got a lot of answers that you can work with internally and hopefully, guys are buying in and being coachable to move their game forward."
One player who has continued to develop is sophomore Josh Dunne, who dealt with an injury last year but still finished with 14 goals. He's been ever better this season, leading the Golden Knights with seven goals while centering Clarkson's top line with Devin Brosseau and Haralds Egle.
"They're our go-to line," Jones said. "They've all got elements in their games that are difficult to defend, and cumulatively, they've been pretty special for us."
The Golden Knights' only conference loss came to undefeated Cornell at Lynah Rink two weeks ago. Clarkson ends its 2019 portion of the schedule by hosting St. Lawrence on Dec. 7 and then traveling to Michigan Tech on Dec. 13-14.
Bearing down
On Saturday, Brown scored more than one goal for the first time in three games, ending a three-game losing streak in the process with a 3-1 win over St. Lawrence.
"We've got to be able to bury our chances," Bears coach Brendan Whittet said. "[Friday] we had two two-on-ones with wide open nets and I think we missed the net on both of them. That's where we've just got to have a little bit of poise and the ability to bear down and put those pucks in. The margin between winning and losing becomes very hard when you score one goal."
Brown was 3-5 entering Tuesday's game at Bentley, its first non-conference game of the year. The Bears' eight league games are tied with travel partner Yale for the most in ECAC Hockey. Whittet knows that Brown, who made the league's championship weekend as a No. 8 seed last year, can ill afford to let crucial conference points slip away.
"Our aspiration is to be a home playoff team and our aspirations are also higher than that, to be a bye team and win championships," Whittet said. "It's not going to happen overnight. We've got to continue to focus and work."
Saints stalled
St. Lawrence will have to wait a little longer to play at Appleton Arena this season. The rink, which is in the midst of a major renovation, won't be ready to use until after the holiday break, the athletics department last announced last week on its Facebook page.
The Saints were set to play their first home games at Appleton at the end of November, but that is now pushed back to January. The women's team will host Clarkson on Jan. 18, while the men's team will host Brown on Jan. 31.
Until then, St. Lawrence will continue to play its home games at SUNY Canton.
Off to Ireland
For the fifth year in a row, two teams from ECAC Hockey will compete in the Friendship Four tournament in Belfast, Northern Ireland.
Colgate is making its second appearance in Belfast after playing in the first year of the tournament in 2015. The Raiders will face tournament newcomer Princeton in a non-conference game Friday, with the winner advancing to Saturday's championship.
"It's a great opportunity for us as a team to not only play internationally for the Belpot Cup but to be able to have a cultural experience in Belfast off the ice," said Princeton coach Ron Fogarty. "It will be an adventure that the players and staff will remember forever."
Both teams arrived in Ireland this week:
North Coast Tour:
Game of Thrones sites, Giant's Causeway, Royal Portrush Golf Course, Dark Hedges and more!
• • •
Check back tomorrow for the Sights & Sounds video from today's tour! #ncaahockey #cawlidgehawkey #friendshipfour #princeton #gameofthrones pic.twitter.com/fAgPgOVvrR

— Princeton University Hockey (@princetonhockey) November 26, 2019
Day one on the Emerald Isle ✅ pic.twitter.com/AjORETBogq

— Colgate Men's Hockey (@ColgateMIH) November 25, 2019
Quinnipiac will make a return trip to the Friendship Four in 2020 after losing in the tournament championship game in 2016. The Bobcats will be joined in Belfast by three Atlantic Hockey teams: Army, Mercyhurst, and Sacred Heart.
Dutchmen depart
Union will be down two players when the Dutchmen return from the school's trimester break next week.
Sophomore forwards Sam Morton and Lucas Breault have both left the program, according to the Schenectady Daily Gazette.
Morton had two goals and an assist in 13 games this season, while Breault had two assists in 12 games.
"It was their decision, and it's unfortunate, but we're moving on," Union coach Rick Bennett said to the Gazette. "The program wishes them well in the future."