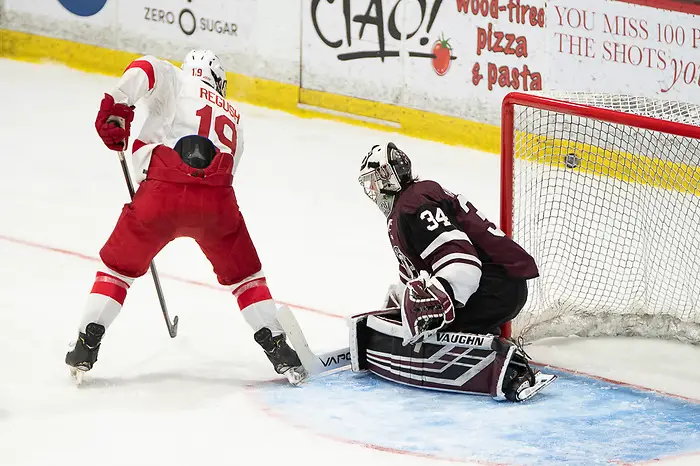 NEW YORK – Red Hot Hockey was all Big Red Saturday night.
Michael Regush and Brenden Locke scored 20 seconds apart in the second period and Matthew Galajda made 28 saves as Cornell blanked Boston University, 2-0, in the seventh biennial edition of the series in front of 15,142 at Madison Square Garden.
Sam Tucker stopped 26 shots for the Terriers (4-6-5).
After a scoreless first period, Regush took a feed from Yanni Kaldis in the right circle and beat Tucker to the goalie's left at 7:39 of the second for his fifth goal of the season. Morgan Barron also had an assist on the play.
Locke followed with his fourth of the year at 7:59, scoring from the high slot off passes from Ben Berard and Cam Donaldson.
Galajda's perfect night enabled the Big Red (9-0-0) to continue its perfect season. However, he was quick to give credit to his teammates on defense.
"They (BU) came out really strong in the first period and they had some chances, but it was about our defense," he said. "They (Cornell defense) kept them [BU] to the outside and were on them the whole game, and that's all you want from your team."
While Cornell coach Mike Schafer was pleased with the outcome, he felt that his team started slowly before picking up the pace.
"They (BU) have a skilled team, and you can't give them too much time and space to get up and get going," he said. "I thought we gave them way too much time and space in the first period, but we did much better with that in the second and third."
– Stuart Baron
Friendship Four championship game (Belfast, N.I.)
No. 12 Northeastern 4, Colgate 3
Northeastern mustered just three shots in the opening period of the Friendship Four championship game, but all three came in less than a minute and all three found the back of the net.
That was enough to pace the Huskies to a 4-3 victory over Colgate to capture the Belpot Trophy.
🔔@GoNUmhockey🙌 #FriendshipFour pic.twitter.com/xyV4saUr3e

— Friendship Four 🏒 (@Friendship_Four) November 30, 2019
Jayden Struble and Matt Demelis scored the game's first two goals at 7:43 and 7:55 of the first. Colgate's Liam Watson-Brawn was whistled for tripping at 8:30 and it took just eight seconds for Tyler Madden to extend the Northeastern lead to 3-0.
John Snodgrass drew the Red Raiders within a goal at 11:31 of the first and Ben Sharf's goal at the 1:00 mark of the second pulled Colgate closer at 3-2.
Neither team scored until Ryan Shea's shorthanded empty net goal with 56 seconds left and Bobby McMann's goal for Colgate with 18 seconds left that proved too little too late.
— Friendship Four 🏒 (@Friendship_Four) November 30, 2019
Northeastern takes home the championship in the fifth edition of the Friendship Four. It is the third title for a Hockey East school, following previous champions UMass Lowell and Vermont.
New Hampshire defeated Princeton, 3-2, in the tournament's third-place game.
Turkey Leg Classic championship game (Lowell, Mass.)
No. 15 UMass Lowell 3, No. 7 Penn State 2 (OT)
Chase Blackmun's power play goal with 2:17 left in overtime propelled 15th-ranked Lowell over No. 7 Penn State as the River Hawks captured the inaugural Turkey Leg Classic, a tournament co-hosted by Lowell and Merrimack.
We'd be lyin' if we said this game wasn't 🔥. B1G win over Penn St in OT to take home the hardware this weekend#UnitedInBlue #HockeyEast pic.twitter.com/8Nvwft96Dn

— UMass Lowell Hockey (@RiverHawkHockey) December 1, 2019
Penn State forced overtime with an extra-attacker power play goal with 23.3 seconds left in regulation. Nate Sucese deflected a puck that was originally ruled no-goal for a high stick, but allowed after video review.
Lowell never trailed in the game, jumping to a 1-0 lead on an Anthony Baxter goal with 18:14 of the first. Even Barrett evened things in the second on a 4-on-4 tally at 3:27. But less than two minute later, Andre Lee notched his fourth goal of the year to give Lowell a 2-1 lead.
The game remained that way through the final seconds of regulation, despite Penn State doubling up the River Hawks in shots, 36-18.
Tyler Wall stopped 34 shots to earn his ninth win of the year.
That Championship Feeling! Down goes No. 7 Penn State in the #TurkeyLegClassic title game! #UnitedInBlue #HockeyEast pic.twitter.com/N8L7QqpUU5

— UMass Lowell Hockey (@RiverHawkHockey) December 1, 2019
In the consolation game, Merrimack earned a 5-1 victory over RPI to earn third place in the tournament.
No. 16 Bowling Green 5, No. 5 Notre Dame 2
Cameron Wright's goal at 11:09 of the second period broke a 2-2 tie and No. 16 Bowling Green scored the game's final three goals as the Falcons completed the weekend sweep of the No. 5 Fighting Irish.
It was the first time Notre Dame has been swept since January 11-12, 2019, when Minnesota beat them twice.
Oh, how sweep it is.

Falcons defeat No. 5 Notre Dame, outscoring the Fighting Irish 10-4 on the weekend. SOG 35-27, BGSU. Your Falcons return home next weekend for a series vs. Alabama Huntsville. #AyZiggy // #StuffTheSlate pic.twitter.com/CMBiJy0A9u

— Bowling Green Hockey (@BGFalconHockey) December 1, 2019
Frederic Letourneau led the way offensively for the Falcons registering a goal and an assist. Eric Dop made 25 saves to earn the victory.
Quinnipiac 2, No. 10 Massachusetts 1
Quinnipiac rebounded from a home loss on Friday night to earn a weekend split with the 10th-ranked Minutemen, 2-1.
Nick Jermain's second period goal got the Bobcats on the board. Alex Whelan extended the lead at the 6:06 mark of the third.
Skyler Brind'Amour of Quinnipiac, son of @Canes Coach Rod Brind'Amour, with the nice feed to Alex Whelan who pots it for a 2-0 Bobcat lead in the 3rd period at UMass. #CawlidgeHawkey pic.twitter.com/4A2ITEX2f9

— Bucci Mane (@Buccigross) December 1, 2019
UMass made the game interesting in the closing minutes when John Leonard scored with an extra attacker with 2:29 left. But Quinnipiac netminder Keith Petruzzelli shut the door making 10 third period saves and 25 in the game to earn the victory.
No. 1 Minnesota State 3, No. 8 Minnesota Duluth 1
Top-ranked Minnesota State likes to be the team that delivers the punch. But on Saturday it proved it can throw quite a counterpunch.
Mavericks sweep Bulldogs in Duluth…closing it out with 3-1 win Saturday. pic.twitter.com/knV7GXYoI9

— Minnesota State Hockey (@MavHockey) December 1, 2019
After Justin Richards scored for host Minnesota Duluth at 7:23 of the third, Lucas Sowder's goal at 9:04 and Jake Jaremko's second goal of the game at 12:40 were enough to propel the Mavericks to a 3-1 victory, earning the weekend sweep of the defending national champions.
Dryden Mackay was stellar in net for Minnesota State, stopping 37 shots earning the win.