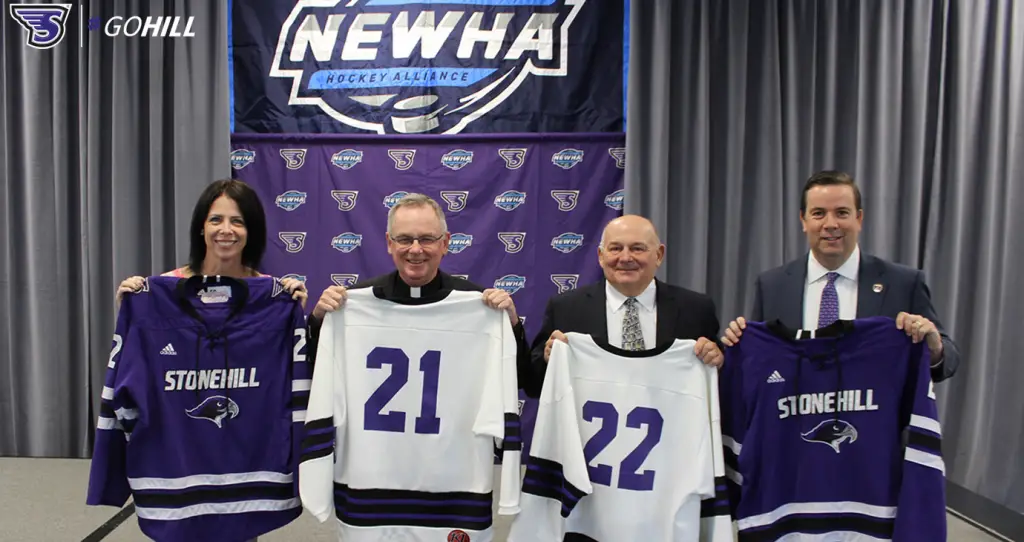 Stonehill College will add women's hockey as its 23rd varsity athletic program and has accepted an invitation to compete in the Division I New England Women's Hockey Alliance (NEWHA) when it starts with the 2021-22 academic year.
The announcement was made Monday by Stonehill president Fr. John Denning, NEWHA commissioner Bob DeGregorio, Stonehill director of athletics Dean O'Keefe and Stonehill vice president for student affairs Pauline Dobrowski inside the Sally Blair Ames Sports Complex.
"The addition of women's ice hockey will provide another compelling opportunity for student-athletes to pursue their passion through athletics and scholarship at the College," said Denning, who also serves on the NCAA Division II Presidents' Council. "We are pleased to join the NEWHA and look forward to introducing Stonehill and our mission to a new audience."
Stonehill will become the seventh member of the NEWHA, joining Franklin Pierce, Long Island, Post, Sacred Heart, St. Anselm and St. Michael's.
The NEWHA will be eligible for a bid to the NCAA tournament starting in 2022.
"We were excited to hear Stonehill College was adding a women's hockey program and happy that the Skyhawks had targeted the New England Women's Hockey Alliance for conference membership," said DeGregorio. "This is a great day for the NEWHA and for the sport of women's ice hockey. Their launch of a women's program will enhance the competition within our league and give a roadmap for other schools looking to offer women's ice hockey."
Stonehill will begin a search for the program's first head coach immediately to start preparations for the program's first season. The program will train and compete at the Bridgewater Ice Arena, a dual ice surface facility located in Bridgewater, Mass.
"This is an exciting day for Stonehill College as we officially begin preparing for the Skyhawks to take the ice in the fall of 2021, and we are eager to join our fellow NEWHA members and compete at the highest level of women's collegiate ice hockey," said O'Keefe. "The sport of ice hockey has a long and storied history in the Northeast, and we are thrilled to represent greater Boston and all of Massachusetts in the NEWHA as we look to help grow the sport of women's ice hockey."