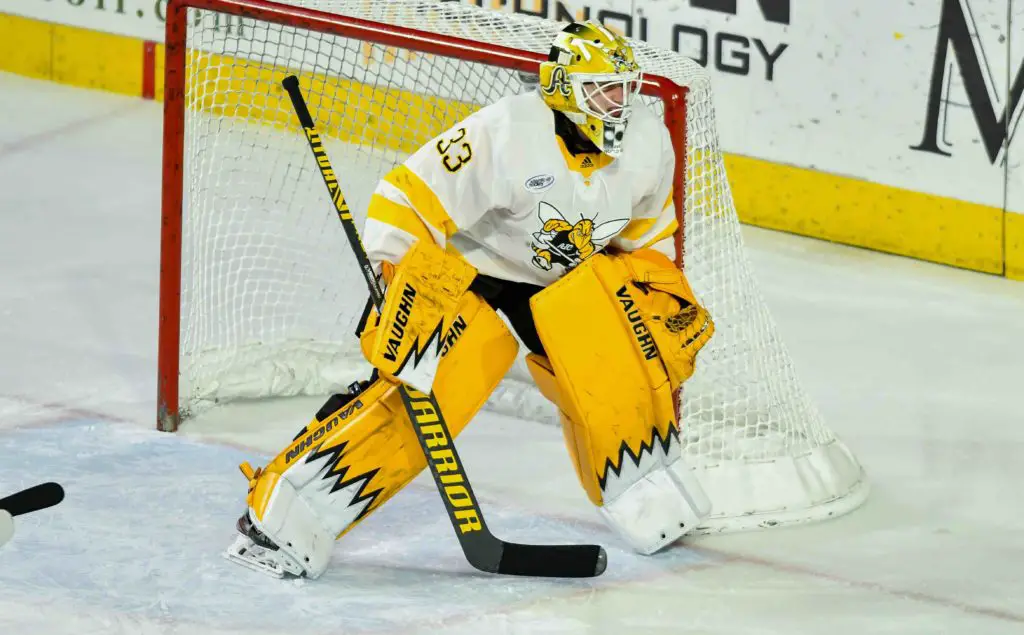 Last season was one for the record books at American International, which won its first ever regular-season and playoff titles.
Plenty of individual records were set as well, and that trend has continued into this season.
Last Saturday, AIC senior Zackarias Skog became the winningest goaltender in school history. His 34th career victory came in overtime, 3-2 against Canisius.
Twenty of those 34 wins came last season, also a record. Skog's final victory of 2018-19 was the biggest in AIC history, a 2-1 win over top-seeded St. Cloud in the first round of the NCAA tournament.
Skog's road to AIC began in his hometown of Gothenburg, Sweden, and passed through Omaha, Neb., and the Lancers of the USHL.
That's where American International coach Eric Lang began to recruit Skog.
"It started with 'Langer,'"said Skog. "I didn't know about the program at first, but it was great for me to hear what he thought of me and about what he wanted to build (at AIC).
"He said the goal was to win a championship in three years, and that's what we did."
Lang was able to convince Skog, as well as fellow Swedes Hugo Reinhardt and Martin Mellberg, to come to a program that hadn't had a lot of success up until now.
"Part of the appeal to me was that I was going to play right away," said Skog, who appeared in 24 games his rookie season.
And it helped having other Swedes on the roster.
"Me and Hugo (Reinhardt) are from the same town," said Skog. "We were kind of a package deal. It's helped, being so far away from home, and adjusting to a new culture and a new school."
There are current five Swedes on the AIC roster, as well as players from the Czech Republic, Slovakia and Slovenia.
"It's a great group," said Skog. "We just work hard every day and try to get better every day."
That shows in Skog's numbers, which have gotten better every season. His GAA has gone from 3.05 his rookie year to 1.98 this season, while his save percentage has increased from .904 to .923.
"A big turning point for me was when (goaltending coach) Pat Tabb same in," said Skog. "He's been there for moral support and to help me with small things that lead to big improvements."
Skog was also especially prepared for his senior season thanks to time spent over the summer at the Chicago Blackhawks' development camp.
"It was such a good summer," he said. "It was nice to see how (the Blackhawks) do it, and to work with great people. It was great preparation for me coming into this season."
A potential professional career awaits Skog after his AIC career is over, but right now he's focused on the same goal as last season.
"I'm not looking out too far," he said. "I'm interested to see what will happened next year, but for now, I'm leaving that to my game. I play every night like it's my last game. I'm hungry for another (championship) and know how hard it was to get there.
"And how much fun it was to win it."
Extra time
There have been 63 Atlantic Hockey conference games played to date, and just six have needed the new, extended tiebreakers to setting things.
So far:
– Nine games in all have been tied after 60 minutes.
– Three of those were settled in the five minute overtime, and went into the books as three point victories for the winners.
– Six games were still tied at the end of the first overtime and are recognized as ties by the NCAA.
– Of those six, four were settled in a three-on-three overtime, and two needed a shootout to award the extra point.
Additionally:
– Air Force hasn't lost under the new format, winning twice in three-on-three scenarios (Nov. 23 vs. Robert Morris and Nov. 30 vs. Niagara) and once in a shootout (Holy Cross on Dec. 7). But the Falcons did lose a five-on-five overtime (to Niagara on Nov. 29).
– RIT is 0-2 using the new format, losing in the three-on-three (Niagara, Nov. 8) and shootout (Holy Cross, Nov. 2).
– Holy Cross has participated in the only two shootouts in the league to date, winning one (RIT on Nov. 2) and losing one (Air Force on Dec. 7).
– Sacred Heart and Army West Point are the only AHA teams to not need overtime of any kind in conference play to date.
Milestones
Friday's 7-2 win by Air Force over Holy Cross was coach Frank Serratore's 400th behind the Air Force bench and 449th overall, including his time at Denver (1990-94).
Serratore is among eight active Division I coaches with 400 wins or more, led by Boston College's Jerry York (1078). Mercyhurst's Rick Gotkin is also on the list, currently with 563 wins.
Rochester Institute of Technology head coach Wayne Wilson is the closest AHA coach to the 400 win threshold, currently at 373.
Looking ahead
There are just two series in Atlantic Hockey this weekend, but both are intriguing.
Niagara at American International – Niagara seems to have found its groove. After opening the season 0-8-1, the Purple Eagles are undefeated in their last five. AIC is also playing well, winners of four of its last five with a Tuesday game at Princeton setting the table for this weekend's conference series.
Army West Point at Robert Morris – Neither of these teams were picked to finish near the top of the Atlantic Hockey standings, but going into the semester break the Black Knights and Colonials are in second and third place, respectively.