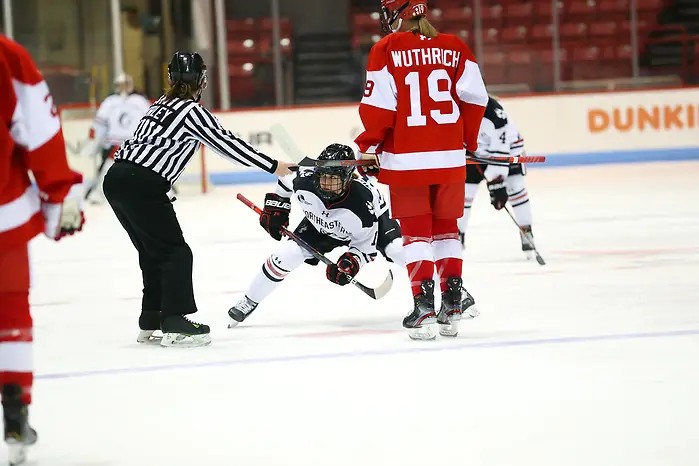 Arlan: While there are still a dozen games on the schedule for this coming weekend that involve teams that compete for the National Collegiate crown, most squads have started their holiday break. Being mindful that there are still those games on the horizon, including a high-profile series where Ohio State and Princeton clash in Las Vegas, let's take a quick glance at all of our teams and conferences headed into the break.
Nicole: Though it's not technically the halfway point, most everyone refers to before the winter break as the first half, so this is as good a time as any to take a big picture look at the teams and conferences and see how things are shaping up heading down the stretch. We start with NEWHA, the CHA and Hockey East today, and we'll take on ECAC and WCHA in the next Wednesday Women column. Teams are listed in reverse order of the current conference standings. 
Arlan: I'm particularly guilty of not paying enough attention to the New England Women's Hockey Association. In the interest of full disclosure, I've never watched any of these teams play, even via an Internet stream.
Nicole: With few teams offering streams, it's not easy to get in a lot of screen time with these teams. I try to follow along on Twitter and via recaps, but it's obviously not the same thing as getting to watch the games. We didn't theme this around the holidays, but I'll go ahead and say my resolution is to watch more NEWHA games in the second half. 
Post 
Arlan: In order to offer an opinion on the Eagles, it is important to remember where they started.  Heath Isaacson's team only debuted in 2016-17, with an undersized roster where only 13 players saw game action, and three of those were goaltenders. Playing mostly Division III squads, the dearth of skaters likely played a big part in dooming Post to its 0-23 record that season while getting outscored 176 to 9. So while the Eagles sit at the bottom of the NEWHA with just one league win, there are positives to take away from a 5-2 mark out of conference and a roster that has seen 20 skaters compete for Post this campaign.
Nicole: You make some great points and in that context, it's hard not to be excited about what can come next for Post. They've actually been better on the road then they are at home. Freshman Jenna Abeyta is leading the team in points while playing at both offense and defense. She's showing a ton of potential early on and seems like the kind of player they can build around. 
Saint Michael's 
Arlan: It's a little harder to find a silver lining for the Purple Knights, a team that has been competing for a couple of decades. Saint Michael's has two conference wins, but is 0-3-1 against its D-III opponents. I guess the tie with undefeated Colby would qualify as the bright spot.
Nicole: Every team needs somewhere to build from and that series could be a big turning point for this team. Goalie Veka Simons made 98 saves on the weekend against a very good team. We're trying to look big picture here, but that's not a great look for the Purple Knights, so I think it's ok to find the small wins and hope those can be a springboard to something better this season. 
Long Island University 
Arlan: I'm not sure that we could ask a whole lot more of the Sharks. Yes, they've been slapped around a bit when they've ventured out of conference, but at least they've made the effort to take on D-I opponents. It will be interesting when LIU travels to RIT on Saturday and Sunday to see if there is evidence of improvement over the first couple of months. In league play, the Sharks are a very respectable 5-3, and are in the hunt for a finish in the top half of the NEWHA.
Nicole: I agree with that sentiment. On top of being a brand new program, they had school upheaval and shuffled campuses. it's been a long and steep learning curve and LIU has handled it with aplomb. On a personal note, I've loved how enthusiastic and involved they are on social media and getting themselves out there. It's not easy to carve out a spot in this landscape and I think they're doing a great job. 
Sacred Heart
Arlan: After a number of years of being perhaps the worst team in D-I, the Pioneers have strung together three straight winning seasons. They currently sit at .500, but with their toughest games behind them look well-positioned to extend that streak to four.
Nicole: I feel like Sacred Heart are the case study for why NEWHA is a necessary and good thing for collegiate women's hockey. I admittedly was unsure and even skeptical about expansion, but teams like Sacred Heart needed a home. Competing in NEWHA gives them a chance to grow and improve and reframes their story from worst team in DI to contender for a conference title and an NCAA bid.
Franklin Pierce 
Arlan: The Ravens are definitely in contention for the league title, but if they fall short, a couple of games could come back to haunt them, an overtime loss at Saint Anselm and falling behind by 6-0 in a 7-3 upset at the hands of LIU.
Nicole: It's probably not a great sign when your leading scorer is a defender, but Haley Prentiss lead the league in blue liner scoring last year and she Haley Parker combined account for 42 of the team's points. The Ravens are second in the nation, scoring 4.07 goals per game. They had their second-ever 20-win season last year and are decently aligned to repeat the feat. This team didn't exist eight seasons ago and this year became a Division I program, which is pretty amazing. The look like they'll be in the finals again and it would be cool to see them take that final step.
Saint Anselm 
Arlan: The Hawks went undefeated in conquering the NEWHA a year ago. They lead again, but it hasn't been a cakewalk. If they fall short, they'll likely lament dropping consecutive 2-1 decisions on home ice to Sacred Heart.
Nicole: It sure seems like this is their conference to lose again this season. I really like – and impressed by – the coaching staff at Saint Anselm. Kerstin Matthews has been stellar in her time at the helm of the Hawks – she has 200 career victories and she led the program to their 300th win. In addition, adding Kayla Meneghin was a coup, in my opinion.
Arlan: Switching over to College Hockey America, where only 30 percent of the conference schedule has been played, Mercyhurst and Robert Morris share the lead with Syracuse a point back.
Nicole: I thought we'd see a bit more shake up in the CHA this year, but it looks like we're back to status quo with Mercyhurst and Robert Morris. That being said, it can be difficult to see growth on a year to year basis, but there has been some big changes in this conference. When I first started covering women's hockey as a national writer, it was Mercyhurst and no one else close. There was a time not long ago where we wondered if Robert Morris were a one and done program at the top and they've proven that's not the case. Syracuse made their first foray to the top and likely won't return this year, but three different conference winners in the past four years is pretty good in terms of growth and parity. 
Lindenwood 
Arlan: In her first season with the Lions, Shelley Looney likely didn't expect to learn that three goaltenders weren't sufficient to get through the first half of the season. Personally, I'd have been tempted to sneak assistant coach Nicole Hensley out there with junior Lauren Hennessey, and sophomores Annika Asplundh and Sophie Wolf unavailable. Looney has pursued more legal options, as forwards Cierra Paisley and Madilynn Hickey have each taken the goaltending position for a game, and senior Mackenzie Litterst has joined the roster. Unfortunately for Lindenwood, it is one of the teams that still has a couple of games remaining before the break.
Nicole: The Lions awful luck with injuries is so frustrating and heartbreaking to watch, so I can only imagine what it's like in their locker room. Bless those players for stepping up and this team for continuing to head out and fight every game. At this point I assume we'll chalk this up to a blown season, but I sincerely hope there aren't lasting effects for this team. I really loved Looney's attitude when I talked to her earlier in the year and I think she can make big things happen at Lindenwood. 
RIT 
Arlan: The Tigers won 12 games last year in their first season under Chad Davis, an increase of eight over the previous campaign and their best mark since reaching the NCAA Tournament in 2015. While RIT is lagging behind that pace with only four victories thus far, it has some winnable games on the horizon. The Tigers' scoring is up a bit this year, but they'll need to reign in the goals against in order to reach 12 wins again.
Nicole: We've seen teams be able to buckle down on defense, but not find a way to score goals, so in terms of being able to continue to build and improve, I think the improved offense from the Tigers is a good sign. Their two leading scorers are underclassmen with rookie Rachel Goff leading the way. They have two blue liners in the conference top 10 for scoring and Ellie Larson and Logan Land are second and third in the conference, respectively, in blocks. It looks like a lot of pieces are there for the Tigers and they just need some time for them to all click together. 
Penn State 
Arlan: A year ago, the Nittany Lions performed noticeably better outside of the CHA. This year, they're a game under .500 both outside and inside the league and have had difficulty sustaining any momentum. One encouraging sign was active career goals leader Natalie Heising scoring three times to double her goal output for the season this past weekend. The team as a whole has won three of its last four games.
Nicole: This is one of those teams that I feel like I can't get a handle on. They have flashes where they show they might be capable of more, but every time I think a tie or a close game means they're on the precipice of more, they take a loss I didn't expect. They really have a gem in Chantal Burke in goal – she's allowing just 1.67 goals per game, which is good for 10th in the nation and her .932 save percentage is ninth in the country. Unfortunately for her, those numbers have only translated to a .577 win percentage. She needs some scoring support and the Nittany Lions have a roster that should be scoring more than they are.
Syracuse 
Arlan: After breaking through with their first CHA Championship in March, the Orange find themselves in the all-too-familiar position of chasing Mercyhurst and/or Robert Morris in the standings. Their first two league series out of the break are versus the Lakers and Colonials, offering an opportunity to improve their chances of backing that crown with a season title.
Nicole: It's been a rough go of it for the Orange thus far this season. They played a tough non-conference schedule, but were able to stay close to both Boston College and Northeastern, leading me to think they might be a team that could surprise folks, but that hasn't been the case. In the progression of things, I think Syracuse is where Robert Morris was about four or five years ago and still has a couple of seasons before they can put things together on the regular. 
Robert Morris 
Arlan: Led by senior Jaycee Gebhard, the leading points getter in the CHA and one of the top five in the country, the offense figures to be sufficient to emerge on top. The key figures to be the team defense, that has allowed 30 goals in the Colonials' six losses, but only 15 tallies in the other 12 games.
Nicole: The Colonials already had a pretty impressive and potent offense, and then they added Michaela Boyle and they'll be bringing in Kyleigh Hanzlik, who's transferring from Wisconsin. As you mentioned, they need to figure out how to improve on the blue line and in net, but time may be the only answer as they're splitting time with a freshman and a sophomore in net. They're hosting a tournament right after the New Year that's bringing Wisconsin, Northeastern and Colgate to Pittsburgh and I'll be interested to see how they fare. 
Mercyhurst 
Arlan: The Lakers are a veteran team up front, less so on the blue line, that ranks in the top 10 nationally in scoring offense and defense, power play, and penalty kill. While lacking the star power of its glory days, Mercyhurst figures to be a team that will be tough to put away come playoff time.
Nicole: You've often said you would never count Clarkson or Matt Desrosiers out come February and March and I feel that same way about Mercyhurst and Mike Sisti. I just don't think you can ever overlook them, regardless of head to head results or their record. I find myself coming back to the Lakers because I think Emma Nuutinen is consistently one of the most interesting players to watch. I love her style and how she moves on the ice. 
Arlan: Hockey East appears to be in the middle of late, outperforming the two leagues discussed above but trailing the ECAC and WCHA in producing contenders. HEA is still looking for its first NCAA Champion and hasn't advanced a team to the previous two Frozen Fours. On the bright side, the bottom half of the league has improved considerably in recent seasons.
Nicole: The gap between teams is so much smaller here, but it does mean the teams at the top of the league take more losses. I'd like to see more consistency from the teams at the top. You'd think the shrinking gap between the teams would help prepare Hockey East teams for playing outside the conference and in the NCAA tournament, but thus far that hasn't been the case. Until we see more depth – and the ability to play a full 60 against ECAC and WCHA teams (much of which has to do with fitness more than anything), I don't think we'll see a Hockey East national champion.
Merrimack 
Arlan: As other new programs have discovered, a veteran roster in year four means a return to inexperience in a team's fifth season. After achieving a program-best 16 wins last year, the young Warriors have triumphed only four times at the break. Merrimack outscored its opponents by 20 goals in aggregate last season, but is already 27 goals down this time.
Nicole: The reason they had a veteran roster in year four is because it was the team's first DI class. There's no avoiding that pitfall upon starting a program, but it's a drop off the team shouldn't have in the coming years as they stabilize and even out their recruiting classes. It was announced Tuesday the team will be hosting the Hockey East tournament, which should help bring some attention to the program. As hosts, it will be a shame if they don't qualify, but there's still time. Freshman Emma Gorski has been a great addition to the roster this year and shows that in the coming seasons, they'll have a great base to build from. 
Holy Cross 
Arlan: The Crusaders are one of the teams profiting from Merrimack's bevy of freshmen, sweeping all three of their head-to-head meetings by one-goal margins. If they want to move up another spot into a playoff position, they'll need to identify other victims. A year ago, Holy Cross had but one win, but it was over league champion Northeastern. An optimist would say that proves a team can earn points anywhere. A pessimist takes the position that it will now be more difficult to surprise opponents that are forewarned, as evidenced by the Huskies thumping Holy Cross by scores of 6-0, 11-0 and 7-0 this year. 
Nicole: It's hard to gauge the growth since it's at the expense of Merrimack, but I do think the wins are helpful in a ton of ways, from recruiting to the psychological boost the players get. I also really love the way the school went about their move to Division I. They needed veteran coach Peter Van Buskirk to guide them through the move, but he smartly had Katie Lachapelle in the wings, learning from his vast experience and ready to take over. She is, I think, going to do really great things. 
Maine 
Arlan: Do you know where the Black Bears are heading? I don't, and I doubt that they do either. They earned a tie on the road at Boston College, and split a series with Northeastern, also on the road, where they matched the defending champs goal for goal. On the other hand, Maine was the losing team in Merrimack's lone league win, and most recently, it was swept on home ice and passed in the standings by Vermont. Enough winnable games remain to allow the Black Bears to surge up the standings, provided that they can find a more consistent level. 
Nicole: No, I have no idea and it's one of the things that bothers me most week in and week out. I don't know why I'm so hung up on them, particularly, but darn it, I want them to figure it out. It feels – and maybe has felt for a year or two – that they've been on the edge of taking the next big step and becoming more of a player in the top tier of the league, but there's still a number of head-scratching losses that keep that from happening. It shouldn't be as frustrating as it is considering I have no personal stake in the Black Bears. 
Vermont 
Arlan: Prior to their sweep of Maine mentioned in the preceding paragraph, the Catamounts had lost five straight and had only one once since October. Is Vermont now healthy, or just healthier than Maine? Overall, UVM has a .500 record and has scored the same number of goals as it has allowed. I could see the Catamounts finishing anywhere from fifth to eighth, depending on their finishing kick.
Nicole: When we talk about the gap closing in Hockey East, for me a lot of that centers on Vermont and Maine. I see so much potential in both teams and that's probably why I get frustrated when it doesn't come to fruition. I also really love the way Richard Reichenbach and Jim Plumer approach coaching and their programs, so I think I'm just really rooting for them. But that's enough about Maine in Vermont's entry. The Catamounts have five ties and four one-goal losses. They are leaving so many points on the ice and they have to figure out how to close out those games. 
Providence 
Arlan: On one hand, sitting sixth has to be a bit disappointing for a Friars team that finished fourth a year ago. Conversely, they have a winning record in conference play, despite being minus four in goal differential. Considering that career scoring leader Maureen Murphy has missed seven games and Clare Minnerath ranks near the bottom in save percentage, the situation could easily be worse.
Nicole: I'm not sure what else they could ask for in the situation they're in. Despite a number of difficulties and setbacks, they're within striking distance of BU in third place and have a game in hand. It has to be frustrating, but they seem to be handling it as well as they can given the situation. Here's hoping for a healthier second half for them.
Connecticut 
Arlan: The Huskies have two-game series remaining against each of the bottom four teams in the league, so they figure to have a shot at improving on their fifth-place standing. Of course, the fastest way to advance is to defeat the teams above you. While UConn ranks eighth in scoring, its defense is third, so at a minimum, it should wind up with a winnable quarterfinal matchup.
Nicole: UConn has been fun to watch so far this season, and as you mention, have a favorable second-half schedule. Morgan Fisher has a 2.07 goals against average and gives them a chance to be in most games, which seems to have given them more confidence on offense. I feel like the Huskies are playing the season I had expected from Syracuse – loose and easy and with no expectations that allows them to be a little more reckless and a lot more dangerous. Just writing this makes me realize I'll have to write a column about the Huskies in the new year because I'm definitely interested in figuring out what changed and what's going so right for them this year. 
New Hampshire 
Arlan:  The Wildcats are tied with Boston University for third with 15 points. However, that is due in part to having played more games, as they are only sixth in Hockey East by winning percentage. The improvement over last year is thanks to goalie Ava Boutilier, who is third in both save percentage and goals against average.
Nicole: They're also averaging a half-goal more per game in team offense, taking advantage of the cushion that Boutilier gives them in the back. Their scoring is spread out among a number of players and they seem to be getting more of a team contribution. It's all the things you want to see as a coach or fan and I hope it means we continue to see growth – and winning – back at UNH.
Boston University 
Arlan: The Terriers trail BC by six points, but they have four games in hand and momentum on their side after sweeping the Eagles. Corinne Schroeder gives BU an advantage in net, and with Jesse Compher back on the ice, it's much better able to compete with its rival offensively.
Nicole: I'm so relieved to see Compher back on the ice for the Terriers. It's amazing what a different she makes for the team, not just because of her knack for finding the goal. The team attitude and dynamic is different with her on the ice. They did a great job of holding things together while she was out and it's left them in great position for the second half. 
Boston College 
Arlan: It's rather impressive that the Eagles are able to hold onto second place despite being rather mediocre in scoring defense, penalty kill, and power play. The offense has managed to score more frequently than everyone in HEA except Northeastern, despite the drain of talent over the offseason. The challenge will be to maintain that as the schedule stiffens, because half of BC's league wins are over Merrimack and Holy Cross.
Nicole: The Eagles have speed and there's something of a controlled recklessness to their style of play. There's something very freeing to being allowed to play like that. They're going to take chances and they often pay off, but I worry that style isn't one that can be sustained through the postseason or into the NCAA's, especially now that Wisconsin and Minnesota has both seen it. They suffered some injuries in the late part of the first half and will happily use the break to heal up and get some depth back to the roster, but they also need to be able to figure out how to weather a player missing a game or two. One thing I'd like to see them improve on is holding their level of play for a full 60 minutes. They can run and gun, but they faded in the third in both games I saw them play in person.  
Northeastern 
Arlan: The Huskies' lead over BC is just one point, but with three games in hand, they're in good shape as long as dropping games to big underdogs doesn't become a habit. Boasting the country's top scoring defense, NU has been able to shut down the offenses of its closest pursuers. The Huskies are well positioned to hold onto the league and a home-ice berth in the NCAA quarterfinals.
Nicole: While the Huskies certainly are no tortoise, I do feel like their motto is something akin to "slow and steady wins the race." They just continue to do what they do well and what worked last year and it has successfully put them atop the conference and it appears, in control of their destiny. I feel like I haven't talked about them much because they've done exactly what I've expected of them. Aerin Frankel is very good in net. Alina Mueller, Chloe Aurard and Skylar Fontaine are even better and seem to not have lost anything from last season. Freshman Katy Knoll is fourth on the team in scoring and slotting in nicely. Both their losses were eye-raising, but not alarming. They've just been steady and good, which doesn't make for good headlines, but does make for good hockey.