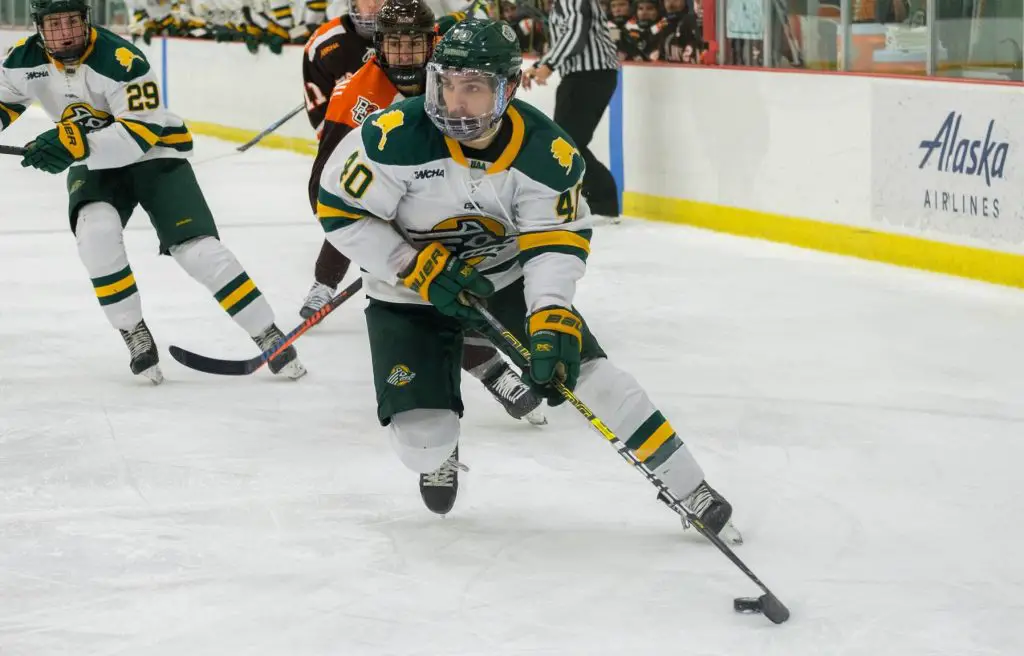 On April 6, 2018, the collective hockey world was shocked and saddened by an event that did not involve lacing up skates and knocking a little rubber disc around a sheet of ice.
Instead, it involved a semi-truck missing a stop sign and crashing into a junior team bus on their way to a playoff game.
When all was said and done, 16 people lost their lives and a further 13 suffered injuries from scrapes and bruises to life-threatening.
Alaska Anchorage freshman forward Brayden Camrud was among those who survived the harrowing experience. In the days that followed, Camrud attended funerals for teammates before trying to decide if hockey beyond the Humboldt Broncos would even be possible.
It took him about four months to figure out that he could still play the game at a high level. That ultimately led him back to Humboldt for another season.
As Camrud puts it, there was nowhere else he would rather have been.
"Well, after what happened, it had to be Humboldt," said Camrud. "Going back to a community who supported me for three years, the billet family had consistently been there for me, basically went through the accident with me, who's part of our organization, the billet family, all of the other parents, and my other teammate who came back with me, there's lots of obvious indicators that I needed to go back to Humboldt.
"I had other offers, but it wasn't a question."
Taking over as an alternate captain for the 2018-19 team, Camrud and his new teammates hit the ice for their first home game, a 2-1 loss to Nipawin. The Broncos would not get their first win since the accident until the third game of the season, a 2-0 victory over Notre Dame. Camrud scored in the game.
Unfortunately, it is not a moment he remembers well.
"My memory has kind of taken a bit of a toll after the accident," Camrud said. "I don't even really remember the TSN game (the first game of the season). (My memory) is a blank for most of it. I went back and rewatched it with some of my teammates and I don't even remember half the stuff that I did. I think that is just the way that it is. I probably can't even remember what I did a month ago on this day.
"I just kind of take it one step at a time. I'm sure that whatever game I scored in was a feel-good moment."
Camrud went on to score 27 goals and 55 points last season for the Broncos. He helped the team finish 35-19-3 overall, good for third in the Global Ag Risk Solutions Division of the Saskatchewan Junior Hockey League, earning a return trip to the playoffs.
Camrud drew the attention of Seawolves coach Matt Curley's staff during a showcase and in the latter stages of last season, they decided they needed a bit more speed and scoring touch in their incoming class.
"We're looking for a guy to add late in our recruiting class and Brayden was someone that Mark Fallon had seen earlier in the year at a showcase," said Curley. "We'd been tracking him, watching him, and he continued to do what he did.
"As we were looking around at our class, we're looking for a little speed and skill up front and he checked a lot of those boxes. Doing a lot of the recruiting, and dealing with his coaching staff and his family, we thought this can be a great fit for our program. He was looking for an opportunity and I think we provided a nice a nice one for him. So it was a good fit for both parties involved. We're really excited to have him."
In the recruiting process, Curley learned about Camrud and found that he had a player on his hands who had been through more than the average player, but also one who had risen to the challenge that followed.
"Certainly not an ideal way to finish your junior career," Curley said. "(It was) very unfair for him, but, you know, he handled it very well. He was really excited to be back playing that next season and having the opportunity to continue to play, especially back in Humboldt.
"He had a nice finish to his junior career and I'm sure he served as a mentor for those younger guys coming up through through his experiences. I think it's something that served him well while making the transition to the college game."
Camrud, a Saskatoon native, has seen action in 13 games already for the Seawolves. He picked up his first goal in his third career game, a 2-1 loss to Alaska.
"I just felt like all my hard work paid off," Camrud said. "I was so happy because I'm one of the first in my family and a long time to play such a high level of hockey and all I kept thinking about when I scored that goal was my parents, especially my dad. He's been the No. 1 guy in my life for hockey. He always pushed me. He kind of molded me into the player I am today.
"I got a text after the game that my mom had sent me and she said my dad jumped up and he was almost in tears. It made me really, really happy."
He picked up three assists before picking up his second goal Nov. 22 at Minnesota State in a 7-1 loss.
"That's why he was brought here," said Curley. "We told him, 'Hey, this is every bit of an opportunity for us to start moving forward as a program as it is for him to continue his collegiate career.' He's a heck of a player. He's got a great skill set. He's very smart. He plays with an edge, rides the rail. Sometimes he gets off track with his penalties, but it's part of the learning process as part of how he is as a player.
"He has a great ability to finish, to make plays, and he has been an extremely welcome addition to our program. (He) has done a real nice job this first half and (we're) hoping that he can use what he's done for this first half to continue in that second."
As one of the players able to continue his career after the tragedy, both the following season in juniors and now with the Seawolves, Curley and his staff have talked at length with Camrud about the burden the youngster carries into his college career.
"It's very unfair to wear that burden," said Curley. "We've talked with Brayden about this and he's understanding of the responsibility that he has, as a survivor of that tragedy and wearing what happened on his sleeve.
"He's very open about it. He he understands his role and what he means to the greater hockey community and what he carries. The weight of that is substantial. I find he does an excellent job with it, the way he represents himself and those that can no longer play. It's every day, just continue to move forward, and I think he's done a real good job with it."
Bliss taking next step
When Michigan Tech landed Trenton Bliss prior to the 2018-19 season, a lot of eyes opened up as to how he could affect the offense.
With just six goals and 15 points during his freshman campaign, he struggled to find his way.
As a sophomore, Bliss is finding his game. With points in four straight games, he has jumped into a tie for tops on the Huskies in scoring with 11 points through 17 games.
Bliss scored the game-winning goal in Michigan Tech's 4-1 win Saturday over Alaska Anchorage.
Charging back
After taking a 3-0 lead Friday night, Alabama Huntsville surrendered the game's next nine goals in a 9-3 loss.
Bowling Green's Alex Barber scored twice and added two assists for the Falcons to help lead the comeback.
Saturday, the Falcons took a 1-0 lead late in the first period before Jack Jeffers tied it up at the 19-minute mark. Christian Rajic then gave the Chargers their first lead of the night at 6:20 of the second period.
The Falcons battled back to even things on the power play late in the middle frame, before winning during the 3-on-3 overtime session.