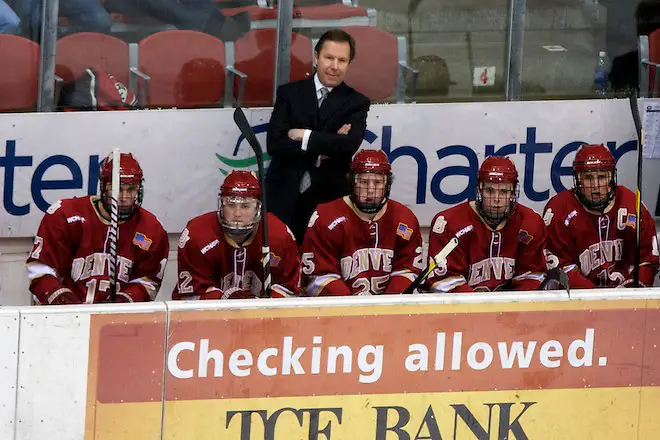 Denver has announced its inductees for the 2020 DU Athletic Hall of Fame class.
The 12 inductees will be honored on the DU campus May 16 during the university's alumni weekend.
Among the honorees is former Pioneers coach George Gwozdecky.
Gwozdecky guided the Pioneers to back-to-back national championships in 2004 and 2005, two of his 16 20-win seasons in his Denver career en-route to an overall record of 443-267-64 from 1994 to 2013.
His time as the Denver bench boss began in 1994 with a 25-15-2 mark, his first of a program-record 19 seasons as the head coach. Gwozdecky eclipsed 30 wins in a season twice, including 32 in his 2005 championship winning season.
Under Gwozdecky, the Pioneers solidified themselves as a perennial top-10 program, capturing three conference regular-season and four conference playoff titles to go with the two national titles during his tenure.
The two-time AHCA national coach of the year became the first person in NCAA history to win a national title as a player (with Wisconsin in 1977), assistant coach (Michigan State in 1986) and head coach (DU, 2004 and 2005).
He left Denver in 2013 to take an assistant coach's job with the Tampa Bay Lightning and is currently the head coach of Valor Christian High School in Colorado.