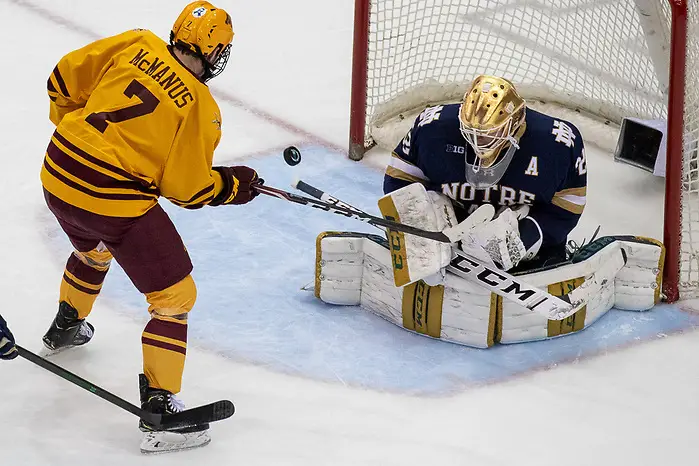 Each week during the season, we look at the big events and big games around Division I men's college hockey in Tuesday Morning Quarterback.
Paula: Jimmy, it's been a while since we've started with the poll, but it's hard to ignore how split voters are this week.
Cornell is the new No. 1 after a win over Rensselear and a tie against Union and North Dakota's split at home against Nebraska Omaha, a stumble that snapped a 13-game home win streak dating back to the end of last season and 15-game unbeaten streak.
It's clear the voters were torn, with Cornell receiving 21 votes for first place, North Dakota receiving 17 and now with Minnesota State picking up some esteem with 12 first-place votes. Considering that North Dakota had 46 votes for first last week with Cornell and Minnesota State each garnering two, I think that's a pretty interesting statement about the collective thought processes of poll voters.
Additionally, Denver's solo NCHC sweep this week moved the Pioneers up one spot in the polls ahead of Boston College. What do you make of all of this?
Jim: What I make of it is that right now we have a lot of very good teams but not one that currently stands out to the voters.
North Dakota was punished a bit for a bad loss, one in which the puck seemingly found the back of the net (six goals allowed on just 13 shots!) In my mind – and on my ballot – the Fighting Hawks are the best team, but I don't fault the voters for remaining so split.
It does prove how difficult it is to sweep a two-game weekend series at this point in the season. Certainly, voters might consider that, but you will also see teams that sweep being rewarded.
Paula: Speaking of sweeps, I am surprised to see Notre Dame still in the poll this week after their home sweep at the hands of Michigan. I mean no disrespect to either the Fighting Irish or the Wolverines when I say this as I know how good each program is, but Notre Dame is 2-8-2 in its last 12 games. If the poll is really a snapshot of the college hockey landscape right now – as it tends to be – I have a hard time voting the Irish ahead of each of the teams behind them in the poll.
No. 18 Michigan Tech lost to and tied with ranked Bowling Green, and the Huskies are 1-1-1 in since the start of the year against two ranked teams, including last week's split against Arizona State.
No. 19 Michigan State is ahead of Notre Dame in the Big Ten standings and has been for a while. The Spartans split with Minnesota, a team ahead of Michigan in the standings.
No. 20 Quinnipiac had a six-game winning streak snapped with Saturday night's loss to ranked Clarkson.
Again, this isn't to bash the Fighting Irish, but it's clear that Notre Dame is struggling. Last week, Jeff Jackson talked about his team needing to find some confidence offensively in front of Cale Morris, who also needs to find his stride. We've talked about this before, but this seems like Notre Dame still riding some reputation – and that's not necessarily a bad thing. Maybe voters are waiting for the Irish to prove outright that this is an atypical year.
Jim: Notre Dame continues to be a head-shaker for me. Not just for the fact that they are ranked either.
This team seems like somehow it has lost its confidence. They aren't scoring goals right now, aren't able to finish chances and they are spending SO much time chasing the game, which has never been a strong formula for a Jeff Jackson coached team.
I do think that there is still hope for the Irish. They are still middle of the pack in the Big Ten and just one weekend sweep away from moving up further. And Notre Dame teams have always been strong postseason teams. So if you put the Irish in a position to win a few games to win the conference tournament, I would never picks against Jeff Jackson in game-planning and motivating his club.
Paula: Jeff Jackson is a coach that I would never underestimate, ever. His ability to develop talent is amply evident, and anyone who's ever dealt with him knows what a sincere, intelligent guy he is. And as someone who covers the Big Ten, I have hope for the Irish as well.
Confidence is a tricky thing. In 2016-17, we watched Penn State power through its mostly nonconference first half to wind up 13-1-1 at midseason and gain a lot of confidence that helped the Nittany Lions weather a really rough second half of Big Ten play. When it came to tournament time, Penn State believed in itself enough to earn a Big Ten playoff championship title, and the Nittany Lions haven't looked back once since then.
Look at Boston College. After a rocky October, the Eagles have barely stumbled, displaying the kind of confidence that comes from being part of a long-standing winning tradition. Two-time defending national champion Minnesota Duluth has recovered from a rough start to the year and Denver is climbing up the standings. Honestly, any number of teams in the NCHC and Hockey East at this point can point to traditions of winning that are difficult to maintain but that benefit their programs as a sort of institutional muscle memory.
That's one of the things that so exciting about watching improvement in both Atlantic Hockey and the WCHA, especially the WCHA, where there are programs like Bowling Green that were previous national powerhouses (granted, decades ago, but still) and Minnesota State, which appears to be building something lasting.
Jim: I had a chance to talk to (Bowling Green coach) Ty Eigner last week and enjoyed the conversation. His team hasn't been playing well but he was very realistic and believed that his team was on the cusp, something that proved fruitful taking five of six points last weekend from Michigan Tech.
Another program I will give a cap to as they look to return to prominence is New Hampshire. The Wildcats are 8-1 at home after last Saturday's 5-4 overtime win in Durham against Northeastern. They still need to find a way to get things going on the road, but the magic in Durham seems to have returned, and that's something very positive for UNH and college hockey.