One skates with extraordinary grace and agility; the other came into the league looking like a powerskating dropout.
One had already left his hometown by grade 10 in the search for stronger competition; the other played for his small-town Midget team throughout high school, his game not yet ready for the big time.
One led the nation last year in assists; the other ranked second in goals.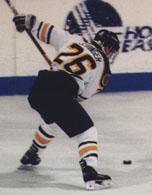 Rejean Stringer and Kris Porter, Merrimack's version of Tony Randall and Jack Klugman, have formed one of the nation's top pairings since being united as sophomores. This season, Stringer ranks fifth in the nation with a 16-37–53 scoring line. Porter hasn't duplicated last year's 33 goals, but he still has 22 along with 20 assists.
"I guess opposites attract," says Stringer. "I think that because we are so opposite, it brings so much more to the pairing as a whole. We don't have anything that [both of us] can do. He does all these things that I'm not that strong on and I do the complete opposite.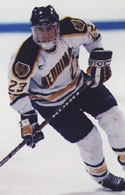 "I haven't been surprised at all by the success that we've had, just because of the way I feel when I'm with him on the ice. I'm so confident in him when I have the puck. If I have no options, I just know that he's going to be somewhere and he can have two guys on him and I feel confident that I can still pass him the puck and he's going to get the shot off."
It's a pairing that began to form, in a humorous way, back when both were in junior hockey, Stringer with the Nipawin Hawks and Porter with the Weyburn Red Wings.
"I always said that if there was a brawl, he was the first guy I was going after," says Stringer. "Neither of us was known for our toughness."
When both were being recruited, the potential pairing played a part in Stringer choosing Merrimack.
"I knew that the school was small so the chance of more playing time would be better," he says. "But another reason was that Ports scored 55 goals in junior and he was a right winger and I was a playmaker. I figured I'd come here and get to play with him and we could have a pretty good line together. That was probably the thing that brought me here the most."
Kris Porter: Development of a Sniper
Porter hails from Wynyard, Sask., a town of less than 1,000 people — which is where he still was at a time when most hockey players with aspirations have already moved on to tougher challenges.
"At the age of 16 or 17, I don't think I was ready to play at a higher level," he says. "I wasn't a real good player. I hadn't developed."
He may not have been a real good player, but he could already fill the net, albeit against modest competition.
"Skating was obviously one of my weaker points, but I scored a lot of goals and got a lot of points when I was younger," says Porter. "I had played defense until I was 15. On a small team like that, you only have two or three defensemen, so you get a lot more ice time.
"I got moved up to forward when I got moved up to an older age group to play against older kids. I just wasn't physically ready to play defense when I was playing up an age group and I had always been able to score goals at young age. I scored a 100 goals in maybe 30 or 35 games."
Averaging a hat trick a game didn't come overnight. It had taken years of dues-paying to hone whatever natural shooting talent he'd been blessed with.
"I spent a lot of nights at the rink," he says. "The kid who lived across the street from me, his dad was the caretaker of the rink. From when I was 15 to when I was 19, we used to go in there for four hours a night, firing pucks and fooling around on the ice for hours on end, just the two of us and maybe the goalie off our team. Spending that much time on it really developed my shot."
When Porter finally did move on to junior hockey with Weyburn, it initially proved to be a very difficult adjustment. His skating wasn't good enough to keep up with the higher talent levels, he wasn't getting much ice time and the new situation also was tough socially.
He worked through it, however, and contributed off a checking line his first year. The following season, he blossomed into a 40-goal, 90-point scorer. Building on that, he finished his junior career with a league-leading 55 goals and over 100 points.
"[My skating] was a big issue for all the schools, but the thing that convinced them that I could play was that I put up big numbers," he says. "I became a guy that teams were willing to take a chance on.
"I got offers from pretty much all the Ivy League schools because I had fairly good grades in high school. I visited Lake Superior, Merrimack and a few other schools and I really liked Merrimack. I really liked the atmosphere, not being in Boston and just being outside. It's a real small school and that's the way I grew up.
"And the guy who coached my junior team, his son [Wayde McMillan] had played at Merrimack and he had a lot of good things to say about it. I knew him from juniors and whenever he came home, he had lots of good things to say."
Rejean Stringer: Development of a Playmaker
Stringer also grew up in a small town in Saskatchewan, in his case Gravelbourg.
"In those small towns, hockey is everything," he says. "My dad had me on skates when I was two. It started with the old rink in the back yard. Every winter my dad would make me a rink out there and I'd be ripping right out there with my little brother. It just developed from there. I just loved the game so much, I skated every day, all day and all night. My mom would have to call me in."
From even the earliest days, he particularly enjoyed setting up a teammate with a clever pass.
"Through my whole life it's always been my stickhandling and my playmaking ability [that has been his strong suit]," he says. "I always liked to handle the puck and, for some reason, even at a young age I liked to pass.
"I enjoy goal-scoring, but I've always played with great goal scorers. I've just had more fun designing some plays where I could get them the puck. I've always been a passer."
When he reached grade 10, Stringer left for Swift Current, just over an hour away, to play against better competition. Two years later, he left for Nipawin, six hours from home, to play junior A, where collegiate recruiters would eventually find him.
Stringer and Porter: Together at Merrimack
Their first year in North Andover, Mass., required some significant adjustments, both on and off the ice.
"It was a little bit weird because I spent three years playing junior, just playing hockey and not going to school," recalls Stringer. "I think my brain was a little bit frozen by the time I got here. It took me a little while to adjust."
For Porter, the biggest on-ice concern was convincing then-head coach Ron Anderson that he was good enough.
"Quite honestly, Merrimack was probably one of the more negative schools [regarding] my skating," says Porter. "Coach Anderson had been real cautious taking me and once I got here he didn't really give me a lot of playing time. He didn't know if I could compete at this level."
Even for as stylish and skilled a player as Stringer, the dictum was a familiar one for freshmen. Don't be cute and make a mistake. Dump it in.
"We just had to grit it out and keep it simple," he says. "Don't take chances making a pass or trying to beat somebody. It was mostly get the puck in deep and keep it simple. If you didn't, you probably wouldn't find yourself in the lineup the next game. So it was a little bit frustrating, but that's how it goes."
Paired together as sophomores, however, their contributions multiplied. Both jumped to the 30-point range and shared the team's Most Improved Player Award.
"Our styles just feed off each other, so I think one of the biggest reasons for our improvement was that we were just playing together," says Stringer. "We jelled right away and knew where each other was on the ice and things started going well for us.
"We got a lot more confidence when we started scoring. You start having more confidence when you feel that you have more ability to do stuff. We just started going to the net more, got some more chances and it started working out for us."
As sophomores they both posted balanced goal and assist totals (18-18–39 for Stringer and 16-17–33 for Porter). As juniors, however, they emphasized their natural styles and, as a result, recorded major breakout years. Stringer scored 11 goals and assisted on a nation-leading 46 others for 57 points. Porter, on the other hand, scored 33 goals (second-best in the country) with 21 assists.
"As sophomores we played our styles at times and at other times we didn't," says Stringer. "At times, we just played really hard and just put the puck in the net.
"But last year when we came in, we played together right from the start so we were both really confident, and I guess we just relaxed and just started doing what we do naturally. Once he started scoring and I was passing, we just stayed like that.
"He was scoring so I didn't really have to chip in that much. My primary objective was to set him up. Once he started doing that, we just didn't change anything because it was working out for us."
Of course, a lot more than simply playing together has gone into the pair's success. Both have improved dramatically over their four years.
For Porter, the fruits of that labor have been more evident. When he first entered the league, his skating looked far below Division I caliber. Since then, however, he has worked tirelessly to improve.
"My skating has always been something that I've been criticized about, so I've really focused on it," he says. "Last summer, I skated with Mr. Paul Vincent for the whole summer for a couple times a week with some other kids from Hockey East. He just did a great job working on my technique.
"And I worked out at Mike Boyle's gym here in Boston, working on a lot of leg strength. That's got to be a focus for me. Just combining that with improving my technique with Mr. Vincent has helped me a lot. Now I can not only keep up with most of the guys, I think I'm pretty average out there."
Porter has also continued to work on a strength, his ability to protect the puck in ways that allow him to get off his shots despite defensive pressure.
"It's just something I've had to do all my life," he says. "Always being the slower kid, you learn to protect the puck a little more. I'm not really as tricky with the puck as a guy like Reg, so I really work on it in practice, fighting guys off and still getting shots off when guys are all over me. If I wasn't doing things like that, I wouldn't be at this level."
This year, Porter's goal-scoring is off, in part because of the increased defensive attention following last season's breakout performance, but Stringer has picked up some of that load.
"I've tried to score a little more," says Stringer. "I've found it a lot harder this year to find Kris because guys are keying on him quite a bit. It's unbelievable how little time I have this year. Guys are on us right away the minute we get the puck."
Having just completed their final collegiate regular season, Stringer and Porter will now be hoping to duplicate last year's playoff stunner when the eighth-seeded Warriors toppled top-seeded Boston University. While it'll be New Hampshire that they face this year, the relative seedings will be the same.
"It was really, really huge for us last year just because of the way things went for us after Christmas," says Stringer. "Things were terrible. We had lost 12 in a row going into that series.
"It was such a positive thing for us and the program, to get to the FleetCenter. It was just amazing. Once we got there, it kind of erased some of the things that happened through the year.
"It lifted the level of our expectations for this year. Guys still remember how good it felt being at the FleetCenter, so that's what we're working to get back to."