The nightmare started last Sunday with 1:16 remaining in Maine's game with Michigan. The Black Bears led, 4-2, and were headed back to the Frozen Four with dreams of becoming the first team to win back-to-back championships since Boston University in 1972.
"I was pinching myself, hoping it was a bad dream."
— Cory Larose
For Cory Larose, however, the dream became a nightmare when referee Mike Schmitt assessed a butt-ending major penalty and game disqualification, sidelining Larose for Maine's semifinal game against North Dakota.
"There was no intention to injure," he said. "All I was trying to do was hold [Mike Comrie] back. He had a step on me. If he was on the other side of me, I would have been hooking him. I was just hooking him with the other side of my stick. He embellished it a little bit and it caught the referee's eye.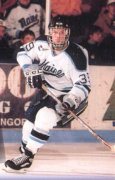 "I really don't think it warranted a game suspension, especially at this time of year. Maybe if I was the type of player who was getting suspended five or six times a year and I was trying to hurt guys on a shift basis, [I could understand it. But] that's just not the way I play. It's not what I believe in.
"Hey, if I could rewind time, I definitely wouldn't do it."
But Larose couldn't rewind time. He was the winner of the Len Ceglarski Hockey East Sportsmanship Award and a player that one person close to the team called "one of the classiest kids I've ever been around." But he would be sitting the game out because of the major and game DQ.
"This is my senior year and this is the Final Four," he said with a pained look on his face.
But a game DQ is a game DQ. And that means a one-game suspension.
So Larose spent the next 10 days practicing as hard as he always did, not varying his routine, all the while hoping that his teammates would come through and he'd get one more game — one for a national championship.
In his mind, he knew he'd be sitting out one of the biggest contests of his career. He knew the stark reality. It was inescapable. But it didn't really hit him in that visceral between-the-eyes fashion until he walked into the Providence Civic Center.
"The toughest part was when I walked in the rink and saw the guys warming up," he said. "It really hit home. All week I'd been thinking about it, but I'd been able to get on the ice every day. I had practiced with the team and dressed with the guys. I'd conversed with them and did everything I'd done all year.
"When I went out there and saw the warm-up, it was tough on me…. The only other games I've missed, I've been in the hospital for. Just sitting and watching is just excruciating."
Of course, many a player has had to sit out a key game because of an injury. But this was different.
"No doubt it's worse," he said. "If I were injured, that would be out of my control. But to be suspended… definitely wasn't the way I saw my college career ending."
It didn't get any easier when the Black Bears went on two power plays before the game was even five minutes old. As a fixture on the Maine man advantage, he could see himself out there doing things to help his team. Except he wasn't out there. He was in the stands wearing his warmup suit.
"I saw a couple situations unfold where I just wished I could have been out there and try to make a play," he said. "In a game like this, one or two plays is the game."
Larose sat with a couple former Black Bears, Jason Vitorino, a captain on last year's national championship team, and Shawn Mansoff, who played two years for Maine before transferring to Quinnipiac. When Larose commented about how badly he felt not being able to help his teammates, Vitorino offered some words of wisdom.
"You know, Cory," said Vitorino, "every year good players leave and every year good players get hurt in different situations. Other guys step in and play well. The Maine team is the focus point."
The words hit home, despite the disappointment of the eventual 2-0 loss.
"It's a team game," said Larose. "It always has been for four years here. That was the bottom line today. Guys went out there today and they [played] their hearts out. It's just unfortunate that bounces didn't go our way. All it takes is a bounce or two and we're right in that game. We were always just an inch away."
Would Larose have provided that inch?
"It's easy to say that, but who knows?" he said. "If I'd been out there, I might have made a couple mistakes and it would have been 4-0. Maybe I might have helped out the guys. It's tough to say."
His teammates certainly missed him.
"I don't want to say that because Cory wasn't here we lost," said Ben Guite. "But obviously he has more than one point a game over the season and that's obviously going to help you in tough situations against good teams. [His absence] did hurt us, but we can't blame [the loss] on that."
Brendan Walsh specifically pointed to Larose's contribution on special teams, where North Dakota scored on one power play and added a shorthanded goal against a Maine man advantage that went 0-for-7.
"Special teams play was a big part of our success this year and he was a big component of our penalty killing and power play," said the senior captain. "That was a definite factor. But we're a team of interchangeable parts."
Maine coach Shawn Walsh, however, would have nothing to do with any comments that might be interpreted as diminishing North Dakota's win.
"The Cory Larose Issue is not an issue," said Walsh. "That would simply detract from North Dakota. North Dakota played a great hockey game. They beat a very good team. I don't think Larose's absence is an issue one bit. The Fighting Sioux won the game and are moving on. I don't want to say anything that detracts from their performance."
Almost to the final buzzer, Larose kept the faith that he would play one more game.
"I never say die with these guys," he said. "We've done it all year. We've come from behind so many times. Right up until a minute left, I was crossing my fingers. We had chances, we just didn't bury them."
Finally, however, the buzzer sounded and the scoreboard clock read 0:00.
Cory Larose — owner of 61 goals and 119 assists for 180 points over four years — had finished his collegiate career watching from the stands.
The nightmare was over. But the nightmare had been real.