Everything else could wait. There was one bit of news the Wisconsin hockey program wanted to hear over all others.
Dany Heatley is coming back.
So they waited, the Badgers did, months after finishing one of the most successful campaigns on record, yet without a national championship to show for it. They waited to hear whether Heatley, the No. 2 pick in this year's NHL draft, would return to school or sign with the Atlanta Thrashers.
The Badgers could be good without Heatley, the runaway choice for WCHA rookie of the year last season, when he scored 28 goals and had 56 points. But there were questions as to if the Badgers could once again make a run for the MacNaughton Cup.
No bother. Heatley's back. And so are the Badgers' chances for the league's regular-season championship.
"It's good for all of college hockey, not only for Wisconsin," Wisconsin coach Jeff Sauer said, apparently forgetting the other nine coaches in the WCHA, who again have to find a way to shut him down.
"To have a player of this caliber to come back to our game and not sign a pro contract is a real plus. We're real pleased that he's back."
But simply having Heatley back for at least one more college campaign isn't going to be enough for the Badgers to win back-to-back MacNaughton Cups for the first time in school history.
Nor will the combination of Heatley, David Hukalo and centerman Brad Winchester. Wisconsin needs to utilize its depth and show it's not going to be a team dominated by the top line.
"We've got good depth at forward; we've got mature depth at forward," Sauer said. "Dany just adds to that by returning. He gives us a bonafide goal scorer and hopefully we can take advantage of it."
One of the knocks on Heatley last season was that he was too dependent on centerman Steve Reinprecht, who graduated as the runner-up for the Hobey Baker Award. Of course, the knock on Reinprecht in his campaign for Hobey was that he leaned too much on Heatley.
Without Reinprecht on the top line, we'll see very quickly if those claims were true.
"I think that's one of the reasons [Heatley] decided to come back — improvement, not only from a physical standpoint but maturity-wise," Sauer said. "Now it's a situation where he doesn't have Steve working for him in the middle so I think he looks at that as a challenge. He's a confident kid that's ready to play and once we get going, things will be fine."
Winchester was a late addition to the Heatley-Hukalo line. Kent Davyduke and newcomer John Eichelberger were also candidates, Sauer said. But that line will need help from other lines being able to score some goals when opposing defenses key on them.
"We need four or five guys to come through with 10 or more goals, and I think we have people that are capable of doing that in our lineup," Sauer said. "I don't want to sit back, and I thought at times last year we got into a mold, 'Reino's line's going to score, so we don't have to score on this shift.'
"It's our job as a staff this year to get that intensity going with each line that goes on the ice."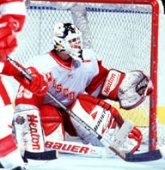 Second-line anchor Dustin Kuk has graduated as well, which could mean the Badgers will need a shot of intensity now and then. Kevin Granato, Matt Doman and Matt Murray all could provide the spark needed in lines two through four, but they can't get caught up in Heatley-watching.
Still, Sauer is happy with the depth at forward.
"If we played a game tomorrow night," Sauer said at the start of training camp, "we could put people on the ice on all four lines that have played three and four years in the WCHA, and I think that's a real positive."
The Badgers' defense has two of the best defensemen in the league at the top, Jeff Dessner and Alex Brooks. Each has a good story, redshirting the freshman year because of back injuries, being prone to mistakes as newcomers, but expecting strong seasons as seniors.
"The thing people forgot about Alex Brooks and Jeff Dessner, they're fifth-year seniors, both of them had back problems and Jeff had two surgeries on his back his freshman year," Sauer said. "We always knew he had this ability but I think he has really matured last year and now going into this season and he's healthy again."
Wisconsin's top defensive pairing is strong, but while experience is present further down the list, there are questions about quality.
Brian Fahey was named to the league's all-rookie team last year after tying for the rookie defenseman goal-scoring title (six). But the others — Rob Vega, Mark Jackson, Jason Reimers and Rick Spooner — need to show they can compete at the level at which Wisconsin wants to compete.
"We need four or five guys to come through with 10 or more goals, and I think we have people that are capable of doing that in our lineup."
— Wisconsin head coach Jeff Sauer
Rookie Dan Boeser should be able to fill the role of the graduated Dan Bjornlie, Sauer said, that of a solid defensive defenseman.
"We've got eight solid defensemen that I have confidence in playing any of them," Sauer said. "We didn't have that a year ago. We had bodies, but we didn't have mature bodies. This year we've got some maturity there."
Speaking of maturity, Graham Melanson enters his third full season of being the story in goal for the Badgers after splitting time his freshman season with Mike Valley.
Without question, Melanson is among the top three goaltenders in the league. But he played 41 games and started 40 last season. The year before, he played in 38. Fatigue could be a factor down the stretch.
"You're always concerned about that position and maybe getting stale," Sauer said. "But Graham's a senior, he won 31 games for us last year. He's a workhorse — he'll be the first to tell you he wants to play every night.
"There may be some points where he gets mentally tired but hopefully we can work around that. He's been durable — knock on wood — I hope he continues to be very durable for a guy that's not very big physically.
"I think Graham is out to prove to people he's a pretty good goaltender. I wouldn't trade him for another goaltender in the country. He's capable of playing really well for us and I expect that again this year."
The Schedule
It's been a long time since the Badgers scheduled a nonconference series out East — the 1988-89 season, to be exact. This year, the Badgers scheduled one to highlight on the calendar: at Boston College, the team that knocked them out of the NCAA tournament last year, on Oct. 27.
Wisconsin plays Northeastern the next night.
"We'd like to do that more often," Sauer said of the team's trip out East. "We entered into an agreement with Northeastern and Boston College and I'd like to continue this. BC will come back to us a year from now. It's always fun to go play hockey in Boston and playing Boston College, the guys are already looking forward to that game, especially with the fact that they got us at the end of the year last year."