The Black Bears returned to the Frozen Four last year, but were foiled in the semifinal game by North Dakota in their attempt to repeat as national champions.
All of which moved to the background during the offseason when coach Shawn Walsh was diagnosed with kidney cancer. He'll miss the season opener against North Dakota and the following weekend's Black Bear Classic tournament while undergoing a second round of treatments at UCLA. Depending on any follow-up course of action, his availability may be touch-and-go for the rest of the season.
Although he's undoubtedly one of the top bench coaches in the business, Walsh dismisses any thought that his medical problems will affect the team's play.
"I don't think it'll affect our players," he says. "Kids want to play once the puck is dropped, especially opening up with North Dakota."
Walsh considers the strength of the team to be from the nets on out.
"Having Matt [Yeats] in net gives us a backbone with Mike [Morrison] behind him," says Walsh. "We feel very solid in goal."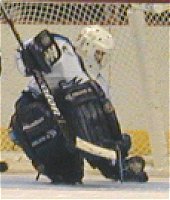 MATT YEATS