Upon Further Review
There really isn't much on the line when Greg Shepherd is asked to go to work during the Frozen Four.
Maybe just the national championship.
In an extreme scenario, a goal missed by the on-ice officials or a non-goal allowed to stand as a goal could sway the national championship game from one side to the other.
Above all, a referee's job is to get the call right. That's where Shepherd comes in. A former WCHA referee and now the league's supervisor of officials, he's become one of the top replay officials in college hockey.
He's worked the Frozen Four and the WCHA Final Five. He'll be in Albany, N.Y., this April, as the person whose job it is to make sure the calls on the ice are right.
And this year he has a little more responsibility. Each goal scored in the Frozen Four must be reviewed before play resumes. It's a safeguard to ensure things are done right.
"I think the main thing is we want to get everything right," Shepherd said. "Even with the goal judge and two assistant referees on the ice, sometimes play is so fast and some of these nets are strung so tight, it's tough.
"I've worked replay for the NCAA for five years, and there's a couple situations where you really have to focus on and run back and look at so you can see it. And you know how it is for a referee, bang, bang, bang and that's it."
Among other rule changes as replay is involved, the replay official can call down to the referee before play resumes if he's seen a goal the on-ice officials missed and coaches can request a replay by using their timeout.
But the one that stands out is the mandatory review. In an ideal situation, Shepherd said, the review would be done so fast that the fans wouldn't notice a delay while waiting for the puck to be dropped at center ice.
Shepherd put the new system into play at the Badger Hockey Showdown in Milwaukee in late December.
"There was one situation where I wanted to look back again, but the rest of the time, there was no delay," he said. "When they got the puck, brought it to center ice, we're ready to go.
"As soon as it's in the net, I'm replaying it. We look at it, it's good, signal down to the bench, they signal the referee, let's go. There is no delay in the replay process. It just gives everybody another signal that it's a good goal and there's no problem."
Shepherd had three opportunities to review plays at the Showdown, plays of three different varieties. In one situation, a no-goal call was overruled when it was ruled the net was not dislodged before the puck crossed the goal line.
Another play was reviewed to see if the puck fully crossed the goal line, and another was reviewed when the on-ice ruling was that a puck was kicked in. That call was upheld.
The key to Shepherd's job is that there must be indisputable evidence to overturn the referee's call. If he's not absolutely sure, the call on the ice stands.
Part of that depends on the technology available at the rink. In Albany, the replay official will use the feeds provided by ESPN. That includes the highly popular "goal cam."
At the Xcel Energy Center in St. Paul, Minn., site of the Final Five, the official will be able to use the facilities used by the NHL for Minnesota Wild games.
"The overhead is probably the best one or one of the best ones," Shepherd said. "But last year [at the Frozen Four] in Providence, they had the camera in the net. That was fantastic. You can see everything with that one. With ESPN doing the TV coverage, you almost have every view you need."
That is the exact reason video replay hasn't been used in WCHA regular-season play. The league's coaches voted to use replay for a two-year trial basis, starting next season, but only if the technology is available.
That's fine at Wisconsin and Minnesota, whose games are televised. But at Michigan Tech and Minnesota-Duluth, where television cameras are not often present, it's a bigger challenge.
"We are looking into doing it, but we have to have everybody on the same page," Shepherd said.
Having everyone on the same page is the ultimate goal of the review process. The point is to have a second look at a fast-moving play and, Shepherd said, let the coaches and players know that the final call is correct.
And Shepherd said he doesn't want his referees' pride to blind their desire to get the call right.
"The tool's there and what I instruct my referees to do, when we do use it in the Final Five, is if you're not sure, go upstairs," he said. "It doesn't take that long and if you're wrong and people find out, it can cost a goal. That costs a team maybe a shot at the NCAAs.
"As officials we try to be right all the time, we try to work hard. But other times, we're going to make mistakes. If you've got the tool to correct that mistake, let's use it. Don't be too proud: 'I'm Greg Shepherd, I don't make mistakes. It's a goal and that's it.' No, hold it here. Maybe I'm wrong, so let's go upstairs and check it out."
Pair Off
Interesting little tool, those Pairwise Rankings.
Hypothetically, if there were no automatic bids to the NCAA tournament and the selection committee took the top 12 teams in the PWR, and if the season ended today, the WCHA would get five teams in the national tournament.
If every college hockey fan's dream came true and the tournament was expanded to 16 teams, seven WCHA teams would get in under those criteria.
Colorado College ranks behind only Michigan State and Western Michigan at No. 3 in the rankings through Jan. 7. Defending national champion North Dakota is No. 4.
Minnesota, St. Cloud State and Denver are eighth, ninth and 10th. Wisconsin is on the outside right now at No. 13 and Minnesota State-Mankato is No. 16.
"You look at our league and the strength of our league right now is very apparent," Minnesota coach Don Lucia said.
"One of the things when you look at our league, hockey is the priority in every school in our league," Lucia continued, apparently forgetting about football coaches named Glen Mason and Barry Alvarez. "You look at the new facilities that have been built, the attendance we get at our games. From top to bottom, nobody has the facilities and the commitment as our league does in every program."
The Pairwise Rankings give ample reason for WCHA members to start a lovefest about the league. They can do that now, because for now the numbers are just numbers.
But when those numbers turn into selections in March, there's virtually no chance the WCHA will get five teams in the NCAA Tournament. After automatic bids have their say, there are only seven spots left.
Back in Stripes
Whistlegate is officially over.
WCHA assistant referee Jay Kleven, suspended indefinitely earlier this season because of questionable calls he made in the Minnesota-North Dakota series in Grand Forks, N.D., was scheduled to be on the ice for the Fighting Sioux's exhibition game with Manitoba last Sunday.
He missed the game because of a family emergency, but Shepherd said the suspension is over. And he's glad, too, because he said the whole situation was blown out of proportion.
"The papers blew it up beyond what it was," Shepherd said. "That really upset me that it was in the papers. That's an internal thing between Jay and myself. It got blown way out of proportion and it's too bad for him, it's too bad for the officials in the league. I talked to the referees and they understood the situation and we went on."
It's All on You
Before the season, Gophers coach Lucia said the key to his team's success this season is that it would have to be a team effort.
Shots had to come down, loosening the team's dependance on goaltender Adam Hauser.
The shots have come down (32 last year to 25 this year), but the Gophers still need Hauser to be at his best to have a chance to win.
"Adam's got to play well this weekend, I think that's probably the biggest key for us," Lucia said. "He was good this weekend up in Alaska and he's been good all year, but now he's got to be great. We're playing an opponent where your goaltender has to win you a game."
Good thing for the Gophers that Hauser is the kind of player that apparently feeds off that.
"He's always played us tough down there," North Dakota coach Dean Blais said. "He's been the difference in the game, one way or another, every game we've played."
A Recurring Theme
For the third time in less than three years, Alaska-Anchorage has lost a goaltender.
Corey Strachan left the team last week. He follows in the footsteps of Cory McEachran and Gregg Naumenko.
"He was a little frustrated playing behind [freshman Chris] King and I don't blame him," Anchorage coach Dean Talafous said. "The worst position to be the second guy in all of athletics is in hockey, a goaltender. You can only play one, you can't change on the fly.
"I remember when [Aaron] Schweitzer and North Dakota won the national championship [in 1997] and they brought in Goehring. [Schweitzer] left and yet he won a national championship at 17 years of age."
Talafous said he wasn't sure what Strachan's next move was.
"It's a tough job sitting and watching," Talafous said. "It was tough for him because he really liked it here and liked his teammates. You only have one career, and he couldn't see himself playing here."
Shuffle Here, Shuffle There
Minnesota is just a game behind North Dakota for first place in the WCHA. It got to that point without some key players — forwards Jeff Taffe and Troy Riddle and defenseman Paul Martin, who were with the U.S. National Junior Team at the World Junior Championships.
Now what do the Gophers do with them now that they're back?
"That's the tough question because we have to figure out how we're going to put them back in, what our lines are going to look like," Lucia said. "They're tired right now. Talking to Jeff Taffe, they all lost 5 to 10 pounds over there, which is tough. It's a long trip.
"It was nice last year when those guys came back, we didn't play that weekend and they had a good rest before we came back and played at home. Hopefully they'll have their energy back."
They'll need it against North Dakota, especially considering defenseman Nick Angell and forward John Pohl are questionable for the series. Angell has a separated shoulder and Pohl has a severely bruised ankle.
New Logo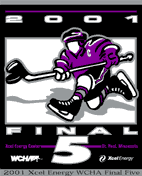 The WCHA unveiled its new logo for the Final Five, to be held at the Xcel Energy Center in St. Paul, Minn., on March 15, 16 and 17.
The logo, at right, was designed by M.A. Apparel of Minnetonka, Minn., the same company that designs the tournament merchandise.
He Said It
"I think at times we've played better on the road. I think our teams are more focused. The bus trips get us together so the players talk to each other. We kind of come together on the road. You have to be a good road team anyway because at the end of the year, you're going to be on the road."
— Blais, on playing on the road. After this weekend's series at Minnesota, the Sioux have only two more conference away series: at Minnesota-Duluth and at Michigan Tech.
News And Views
Alaska-Anchorage's losing streak grew to nine games last weekend with a pair of losses to Minnesota at Sullivan Arena. It's the longest streak of futility in the history of the program, but Talafous maintained his team is right in every game. "I think it's important to realize you're not far and be realistic about it and not change," he said. "These are tough opponents and if we can ever learn to beat these people, we'll be one of the best teams. It's frustrating to the guys, but they're positive and I think they're realistic. I think they realize they're a good hockey team. We just don't have a nonconference schedule where we're playing middle-of-the-pack teams."
Talafous made the point that his team is usually one goal away in losses. The statistics seem to back that up. The Seawolves are averaging a WCHA-low 2.22 goals for per game, while allowing 3.22 goals per game, a difference of one goal.
Colorado College's sweep of Denver put an end to the Pioneers' unbeaten streak, but it continued CC's impressive run. The Tigers are 9-1-1 since mid-November.
With a surprising 4-2 victory at Northern Michigan last Friday, Michigan Tech already has more wins this season (five) than last season (four). The win also snapped a 10-game winless streak against the rival Wildcats.
The 1,000th game in Minnesota State-Mankato history turned out to be a flop. Clarkson beat the Mavericks 5-4 to end their five-game winning streak.

On The Docket
Minnesota doesn't get a rest from rivalries next weekend, as the Gophers travel to the Kohl Center to take on Wisconsin. Minnesota got the first two wins in this year's series, starting to make up for going 0-5 last season.
Meanwhile, next week's schedule features the third part of the Gold Pan series as CC is at Denver on Friday before both teams take Saturday off.
Nonconference foe Brown comes to Minnesota to take on St. Cloud State Friday and Saturday, and sticks around to play Minnesota on Tuesday night.