Blowouts and Nailbiters
Three Hockey East teams sit atop the standings (give or take a game in hand) and rank among the nation's top 10 teams. Strong defense is the common thread, but beyond that Providence College and New Hampshire share a tendency toward winning nailbiters while Boston College has uniquely distinguished itself as the master of the blowout.
Going into last weekend, the Goals-For/Goals-Against statistic in league games looked like this: UNH (17-14), PC (29-25) and BC (42-18). 42-18! (Maine was 27-24, BU 27-25 and all others were in the minus category.)
Which presumably means that New Hampshire coach Dick Umile and Providence coach Paul Pooley may be more susceptible to developing an ulcer this season than their counterpart at BC, Jerry York.
"No kidding!" says Umile with a rueful grin and a shake of the head.
Of UNH's 22 contests, 11 have finished as ties or one-goal games (discounting empty-net goals) and another six had one-goal differentials in the third period. Only five of the 22 failed to reach that slimmest of margins in the final stanza.
That's living on the edge, hockey-style.
"We don't have the offensive power that BC has right now," says Umile. "We're doing it more defensively and with consistent goaltending from Ty [Conklin.] There's no doubt about it, Ty is the backbone of the team. We're doing it with hard defensive work and I think our younger kids are getting better."
Providence hasn't had quite as extensive a string of nailbiters, but has followed much the same recipe with Nolan Schaefer acting as the Friars' Ty Conklin.
"With BC and their talent, they can go out there and make plays and score goals," says Pooley. "They can be playing average hockey, but all of a sudden they get a chance to score and it's in the net. Or they get a couple of power plays and all of a sudden it's 2-0. When you play them, you have to play tremendous defense.
"For us, we want to be explosive, but we're doing it more from a defensive aspect. BC plays great defense, too, because they have tremendous defensemen. They have the whole package.
"For us to be successful, we have to play great defense. We have to outwork people, use our speed and try to create offense from great defense. When we do that, then we're successful."
The disadvantage of playing a lot of nailbiters is that any team is going to lose some of them. The advantage is that they are the essence of playoff hockey. Presumably the ulcers developed during the regular season may serve a team well in the postseason.
"It makes you a better team, no doubt about it," says Umile. "But that's a long, long way away." Of course, Boston College is hardly running away from the pack or lacking in the occasional nailbiter. The Eagles lost to BU, 3-2, on Saturday night before gaining a split. As a result, Jerry York doesn't think in terms of blowouts and is surprised at talk of a 42-18 goal differential. From his perspective, there's still the tension on the bench every weekend and the frustration of games like BC's against UNH on Nov. 18.
That night the Eagles dominated the Wildcats in the first period, outshooting them 18-6. However, the score after 20 minutes was just 1-1. UNH would go on to win, 2-1 plus two empty-netters.
Not to mention last weekend's loss to BU in which a 17-3 third-period shot advantage translated into only one goal and a 3-2 loss.
So spare York the talk of blowouts or how the Eagles could score seven goals against the vaunted Maine defense just before the break when no other team has mustered more than four (discounting empty-net tallies).
"We'd like to capitalize on more of our chances," says York. "We create a lot of chances but we don't score as easily as I'd like. We're creative offensively. We've got players who can move pucks and score goals. But goals are tough to come by in January and February and March.
"We've got a good goal differential [in part because] even in our losses [except to Michigan State,] they've all been with the goalie pulled. So we've been consistently competitive all year.
"But I don't think we can draw too much from it. That's a key [statistic,] but every team I've seen has shown capabilities that they can beat us. Our league is very, very strong."
Swords Into Ploughshares
If you don't find this photograph startling, then you're certifiably shock-proof. Time to swear off Jerry Springer, Eminem and Marilyn Manson.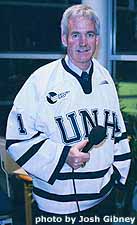 In what might otherwise be considered a compromising position, Maine coach Shawn Walsh modeled a personalized UNH jersey after speaking to the Friends of UNH Hockey last weekend. This college hockey version of cross-dressing, however, accompanied a very serious purpose.
The Friends of UNH Hockey donated their share of the 50-50 Raffle at Friday night's contest — over $2400 — to the Coaches Foundation. Inspired by Walsh's battle with cancer, this charitable organization was set up to serve as a resource for any coaches who might need financial help in the face of devastating illness.
When an announcement to that effect was made the following night during intermission at the Whittemore Center, the crowd stood en masse in a standing ovation for Walsh.
Given the ferocity of this rivalry, the actions of the Friends of UNH Hockey and the Saturday night crowd at the Whitt are truly class gestures of the highest order. Both were proud moments for college hockey.
On a related note, the North Dakota jerseys worn during its Oct. 13 game with Maine — each bearing the name "Walsh" — will be auctioned online at Hockeyeastonline.com to benefit the Coaches Foundation. The auction will run from 8 a.m., Jan. 19 to noon, Jan. 25. Click here for more information.
Hawks Play Leapfrog
Two weeks ago, this column contended that UMass-Lowell looked like anything but a Hockey East cellar-dweller. (Admittedly, it also indicated that no team really fit the bill.) This past weekend the River Hawks proved that with league wins over Northeastern, 2-1, and Merrimack, 4-1, to leapfrog over those two teams into a tie for sixth place.
Add in Tuesday's win over Union and Lowell now has some impressive streaks to boast about: four straight wins, five in the last six and 7-2-2 in the last 11.
"We feel good," said coach Tim Whitehead. "We're on a good stretch. We're doing the same stuff, but we're getting better goaltending. We're a little bit more consistent and we're playing smarter."
The kickoff game of the three-win extended weekend was Thursday night's opener against Northeastern. Lowell was facing a Husky team difficult to beat at Matthews Arena and was without its two top guns, defenseman Ron Hainsey (World Junior Tournament) and Yorick Treille (concussion).
"[The win over Northeastern] was important for us because we built some momentum before the break," said Whitehead after the game. "We were playing some real good hockey and the break almost came at the worst time for us.
"To win without Hainsey and Treille sends a message to the guys on the team that, hey, we can win without those guys. Then when they come back it's going to be even more of a confidence booster. This was a very important game for us, to pick up where we left off and play a strong game without those two in the lineup."
Since Lowell faces Boston College on Friday night, the odds aren't good that the Hawks' winning streak will hit five. Even so, this increasingly looks like a dangerous club that could continue to climb in the standings.
Fish Tales
Unless you've recently arrived from Outer Mongolia, you know about UNH home games and The Fish. One is thrown onto the ice in celebration after the Wildcats score their first goal.
What might seem like grounds for a delay of game penalty is allowed because it's an accepted tradition and also because the Whittemore Center crew has the Zamboni door open before the fish is even airborne. It's well organized so there's little real delay.
Last Friday, however, Maine and New Hampshire skated to a scoreless tie. What happened to the fish? Was it brought back one night later for the rematch?
"Nah," said Travis Sawayer, after bring another specimen down to Section 120. "This is a new one. Hopefully, it'll thaw out. This one is kind of frozen. Usually they're nice and thawed out and they smell pretty [bad]."
This writer did a double-take at that comment. The fish du jour could still be smelled from 10 feet away, frozen or not. If the current one was considered decent smelling pending the thaw, one could only imagine the pungency of a "pretty bad" one come scoreless overtime.
Sawayer is a member of Zeta Chi, the UNH fraternity responsible for tossing each game's mini-marlin. (A manta ray has also been used on occasion.)
Sawayer, however, wasn't in town for Friday night's scoreless tie so his substitute was fraternity brother Tavis Tenney.
"It actually wasn't that bad," said Tenney. "It was big, but it was frozen so it didn't smell. It was good [to wait] so it thawed out a lot, but they never scored."
One can sense that these battle-hardened veterans of olfactory offenses feel a little disappointed when there isn't a stench to what they throw.
"There have been times when it's gotten bad," said Tenney. "It's almost fallen apart. It gets pretty gross sometimes."
One such case came earlier this year in another 0-0 tie, this time with UMass-Lowell. As luck would have it for the more sensitive nostrils in Section 120, that, too, was a home game and there was nothing frozen about that night's specimen.
"It was bad!" said Sawayer. "That fish [was] rank! It sat here the whole time and everybody was complaining about the smell."
So what happens to the fish after it's scraped off the ice?
Seafood Surprise at a UNH cafeteria? Or Fish Chowder, maybe?
Obviously not. It simply is disposed of.
Except for one time years ago when it mysteriously wound up in the cargo hold of the visiting team's bus. When the players boarded the bus a couple hours later, the stench was overpowering. Considering the biting cold to be the lesser evil that day, the team rode back to Massachusetts with all the windows open.
Quote Of The Week
UMass-Lowell's 5-3 win over Union prompted Dutchmen coach Kevin Sneddon to say, "We've got three defensemen on staff that were ready to throw up after watching our defensemen play tonight."
Unlikely Heroes
On any given week teams get major contributions from unexpected sources. This past weekend, however, seemed to contain an extra dose of such surprises. Here is a look at three of them.
After a 5-4 loss to Merrimack on Nov. 12, UMass-Lowell goaltender Jimi St. John saw nothing but pine for a month and a half. Eight games went by without a single start.
After the break, Cam McCormick again took the nets in Lowell's 5-2 loss to Nebraska-Omaha in the Alabama-Huntsville tournament. One night later, St. John got his chance and made the most of it with the River Hawks defeating their host, 5-1.
That strong performance earned him a start against Northeastern last Thursday night. Once again, he excelled, earning the number two star in a 2-1 win.
"His attitude and his work ethic coming back from Christmas were excellent," says coach Tim Whitehead. "You could see a different look on his face. He practiced well and then he played well in his game down in the tournament. He was real sharp again [against Northeastern.] He came back with a different attitude and focus and it's working for him."
St. John then made it three in a row with a 4-2 win over Merrimack on Saturday.
"I worked hard, hoping that one time I'd get my chance," he says. "I just tried to show that I was upbeat and I wanted to play and kept the guys going on the bench.
"Cam maybe had an off-game in the Alabama tournament so the coach put me in and I just tried to take advantage of it. I've just worked hard in practice and waited for my chance."
Another River Hawk in the same position was forward Stephen Slonina. Going into last week's action, the sophomore hadn't recorded a single point. In fact, he was left home from the Alabama trip.
Against Northeastern on Thursday, however, he scored a sniper's goal off a breakaway that proved to be the game-winner in the 2-1 contest. Slonina was named the number one star.
"I've been working on my shot," he said after the game. "I wasn't down in Alabama so I've been practicing a lot and skating. I just got my head straight.
"I hadn't been able to put it home. So I'd been thinking about it a lot. But I got it tonight, so I'm feeling good."
Not bad for a kid whose last game-winner came three summers ago in the Hockey Night In Boston Tournament against the Russian Select team.
A third hero broke UNH's four-period scoring drought to start the Wildcats on their way to a 4-1 win over Maine on Saturday. Darren Haydar? Lanny Gare? Matt Swain?
No. Josh Prudden.
Actually, Prudden's goal wasn't that big of a surprise. The tally that earned him the number two star was his third of the season, but also his third in the last six games.
Even so, the former sniper at Pingree and Phillips Exeter has had to pay some dues. He played in less than half of UNH's games last year as a freshman and has had to work his way up from the fourth line this season. He now centers the third line between Colin Hemingway and either Jim Abbott or C.J. Ficek.
"It was a big confidence-booster, not only for me but it opened things up for the team," said Prudden after the win. "Nobody had scored in four periods, so it was good to get that first one in.
"It feels good. I'm just trying to work my way up. I feel like I'm doing that right now. Hopefully, I can keep that going."
Prudden was then informed of the following trend. Over the last two weekends, when he had scored, UNH had won. When he hadn't, the Wildcats had lost one game and been forced to settle for a scoreless tie in the other.
Does this mean, he was asked tongue-in-cheek, that his goalscoring and UNH's wins went hand in hand?
"I guess," he said laughing. "Hopefully, I'll keep scoring and we can keep winning."
Prudden then turned serious and added, "[The scoring can] come from anybody, as long as we get the win. That's what matters."
Tapp On The Rebound
Early in the season, he looked like part of the problem. Now he looks like part of the solution. BU goaltender Jason Tapp got off to a rocky start and even looked in danger of losing his half of a 50-50 rotation with freshman Sean Fields
Instead, he has now played in five straight games and seven of the last eight. In that stretch he's given the Terriers exactly what they've needed, a chance to win every night. There have been brilliant stretches, such as holding BC to only two goals on Saturday night despite a 17-3 shot disparity in the third period. However, mostly he's just been solid during BU's 5-2-0 hot streak that began in December.
"He certainly has established himself as the go-to guy," says BU coach Jack Parker. "He's played very well. I already told him I was going to play Fields up in Maine [this upcoming week,] but he knows he's had a great stretch run."
Tapp's play comes as a surprise to the legions who gave up on him earlier in the season, considering him a Not Ready For Prime Time Goalie. But Parker and BU's excellent goaltender coach Mike Geragosian kept their faith in him and it's been rewarded.
"I'm surprised he struggled that much early on, to tell the truth," says Parker. "He's the guy we recruited to be a good goaltender here. He was a big star coming out of junior hockey.
"He had a lot of pressure on himself this year because he had those two years where he had to sit and watch [Michel] Larocque be an All-American and then watch Ricky [DiPietro] take over. He played [16] games last year, but he still knew he wound up not being number one.
"So he had a big sigh of relief, 'I'm going to be the number one goalie this year,' and I think it took him a while to get over that and take the pressure off himself.
"But he's arrived now and he's just where we want him to be. We're not surprised that he's a real good goalie. When we recruited him, we knew he was going to be a real good goalie."
World Junior Returnees
The BU-BC rivalry ratcheted up another notch this past weekend after the Terriers made special arrangements for John Sabo and Freddie Meyer to return ahead of the Team USA flight. As a result, the two collaborated on the first goal of a 3-2 win on Saturday while Eagle defenseman J.D. Forrest was still a mile high among the clouds.
"It's always been my contention there that they go as a team, they come back as a team," said BC coach Jerry York after the loss. "We expect J.D. back tonight with the rest of the U.S. hockey team and I think he'll have a great impact on our club. That's all I'll say on that whole matter."
BU coach Jack Parker saw no problem with the separate flights since Team USA's games were done. And Sabo and Meyer were happy to get back for one of the automatic adrenaline games in the BU schedule.
"Bavo [BU assistant coach Mark Bavis] called us in Moscow, and I knew he was trying to set something up," said Sabo. "Finally, we got the final word that we were going to be able to get back and play.
"Actually, I felt pretty good, just a little tired from the time changes and everything."
One night later, Sabo was surprisingly one of the few Terriers with legs in a 5-2 rematch loss.
"I think Sabo had a great night tonight and a great night last night considering where he came from and all the travel," said Parker after the game. "But Freddie Meyer just collapsed tonight. He was one guy that hit the wall tonight.
"John reacted one way and [Freddie the other.] I felt bad for Freddie but he was really exhausted. You could see him dragging just going out to his shift after having two shifts off. If I could have, I probably should have not played him tonight.
"But for Sabo, for some reason it didn't affect him. He did have his legs compared to everyone else on our club."
Forrest looked none the worse for the wear in Sunday's game, playing well and scoring an unassisted empty-net goal from deep in the defensive zone while shorthanded.
UMass-Lowell's Ron Hainsey picked up where he left off with an assist in Tuesday night's win over Union.
Providence College's Jon DiSalvatore scored a goal and assisted on another in the Friars' comeback win over UMass-Amherst. That success came despite being left off the top line that he had formed with Devin Rask and Peter Fregoe prior to leaving. PC coach Paul Pooley figured that leaving Drew Omicioli on the line rather than plugging back in an exhausted DiSalvatore made more sense for Sunday's game against UMass-Amherst.
The strategy worked as Omicioli exploded for four goals and three assists on the weekend to take Hockey East Co-Player of the Week honors while DiSalvatore remained surprisingly productive as well.
A Jesuit Assist
In Sunday's BC-BU clash, Eagle freshman Tony Voce assisted on a Brian Gionta goal in a manner appropriate for the Jesuit school: on his knees. Voce had been knocked down, but still fed Gionta on the far side post for a very pretty score.
"That's one I watched on the screen [on instant replay,]" said York. "I saw it and said I had to see it again."
A Few More Notes
Northeastern only had its Thursday night game against Lowell last week. Coach Bruce Crowder wasn't discouraged by the 2-1 loss.

"I told the guys to keep their heads up," he said. "We didn't make a lot of mistakes. I thought we made two mistakes and [Lowell] capitalized. It could have been anybody's game. …

"I don't have any complaints about how they played. You're going to have nights like this."

That said, the Huskies are now 0-4-2 in their last six league games and have fallen within a point of last place. To anyone who saw them play early in the season that seems inconceivable.
NU netminder Mike Gilhooly was just recognized as Hockey East's ITECH Goaltender of the Month, but his league statistics sum up the Huskies' current plight perfectly. He's got a 1.73 goals against average and a .933 save percentage, but doesn't have a win. He's 0-2-3.
Like Northeastern, Merrimack played only one game. It, too, was a frustrating loss, 4-2 to UMass-Lowell. A too-many-men-on-the-ice penalty while trying to pull the goaltender at the end symbolized the team's performance.

"Tonight was a total lack of concentration, both physically and mentally," said coach Chris Serino. "[At the end], we're trying to pull the goalie and a guy jumps on, but then the goalie decides to go back to the net and play the puck. It was just a total lack of concentration. …

"It's going to be a fine line between sixth place and the cellar. Every single game, no matter who the opponent is, is important. You can't let wins just slip away."

In the span of five days starting on Friday, the Warriors will face UNH twice and BC once. Yikes!
UMass-Amherst lost both games to Providence last weekend, but without a doubt the home end of the home-and-home series proved most painful. The Minutemen held a four-goal lead, but lost 8-5 after surrendering five goals in the span of 6:52.

"You can't give up two shorthanded goals, two four-on-four goals and two power-play goals and expect to win," said coach Don "Toot" Cahoon. "One thing that we think that we have with this club is goaltending, and it kind of disappeared on us this weekend."
Last week, this column said, "In case you haven't noticed, the Minutemen have a five-game winning streak in this series [with Providence] … Personally, I don't see the streak going to seven. If it does, I promise to eat my 'Nolan Schaefer For MVP' T-shirt."

One UMass supporter emailed before the series and said, "Let me know if you want ketchup with that T-shirt."

The sharp wit was more somber after Schaefer's Defensive Player of the Week performance, saying, "No ketchup needed. I am officially on the 'Nolan Schaefer for MVP' bandwagon."
UMass-Lowell's Yorick Treille is still a couple of weeks away from returning to the lineup. He suffered a concussion on Dec. 9 against Colgate.
Maine's Francis Nault, fresh off being named Hockey East Rookie of the Month, had to leave the Black Bears just prior to the UNH series to go home to be with his ailing father. All the best to the Nault family.
Maine coach Shawn Walsh went from enthusiastic about his team after Friday's scoreless tie with UNH to concerned following a 4-1 loss one night later.

"I'm real pleased with how our team is taking shape," he said on Friday. "We're a real dangerous hockey team. We're starting to play our game and I'm encouraged about that. … What excites me today is that we did it against a very good hockey club."

In 14 of Maine's 21 games, the Black Bears have given up two or fewer goals. Their record in those contests is 9-1-4.

However, Walsh was a good deal less ebullient after the Saturday loss.

"It was disappointing," he said. "In the second and third periods, we took some steps back. We've played really well, but we haven't had any adversity in a little while. All of a sudden we had some in the second period and got deflated. … I've got some work to do."
Walsh on the Black Bears relative to UNH: "They really showed why they're in the Top 10 in the country and we showed why we're not. Anybody watching that game had to be terrifically impressed with New Hampshire.

"I thought they really played a thorough game. Part of that is terrific goaltending, which they certainly got, but [also] opportunistic scoring and hustle on the ice."
Maine has just begun a seven-game stretch that includes three vs. UNH (including last weekend's two), two vs. BU and two vs. BC. Ouch!
Walsh on Niko Dimitrakos' return to the lineup on Friday after a one-game benching: "He was dangerous all night long, right to the very end…. I don't think players like to sit in the stands and watch their team outshoot somebody [Cornell] 33-12. I think he got the message. He really jumped tonight."
BU coach Jack Parker on his team's uninspired 5-2 loss to Boston College on Sunday: "BC might have had something to do with it, but we could have been playing the Belmont Bantams tonight and I think we would have been pretty legless for some reason. We had no emotion and no speed. That's not our game."
Parker on BC's top line: "I noticed how good the first line for BC was, the Kolanos line. They controlled the puck and played extremely well down low and through center ice. I was really impressed with them. Our defense had a hard time combating them through center ice and in our zone."
UNH coach Dick Umile on taking three of four points from Maine: "It was a special weekend [with all] the excitement and enthusiasm and coming out of here with three points. I really like the way the team competed."
Umile on the challenges ahead this weekend against last-place Merrimack: "If you look on the [standings] board, Merrimack is on the bottom, but I guarantee you that they're going to be one of the toughest games we play. I expect that it will be the biggest game they play all season."

Trivia Contest
Last week's question looked back to the 1988 NCAA tournament when the field was expanded to 12 teams. Four teams currently in Hockey East were selected. Which four? Also, which two advanced to the next round? And which two played each other?
The four teams selected were Maine, Northeastern, UMass-Lowell and Merrimack. The latter was not yet a member, but was chosen as an independent. Northeastern and Merrimack were the two that met each other, with the Warriors advancing in a wild two-games, total-score series, 3-5, 7-3. The other team to advance was Hockey East's lone bye team, Maine. The Black Bears defeated Bowling Green (then led by current BC coach Jerry York) 5-1, 4-3.
As a side note, perhaps the most notable fact is that after Merrimack defeated Northeastern, it then faced eventual national champion Lake Superior State and won the first game, 4-3, before bowing, 5-0.
The first to answer correctly was Eugene G. Bernardo II. His cheer is:
"Let's Go Friars!"
This week's question asks who is Hockey East's top all-time career scorer? (League games only.)
Send your answers to Dave Hendrickson.
---
Click here for information about Dave Hendrickson's latest short story, "Yeah, But Can She Cook?" It has both s*x and humor. Dave is good at one of them.
---
Thanks for their assistance to Jayson Moy, Michael Kobylanski, Josh Gibney, Scott Weighart, Bruce Spencer, Mark Toussaint and the many other UNH fans who answered my question.