Someday soon, when Ron Mason wins his 1,000th college hockey game, he'll write his book and let us in on the mystery of it all.
At this point of the season, with three single-elimination NCAA tournament games between him, 899 victories and a second national championship, the Michigan State coach can't even say that this is his best team in 35 years of coaching at MSU, Bowling Green State and Lake Superior State.

The numbers, if not his heart, say that Mason's 1984-85 Spartans (38-6-0) and 1978-79 Falcons (37-6-2) were a little bit better than this MSU team's 32-4-4. Even his 1967-68 Laker team had similar success at 21-3-2.
All four teams won about 85 percent of their games, and there is NCAA success written in those numbers. If you win 67 percent of your games in a given season, as Mason has done 26 times, that's usually good enough to make the NCAA tournament field. But if you win 75 percent of your games, as Mason has done a dozen times, you're probably in the Final Four.
After that, as Mason often says, it's not just about talent; it's about luck, too.
So Mason and the Spartans are back for another shot at their first NCAA title since 1986.
When you've coached as long as Ron Mason and won nearly 70 percent of more than 1,300 games, you've won — and lost — every which way. No matter how much a game might surprise most of us, very little fazes Mason these days — unless it was sophomore goaltender Ryan Miller's 17th career shutout (he has 18 now) to break a 70-year-old NCAA record. Now that was something even Mason had never seen in all his years.
Despite the numbers, the Spartans, Mason and Miller seem to have attracted more than their share of criticism and even disdain this season. Despite holding on to the No. 1 ranking since mid-November, and despite goaltending numbers (victories, save percentage and goals-against) never, ever seen before in college hockey, the critics find fault:
The Spartans play in the Central Collegiate Hockey Association, which qualified only two teams for the 12-team NCAA field.
The defense is seemingly about anything but Ryan Miller (that's the anti-Hobey argument).
And, oh yeah, the Spartans are boring.
To watch Michigan State play hockey inch-by-inch, rather than zone-by-zone or even stride-by-stride, can become a fascinating exercise in the minutiae of the game and its endless possibilities.
Someone once said that winning isn't boring, but I would agree that the way a team wins can be boring. So, having the opportunity to see Michigan State play for the first time this season after watching them regularly for a decade (1985-95), I brought an outsider's perspective with me to the CCHA tournament in Detroit.
Sure, the season's scores looked boring if you enjoy the kind of racehorse offensive hockey that teams like Michigan and North Dakota and Boston College often seem to play. And following MSU's 2-1 squeaker against an overmatched Bowling Green team in the CCHA tournament semifinals, I had to wonder just what made this team special.
Certainly, Michigan's 3-2 victory over Nebraska-Omaha in the other semifinal was a much more wide-open, entertaining game. Obviously, I had to be missing something, and I tried to look more closely during the MSU-Michigan championship game to find it.
This is what I found:
Most of us look at a standard hockey rink and see a 200-by-85-foot ice surface.
Mason sees a lot more: 17,000 square feet that can be broken down into countless individual battle zones. Win enough of the little battles that make up a hockey game, as Michigan State has this season, and it creates probability. And it adds up to a 32-4-4 record.
What Mason has created, or at least refined, is a style of defensive play that Spartan fans appreciate for its success but that critics label boring. Offense, usually played in broader strokes, tends to be more exciting but requires a skill level that every college hockey program can't recruit. Defense requires elements beyond pure talent: dedication, patience, strength. And let's not forget: a special goaltender.
To watch Michigan State play hockey inch-by-inch, rather than zone-by-zone or even stride-by-stride, can become a fascinating exercise in the minutiae of the game and its endless possibilities. Like a David Lynch film, which looks well beyond or beneath the surface, there was much more going on against Michigan than a couple of Spartan goals and yet another Ryan Miller shutout.
I've seen a lot of MSU-UM games over the years, many decided either way by much more than two goals, but I don't think I've ever seen a game in which one team so dominated all the little battles that make up a hockey game: from clearing the crease to breaking out the zone, from fighting through the neutral zone to cycling the puck along the boards to create offense.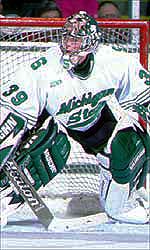 All these battles are played in little pieces of those 17,000 square feet of ice, and they take all the strength and patience that upperclassmen obtain to compensate for a certain lack of pure skill and results in some of the most successful four-year collegiate careers.
Sure, Ryan Miller is good. Hobey Baker good. There have been offensive seasons as good as Jeff Panzer or Brian Gionta have produced, but has there ever been a goaltending performance over a full season like Ryan Miller's? What makes him special is really quite basic: He makes the game easy. He's as natural in goal as an ocean wave. He flows with the game.
Sure, the defensemen are good, especially juniors Andrew Hutchinson and Joe Insana. But the Spartans only play five defensemen, and unlike most Mason teams, there is no dominant senior or even a dominant presence like Mike Weaver. The defensemen are good, but not even first-team, All-CCHA good, according to the voters.
As for the offense, it comes from defense in most instances. It comes from patience; from little touch passes or short bounces off the boards; and it comes from hard work in the corners. It comes from sound positional play and a system that breaks down the broad strokes of other teams, and in most cases, the individual talents of great offensive players who slowly become frustrated with their inability to penetrate the MSU blue line.
And when they do, Hutchinson and Insana, or Brad Fast, John-Michael Liles and Joe Markusen wait for them.
And when even they can't stop an offensive rush, there's still Ryan Miller back there to beat.
But beyond the patience is the strength. Hockey players, like football players, hate to admit that they get beat in the trenches, in the countless one-on-one battles that make up a game. But that is exactly what Michigan State did to Michigan in the CCHA championship game, and you only had to watch carefully to see it.
That was the beauty of the championship game: watching senior forwards like Sean Patchell, Andrew Bogle, John Nail, Damon Whitten and Rustyn Dolyny win almost ever little battle rather than just score a lot of goals. It was a slaughter in everything but the score, and the Michigan players knew it.
The beauty of Spartan hockey this season is sacrifice — and a goalie named Miller.
Maybe it's boring to some. Certainly no one, not even Ron Mason, would tell you that the Bowling Green game was a thrill.
But another old coach, the late Freddy "The Fog" Shero, once said (among a lot of other things) that hockey is a game of mistakes and frustration. The team that makes the fewest mistakes, or causes the most mistakes, will benefit from an opponent's frustration.
If you could see the frustration in Michigan's game and on the players' faces in the CCHA championship game, then you could see the beauty of Michigan State hockey.
There are a lot of ways to win a hockey game. With 896 victories entering the NCAA quarterfinal game on Sunday in Grand Rapids, Mich., Ron Mason has already won every which way. But this way, this year may be something special, even something new.
Call it what you will. But don't call it boring.
---
Steve Klein teaches online journalism at George Mason University, is a principal of the Advanced Interactive Media Group, is co-founder of SportsEditor.com, and is the former sports editor of USAToday.com and the Lansing (Mich.) State Journal. A 1970 graduate of the University of Wisconsin-Madison, he has been involved in college hockey since 1966. He can be reached at [email protected].