Some years a single candidate has already emerged as the consensus choice for the Hobey Baker Award by the time the NCAA tournament begins. With voters' minds already made up, the clear favorite merely has to avoid giving away what he has already all but won.
More often, though, a few candidates have separated themselves from the rest of the pack, but the eventual winner is still in doubt. Who performs best on this last weekend before the final voting becomes decisive.
That was almost certainly true last season when Mike Mottau outplayed Steve Reinprecht in the West Regional and became the first defenseman in 15 years to win the award. The same holds true this year as forwards Jeff Panzer (North Dakota) and Brian Gionta (Boston College) lead the pack, along with goaltender Ryan Miller (Michigan State).
With Panzer and Gionta playing back-to-back in the East Regional quarterfinals this evening and the vote looming on Monday, what better time could there be than to look at the top candidates than now?
Miller Time
Miller, slated to face Wisconsin on Sunday in the West Regional, must be judged in absentia. Viewed from afar, he's an imposing candidate. His statistics are staggering: a 30-4-4 record, 1.31 goals against average and a .950 save percentage. As a sophomore, he has already broken a 70-year-old NCAA record for career shutouts with 18, with 10 of them coming this year.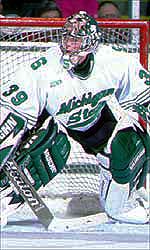 At first glance, those numbers might argue for Miller as the runaway winner. But won-loss records, shutouts and goals against averages are at least as dependent on the team as the individual. Michigan State is as perfect an example as one can get of that.
The Spartans play an extremely defense-oriented system that naturally leads to gaudy goaltending statistics. If, as expected, Miller is named a first-team West All-American next week, he will be the third different MSU netminder to achieve that feat in the last four years: Chad Alban in 1998, Joe Blackburn (now Miller's backup) in 1999 and Miller.
In other words, when is the last time that the Michigan State system hasn't produced a great goaltending stats?
The least team-sensitive statistic is save percentage, where Miller's .950 is every bit as dominant as are his other stats. However, that is no sure-fire lock for a Miller Hobey since last year Rensselaer's Joel Laing similarly ran away from the field with a .947 mark, but finished as a runner-up to Mottau.
Perhaps the single biggest factor that works against a Miller candidacy is that he's only a sophomore. Of the last 12 Hobey winners, 11 were seniors. Paul Kariya in 1993 was the lone exception.
As a result, Gionta and Panzer as seniors hold a considerable advantage based on the way voters have tended to favor upperclassmen in the past. With a repeat performance, Miller's odds would become even stronger next year with the potential for a unanimous vote the following year.
Which leaves the Panzer – Gionta contest as a subtext for the East Regional's second day.
Panzer's Points
Panzer played the early game, a 4-1 win over Colorado College, and certainly helped his Hobey cause while also getting North Dakota into the Frozen Four. His line — Bryan Lundbohm and Ryan Bayda on both sides — scored all four goals, with Panzer getting assists on each one.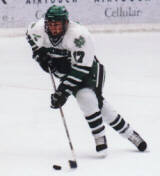 The helpers came in four different flavors. On the first, he found Lundbohm all alone in front from the back boards. The second was an unimpressive one, credited by virtue of a defensive zone pass into the center ice. The third came off a rebound of his shot. On the fourth, he stopped on a dime along the right boards and fed Bayda in the slot.
Without a doubt, he's a clever playmaker with jets to boot. He now leads the country with 81 points on 26 goals and 55 assists. He was named regional MVP.
"Whenever you play North Dakota, you've got to contain that Panzer line," said Colorado College coach Scott Owens after his team failed to do exactly that and ended its season as a result.
North Dakota coach Dean Blais put it even more bluntly. "We'd be very ordinary without them."
"We all bring a little something to the game," said Panzer. "Ryan Bayda is a guy who works the corners very well. Bryan Lundbohm is a real goalscorer.
"I just try to get those two the puck, move my feet and try to create some room for those guys because if you get them the puck, they're going to put it in the net. That's the way we've played all year."
Blais likens them — the top trio in college hockey this season — to the legendary Hrkac (pronounced Her-kas) Circus line of Tony Hrkac, Bob Joyce and Steve Johnson that terrorized opponents on the way to a Fighting Sioux national championship in 1987.
"Hrkac was a playmaker; Panzer is a playmaker with speed," said Blais. "Bob Joyce was good at the board play; Ryan Bayda is a board guy. Steve Johnson was a sniper with good strength and a good shot; Bryan Lundbohm has done that for us."
If it's an analogy that fits, that bodes well for Panzer's Hobey hopes. Hrkac won the award after setting an NCAA record of 116 points.
Of course, the fact that Panzer's line is the most feared in college hockey doesn't make him the best player. He earned WCHA Player of the Year honors, but Lundbohm joined him on the All-WCHA First Team and Bayda made it three with a second-team selection.
Panzer may be the catalyst, but how much credit goes to him and how much is owed to his linemates? Put another way, how would Gionta, or other top forwards across the nation, fare with compatible linemates of the quality of Lundbohm and Bayda?
Gionta's Greatness
Which answers the primary knock on Gionta. While his points lag far behind Panzer's, he still is the top goalscorer in the country and has done so with linemates that are good players, but are no Lundbohm and Bayda.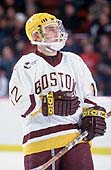 The most frequent pairing over the season put Gionta with two freshmen, Ben Eaves (11-26–37) and Tony Voce (12-11–23), both of whom got off to slow starts before finishing well. The last seven games he's been with Eaves and Jeff Giuliano (13-20–33). The Eagles' other top scorers — their version of Lundbohm and Bayda, if you will — are Krys Kolanos and Chuck Kobasew. Gionta played five games with Kolanos and none with Kobasew.
Gionta's role on special teams begs further attention as well. He leads the nation in shorthanded goals, a factor which helps BC achieve the top penalty kill percentage in Hockey East.
"He does so much to create pressure even when we're killing the penalty," said BC coach Jerry York. "He's always a breakaway threat."
On the power play, he fills the role of standing in front of the net to create screens and knock in rebounds. The "easy" assists that come from working the puck around the umbrella aren't there for Gionta. He has only 10 assists on the power play to Panzer's 20.
None of which is to demean Panzer, who is clearly one of the top players in the country. But it does explain why Gionta may well be his equal and more while trailing significantly in the points race.
On this night, Maine's defensive attention kept the senior out of the box score at the same time that Panzer's four assists were making him the tournament MVP.
"You might shut Brian off the scoreboard, but you can't shut him out of the effect of the game," said York. "He's fought that with every team. His [number] 12 is earmarked. I thought he did a terrific job in a lot of different areas that coaches and maybe astute people watching the game can see.
"He's just a dynamic player. He doesn't need to score points and he's the first to admit that. He's learned to play without the puck very well."
A case in point was BC's first goal on this evening, one scored by Giuliano in part because Gionta was being hauled down in front of the net.
"He creates so much havoc offensively because he's driving to nets and doing so many different things," said York.
Panzer's four points to Gionta's none on the final weekend before the Hobey vote may ultimately prove decisive, but the BC captain isn't going to lose any sleep over it.
"I don't worry about the points," he said earlier in the season about the statistical gap's potential effect on the Hobey race. "I don't worry about impressing the Hobey voters. I care more about impressing my teammates."
Which speaks to Gionta's considerable intangibles. With him as captain, the Eagles have not lost two games in a row a single time this year.
He was also a nominee for the Humanitarian Award. And despite being a pest to opponents — which, after all, is the point, isn't it? — he is the consummate gentleman off the ice.
Perhaps most telling is the winning attitude he brought to Boston College. With the Eagles heading to their fourth straight Frozen Four, it's easy to forget that when Gionta arrived on campus, BC had not enjoyed a winning season in six years. There were talented recruits and sophomores along with junior Marty Reasoner, but any coach or player will admit that changing the mindset of a team with consistently losing records is a subtle and often difficult task.
This writer recalls covering Gionta's first collegiate game on Oct. 17, 1997. After the game, he made a stunning comment.
"I think we can win it," he said.
Mindful of BC's struggles, this writer queried, "Win what? Hockey East? Further than that?"
With a grin and a sparkle in the eye, Gionta said, "Further than that."
At a school with a six-year winning drought, he predicted a national championship.
He energized Reasoner, prompting the junior captain to say, "He's probably been the best player in the country by far."
And that was as a freshman. Gionta earned second-team All-America honors that year and moved up to first-team the next two seasons. If selected again this year, Gionta will be a four-time All-American.
He will have played a pivotal role in four trips to the Frozen Four. He will have scored at least 123 goals with 108 assists.
Brian Gionta may or may not win the Hobey Baker Award, but anyone who thinks his measure as a candidate begins and ends with his place in the points race will have made a mistake.
Like Miller and Panzer, Gionta will graduate as one of the greatest representatives of his school and his sport.