Harvard center Jennifer Botterill became the first underclassman, and the first Canadian, to win the Patty Kazmaier Award on Saturday night.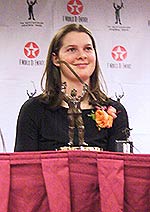 Botterill earned the distinction as the best women's player in the nation by scoring 38 goals and 35 assists in the regular season to lead the Crimson to the inaugural women's Frozen Four at Mariucci Arena. In Friday's semifinal, Botterill had one goal in a 6-3 loss to Minnesota-Duluth.
She has been a dominant force in women's hockey for the last three years. As a freshman Botterill was the ECAC Rookie of the Year and the MVP of the 1998-99 AWCHA national championship tournament after recording a hat trick in the semifinal against Brown and scoring the title-winning goal in overtime against New Hampshire in the championship game.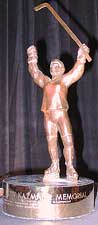 Botterill, a junior from Winnipeg, Manitoba, comes from a long line of hockey players and speedskaters. Her brother Jason played for Michigan when the Wolverines defeated Colorado College to win the 1995-96 Frozen Four in Cincinnati, and currently plays for the Saint John Flames of the AHL.
A silver medalist with the Canadian National Team at the 1998 Olympics in Nagano, Botterill plans to take off next year to play for Team Canada in Salt Lake City at the 2002 Winter Games. She will return to the Crimson in 2002-03, along with defenseman Angela Ruggiero, who is in Lake Placid training with Team USA this year.
Ever since she arrived in Cambridge, Mass., Botterill has been part of a star-studded Harvard program. In her freshman year she played wing on the highest-scoring line in college hockey history alongside A.J. Mleczko, the 1998-99 Kazmaier winner, and Tammy Shewchuk, a senior who will join Botterill on Team Canada next year. In the last two years, Botterill to Shewchuk (or Shewchuk to Botterill) has become as consistent a scoring force as Montana to Rice or Messier to Gretzky.
The other finalists for the Kazmaier Award were Shewchuk and Minnesota senior defenseman Courtney Kennedy. Kennedy is the 2000-01 WCHA Player of the Year, while Shewchuk has surpassed both Botterill and Mleczko as the all-time leading scorer in Harvard history.