The Maine Black Bears haven't made it easy on themselves this year. From the desperate straits they found themselves in in February to being one goal down in the NCAA regional with the seconds on the clock down to single digits, they've flirted with danger but lived to tell about it.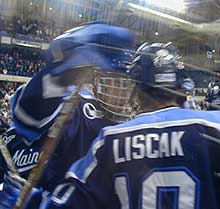 The Downeast Cardiac Kids began their flirtation a month and a half ago when they held a 10-9-6 record that would have earned them nothing but tee times after the Hockey East tournament. They responded with a 9-2-1 run that got them into the NCAAs. Their 5-4 comeback win over Minnesota in overtime was merely the exclamation point following a series of heart-stoppers in that run.
"Our guys have faced adversity all year," said Maine coach Shawn Walsh after the nailbiter. "This is the fourth time since Feb. 1 that our guys have come from behind in the third period to tie a game and then win it in overtime. We're gritty.
"They just refuse to lose. It's amazing to do that four times in the span of a month and a half. You can just tip your hat to those kids."
On this night, Minnesota took a 4-3 lead midway through the third period. Black Bear fans may have wondered if the odds had finally caught up to their team when it rang two shots off the post.
In the closing minutes, the Golden Gophers then had exceptional chances to put Maine away when second-liners Aaron Miskovich and Jeff Taffe raced in on successive breakaways. Between the two, they had 24 goals on the season. A 25th would be the almost-certain final nail in the coffin.
Instead, goaltender Matt Yeats came up with huge saves to keep the Black Bears within striking range.
It then looked as if they might have frittered away their last, best chance in the final minute when Robert Liscak missed a wide-open net that would have tied the game.
"I guess I had the tying goal on my stick, but I missed the net," he said after the win.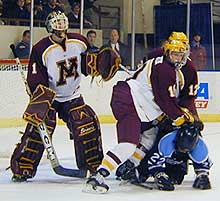 To which Walsh countered with a laugh, "You guess?"
With Yeats pulled for an extra attacker and Maine on the power play for a six-on-four advantage, Minnesota got the puck to neutral ice, but couldn't get possession there.
The final seconds felt to Minnesota coach Don Lucia like it was "til the next century. I had thought when we got the puck out to the neutral zone with about 20 seconds to go we'd be in good shape, but…"
But the Cardiac Kids were primed to pull yet another miracle comeback. They got the puck into the zone and amazingly had the composure to actually work the puck around for a good shot rather than blindly fire at the net. Eventually the puck moved to Martin Kariya in front who slid it to Mike Schutte on the wide-open post. Schutte shot it into the net with only 2.7 seconds remaining.
Plenty of time for a Cardiac Kid.
"Some guys would have panicked," said Walsh, "but first [Francis] Nault and then Kariya and then Niko [Dimitrakos] — none of them panicked inside 10 seconds. All of them had the poise of players much older than them and [as a result] Mike had an empty net. It was just terrific execution by a bunch of kids."

After the intermission, danger threatened just 31 seconds into overtime when Matthias Trattnig was assessed a cross-checking penalty. Minnesota's power play had already scored twice and ranked third in the nation in efficiency. Instead of surrendering the game, the Maine penalty killers — no slouches themselves — shut down the vaunted attack.
"The penalty kill was huge," said Walsh. "It was terrific. They never got a chance. They never got a shot."
The Black Bears still weren't out of the woods, though. At the 10-minute mark, Johnny Pohl, who had earlier scored his 19th goal of the season, swooped in all alone off a blue line turnover.
Save, Yeats!
Half a minute later, Minnesota again threatened, this time with a three-on-two that became a two-on-one in close.
Again, save, Yeats.
Finally, at 13:04, the Cardiac Kids struck for the win. Liscak, who had missed an open net in the final minute of regulation, didn't miss again when Minnesota goaltender Adam Hauser played the puck at the top of the crease, but put it right on Liscak's stick.
Pulses had been elevated for hours in the State of Maine, but there was a happy ending.
"I thought it was a whale of a hockey game," said Walsh. "A fans' game if there ever was one.
"This team is starting to look like a team of destiny or something."
A team of destiny, maybe. Cardiac Kids, for sure.