It's been four months of speculation, and still nothing has been officially determined. But essentially, the early departure of St. Cloud star Tyler Arnason to the NHL is a done deal.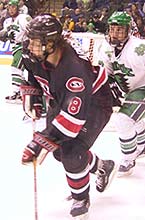 Arnason, a senior-to-be, still has not signed a pro contract with the Chicago Blackhawks, the team that owns his rights. But he is participating in Blackhawks rookie camp, and, it seems, gradually over the course of the summer, the notion that Arnason would not return has been accepted as fact by the coaching staff and athletic department.
As far as St. Cloud is concerned, the issue is closed.
In the recently-released preseason prospectus, sophomore defenseman Jeff Finger has usurped Arnason's No. 8 on the 2001-02 roster, and Arnason is nowhere to be found.
"Nothing is official, but he's already said he wants to be a pro," said St. Cloud spokesperson Anne Abicht.
Arnason led the Huskies with 56 points this past season, and had a stellar postseason while being named WCHA Tournament MVP.
In May, St. Cloud lost defenseman Duvie Westcott, who also skipped his senior season to sign with the NHL's Columbus Blue Jackets.