The roster reads like a who's who of the WCHA. Leopold. Pohl. Hauser. Potulny.
They took giant strides last season in recovering a high place in the league and were rewarded with a spot in the national tournament. Their returning corps is strong, maybe the strongest in the league.
The logical next step for Minnesota is a WCHA regular-season championship … isn't it?
Not so fast, Goldy.
Before the Gophers start dusting off the trophy case, there's one minor detail they'll need to take care of, something that's popped up at the worst times in the last few years.
Flat out, the Gophers have to win the big games.
Just last year, a handful of blunders in major games put them in bad positions and ended their season.
A regular season-ending series against St. Cloud State, with second place on the line? Two losses, third place.
A rematch with St. Cloud State in front of a pro-Gophers crowd at the Final Five in St. Paul, Minn., with a first-round NCAA bye riding on the result? Another loss, bye-bye bye.
A first-round game against Maine in the NCAA tournament and a lead in the last minute? A tying goal with mere seconds left, a goaltending goof leading to the Black Bears' OT winner and a long ride home for coach Don Lucia and his team.
So while the Gophers have as much talent as any WCHA team, they have yet to prove their ability to come through in the clutch.
But that comes with experience. To be fair, last season was the first time any of the Gophers' players found themselves in those kinds of top-level pressure situations in college. They had played in big games before, but not that big.
"When we got in the NCAA tournament and we lost to Maine, I really felt that was the best game in many ways our kids played all year long," said Lucia, entering his third season as the Minnesota coach.
"They really competed, and that was the thing I was most pleased with. They have to learn how to compete at that level if you're going to win come the end of the year."
Who knows, maybe the Gophers will find themselves pointing to the four aforementioned 2000-01 games as the biggest factor in a MacNaughton Cup championship in 2001-02. What few will deny is that they have the firepower to pull it off this year.
It'll start at defense, where Jordan Leopold returns as a Hobey Baker finalist, the WCHA's reigning defensive player of the year and, with North Dakota's Travis Roche departed, the leading defensive scorer in the nation.
Every team, top to bottom, will have trouble cracking the senior and his defensive mates. While the Gophers' defense isn't made up of six Leopolds, the star has a tendency to carry those around him.
"He's easy to play with, so you can put a younger guy with him on the ice and he'll have that steadying influence," Lucia said. "He can break the puck out so easily that he's an easy guy to play with. You get yourself into trouble, just give it to Leo and he's going to be able to get the puck out of your end."
Don't think Lucia isn't counting his blessings that he has Leopold back. A draft pick of the Anaheim Mighty Ducks, Leopold could have easily skated out of Minneapolis with a big pro contract after a 12-goal, 37-assist season in 2000-01.
But since he's back, Leopold has high expectations.
"I think he'll just take up where he left off," Lucia said. "He was probably right there as one of the best, if not the best defenseman in college hockey a year ago. He's strong all over the ice and I think that we're fortunate to have him back for his senior year."
Lucia's top four defensemen — Leopold, Paul Martin, Matt DeMarchi and newcomer Keith Ballard, from national Junior A champion Omaha — indicate the Gophers will be a tough team upon which to score. Nick Angell is expected to be on the third defensive pairing, Lucia said, with his partner to be chosen from a field of possibilities.
It is the strength of the team, and will be called upon to deliver a few wins, especially considering the goaltending situation is in flux, somewhat, for the first time in a few years.
Adam Hauser returns for his senior season as the No. 1 goaltender, but Lucia is adamant that the Bovey, Minn., native will not play as much as in the past.
The goal, Lucia said, is for Hauser to play 65 to 70 percent of the games, with one of two freshmen — Travis Weber or Justin Johnson — taking the remainder.
The idea is to keep Hauser as fresh, mentally and physically, as possible for the stretch run.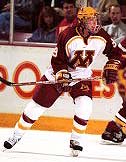 "Last year, I thought his best couple weekends of the year was when he had an off weekend at the end of January, and he played extremely well," Lucia said. "I think, mentally and physically, it's important for him to have a little bit of a break here and there. He hasn't had that luxury before, and we think he'll be able to this year."
Up front, Lucia's goal is to be strong in the middle of the ice. With John Pohl, Jeff Taffe and Matt Koalska, he said the prospects are good.
But keep an eye on Grant Potulny. As a freshman last season, he scored 22 goals and was an easy pick for the league's all-rookie team. What's in store for a follow-up?
"I don't know, goals-wise, if he'll score as many as he had a year ago," Lucia said. "But we know the type of player he is. We still should have very good specialty teams, and that's where he shined — in front of the net on the power play.
"I don't think his game's going to drastically change. He's going to go to the net, and that's where he's going to score his goals."
With two members of last year's highly touted power play gone, some efficiency may be absent as well. Expect Taffe to take Erik Westrum's spot up front, and Ballard or Martin in Dylan Mills' position on the blue line.
The Recruits: Another Strong Class
It's doubtful that this season's freshmen will make more of an impact on the Gophers than last year's, but it's an impressive group nonetheless.
The headliner is Barry Tallackson, a 6-foot-4 forward from the U.S. National Development Program. In some eyes, he was the top recruit in the nation last spring.
He's a gifted athlete, and he'll be able to earn a spot high in the Gophers' lineup.
"He's just got to learn to find that consistency like all young kids do," Lucia said. "But I think he's got a chance to be a top-two line player for us right off the bat."
But Lucia cautioned against expecting too much from this year's freshmen.
"I don't think our freshman forwards are going to score like they did last year," he said, "because I don't think they're going to get the same ice time as what the guys did last year."
The Schedule: Two Sides to Every Story
If the Gophers' early-season schedule looks a bit on the soft side, don't worry. There's enough at the end to make up for it.
After the Hall of Fame Game at North Dakota on Oct. 5, the Gophers' schedule before Thanksgiving consists of Bemidji State, Colgate, Michigan Tech, Minnesota State-Mankato and Minnesota-Duluth, with only the series vs. Tech coming on the road.
The Gophers have a good chance of standing on top of the league at the end of that stretch, and if they aren't, it will tell more than if they were.
But the last four weekends of the regular season come against the other WCHA members of the fabulous five NCAA teams of last year: at North Dakota for two; at home for two against Colorado College; two more at home against Wisconsin; and a home-and-home series against St. Cloud State.