It's anyone's guess how well the Maine team will cope with the death of its long-time leader, Shawn Walsh.
"It's a huge impact," says assistant coach Grant Standbrook. "We loved the guy. [Anyone who] saw the team at the funeral would know what I was referring to. They were all in tears and devastated by it.
"I had a long talk with them before we went on the ice for the Blue-White game [on Sept. 30]. I said, 'Shawn would expect you to just pick up like nothing happened and continue on.' But, of course, that can't happen. It's difficult to get them focused in the moment because of what's been going on around them.
"[Interim head coach] Tim [Whitehead] has done a great job to date and they like him. His practices have been very crisp and quick. They've enjoyed the practices. It's been an outlet for them."
If the players can channel their grief into playing with the intensity their legendary mentor demanded of them, the Black Bears may be a very strong team this year.
The strength begins in goal. Senior Matt Yeats backboned the 2000 trip to the Frozen Four and is a proven money goaltender. He did open last year with an inconsistent start, though, so he may have a little extra to prove. Fellow senior Mike Morrison would hold down the number-one position at many other schools. His statistics provide ample evidence: three-year goals against averages of 1.73, 2.67 and 1.96 along with save percentages of .917, .894 and .924.
"Our goaltending is strong," says Standbrook. "Matt may have had a few games at the beginning of the year when he let in a soft goal, but I think that also speaks of the way our team was playing at that time. We were more inconsistent than it was later in the year. For a goaltender to play well on any team at any level, it's not just the goaltenders. Your defensive record is expressed in the attitude of the forwards' backchecking and the way that the defensemen play."
The way that the defensemen play this year may be the deciding factor in how far this team goes. The Black Bears lost four mainstays on the blue line, including Doug Janik, who left for the pros with one year of eligibility remaining. Peter Metcalf will lead the returning group that also includes junior Cliff Loya and last year's big freshman defensive surprise, Francis Nault.
The team will need to get significant minutes out of the blueline newcomers: Troy Barnes (COJHL Defenseman of the Year), Jon Jankus, Paul Lynch, Matt Deschamps and Prestin Ryan. Ryan practiced with the team last year after arriving from Saskatchewan, but was not eligible to play until this season.
"If anything, that's our weakest position," says Standbrook. "But when I say weak, I mean relatively speaking [compared to our forwards and goaltenders], and I think that we're going to be very fine. We'll have a solid nucleus plus some young players who are very promising.
"Our captain, Peter Metcalf, is a solid competitor. Francis Nault gained a lot of experience last year. Obviously we're going to miss a guy like Doug Janik, who was a fierce competitor. He played with sprained ankles and the worst groin tear our trainer has ever handled. At times in the third period he couldn't even push with one leg. We'll miss him, but other guys have got to pick it up.
"Were actually trying out several guys now and it may be a little bit of a different look. We didn't get very many points from the point last year, but I think we can get a lot more this year. We'll be better at breaking out. It may mean we're weaker defensively, but time will tell."
Even though Maine struggled to score at times last year, the offense has the potential to be very strong. The top three scorers and six of the top seven return, led by Martin Kariya. Kariya's linemate, Michael Schutte, provides a wealth of intriguing possibilities.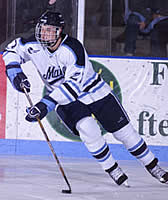 Schutte moved from defense to forward in midseason and promptly became one of the league's top snipers, finishing with 15 goals. Certainly the most memorable one was his converting a Kariya feed with three seconds left in regulation to force overtime against Minnesota in the NCAAs. Who knows how many goals the two can produce over an entire year?
"They're even roommates now," says Standbrook with a smile. "Schutte was the leading scorer in college hockey the last month of the season. He's got great hands. He can get his shot off in traffic. He's got great balance in traffic. Martin Kariya is noted for his intensity and his ability to see the ice and make great plays. They have already formed the basis of one line."
Niko Dimitrakos may be another offensive explosion waiting to happen. One got the impression in past years that the highly-skilled senior was content to be a very good player when he could have been a great one. Possessing the potential of a 50-point scorer, Dimitrakos has produced between 25 and 27 points all three years, frequently sidelined by injuries or benchings because of indifferent defense or insufficient hustle.
"For the first time I think it's struck home," says Standbrook. "There's been a great difference in his body. He's playing at eight percent body fat now and you would barely recognize him if you knew him before. So I think he's turned the corner.
"His skills are immense and now he's got the condition to go along with it. He'll certainly be a threat. He made the all-tournament team in the NCAAs when he was a freshman and he had been benched 11 games that year, and he hasn't done that much in the interim. But look out for him."
Juniors Chris Heisten, Lucas Lawson and Robert Liscak each totaled over 20 points last year and will fit somewhere in the picture along with Tommy Reimann. While Ben Murphy leads a host of freshmen who will vie for time, the new face in the lineup most likely to put points on the board is Colin Shields, last year's top recruit who was ruled ineligible.
"He just dances on his skates and he's got a terrific release," says Standbrook. "He'll be a threat every time he's on the ice."