OK, Everybody … and We Do Mean Everybody
In late April this year, at the annual NCAA D-I men's ice hockey coaches meetings in Naples, Fla., the CCHA decided to change its postseason tournament format to include every single team in the league.
Hey, everybody, hold hands! We're all going to The Joe!
(Well, all right; only half of us are going.)
Here's how the new postseason tournament structure will work, in six easy steps:
1. All 12 teams "make" the playoffs.
2. The top six teams host first-round, best-of-three series.
3. The winners the six first-round series advance to the CCHA Championship at Joe Louis Arena, and are re-seeded based on their respective regular-season finishes.
4. The top two seeds get quarterfinal byes, while No. 3 faces No. 6 and No. 4 plays No. 5.
5. The lowest seed to survive the quarterfinals faces the No. 1 seed in the semifinals, and the next- lowest seed faces No. 2.
6. The winners of the semifinals meet for the championship game.
Naturally, this lengthens the entire championship tournament process. The quarterfinals will take place on Friday, the semis on Saturday, and — here's the best part — the title game will be played on Sunday.
Who doesn't want to spend one more night in Detroit … in March?
The changes to the playoff format were unanimously approved by every CCHA school's athletic director, as well each school's faculty academic representatives.
On the surface, there appears to be just one significant reason for the changes to the playoff format: revenue. With five games instead of four, the league can — in theory — make a little more dough.
Another possible reason for the change may, however, be less obvious: who wants to lose his job because his team didn't make the playoffs?
Every coach remembers Scott Borek, the 1999-2000 CCHA Coach of the Year fired one day before the 2001 CCHA banquet. It's difficult to know how well Borek actually coached at Lake Superior State, given that he barely had enough healthy bodies to take the ice during the 2000-01 season. His firing — fair or otherwise — is a stinging reminder of how expendable Division I coaches can be.
But will inviting every team to the first round of the CCHA playoffs and six teams to The Joe significantly increase revenue and provide greater job security for CCHA coaches?
Certainly, every first-round series of the CCHA playoffs is a rockin' event, drawing large crowds at every arena. And paid attendance at the CCHA Championship Game seems high enough.
But what about those quarterfinals and semifinals? Will fans from as far away as Omaha, Marquette, and Fairbanks actually help pack the house? Sure, fans of teams other than Michigan and Michigan State (perennial title game participants) show up in good numbers when their teams make it to the championship game, but the semifinal games have been only moderately attended during the past few postseasons, and even if every fan from Oxford, Ohio, came to Joe Louis Arena, there would still be many seats left over.
And what of the fans unhappy with the Detroit location as it is? Are they going to be happier now to pay for an extra night's stay? While I happen to like Detroit, there's very little for fans to do within the vicinity of Joe Louis Arena, and the city's fragmented nature — a little recovery here, a bit there — is not conducive to walking tours.
As for any coach's job security, I'll grant that a last-place coach might save his job for one more year if he upsets a top contender in the first round of the playoffs, but this seems like a quick fix rather than a real solution (if any solution is needed).
All of this begs the question of whether or not the postseason tournament structure changes are good for the league itself, and I can't see that they are. While there's always a chance that teams No. 11 and 12 can upset teams No. 1 and 2, it's highly unlikely, and will most often result in two very decisive and quick first games for at least two teams.
If everyone makes the playoffs, for what will teams be playing down the stretch in February and March? Where is the drama for the fans? What are the consequences for teams dwelling in or near the cellar?
While it may seem admirable to give more players the chance to experience what it's like to participate in the CCHA Championship Tournament, it feels an awful lot like promoting a kid who can't read from second grade to third.
Not So Fast This Time
Last year, the Western Michigan Broncos broke out of the gate at top speed, rolling over opponents, scoring lots of goals, amassing a 14-3-2 record by mid-season.
Last weekend, Western split a pair of home games with the Alaska Fairbanks Nanooks, giving up seven goals in the Friday night loss. And it was Homecoming Weekend.

"We were disappointed Friday night, but I give a lot of credit to UAF," says Bronco coach Jim Culhane. "They played a great game. It was a heck of a weekend series. We hadn't seen them in a year…[when] they had a ton of freshman in their lineup. You knew they were just going to get better."
Culhane says the score in the 7-3 Nanook win was not indicative of the game, and the Broncos had made it a 4-3 game at the start of the third before UAF scored three unanswered to put Western away. "It was a little closer than the 7-3 outcome, and I'm really happy that we made some adjustments [for] Saturday.
"We got challenged. They really played us hard, and we were able to respond Saturday." WMU beat UAF 5-4 in overtime Saturday, with Chad Kline netting the game-winner.
This year's Bronco squad is minus Dave Gove and Steve Rymsha, the duo responsible for nearly a third of Western Michigan's goals last season. Naturally, says Culhane, this year's team is going to look a little different.
"Right now, coming into the year, when you lose the scoring ability of Dave Gove and Steve Rymsha, and you don't immediately repeat that. We're excited that Mike Bishai and Jeff Campbell have returned for us, and we look for other guys to maybe not put up the numbers Gove and Rymsha had last year, but to contribute. We had a couple guys with great numbers, and if we get two guys to breakout and contributions from others, we'll make up what we lost."
Culhane says he's happy with the team's speed and skill. "We're learning what it takes to compete on a nightly basis."
While the Broncos scored nearly four goals per game last season, they gave up almost as many. Any Bronco fan has to be concerned about the blueline. "Defensively I think we're going to be OK. We're returning all of our defense corps….so it's an area of constant improvement."
Jeff Reynaert struggled last season in net for Western Michigan, but Culhane says that between Reynaert and newcomer Mike Mantua, the Broncos will be solid enough in the cage. "Geez, Mike Mantua had his first career save on a penalty shot Friday night… [and] we decided to give him the start on Saturday."
Like every coach, Culhane is an optimist, and he's positive his Broncos will be in the hunt for postseason home ice. "We'll definitely improve through the season, and we'll take it from there."
The Broncos Remember September 11
During Friday's game against Michigan in Lawson Arena, the Broncos will be raffling off one of last year's black game-worn jerseys, with all proceeds going to the September 11 Fund.
"We've talked about world events in the last six weeks," says Culhane, who adds that the events of Sept. 11 seem "surreal" to his players because of the distance between the East Coast and Kalamazoo — and that feeling is something the Broncos would like to counter.
"We're removed from it in the sense that we haven't done anything." Culhane calls the raffle, run by the Broncos' booster club, "a small gesture on our part."
In between periods two and three, the Western Michigan Synchronized Skating team, coached by Jill Janik, will also give a patriotic performance to honor those who perished on Sept. 11.
Games of the Week
This week, the Broncos face the Wolverines in a home-and-home series — hardly a fitting reward for a team that learned from last Friday night's mistakes.
No. 5 Michigan (1-1-1, 0-0-1 CCHA) vs. Western Michigan (1-1-0, 1-1-0 CCHA)
Friday, 7:05 p.m., Lawson Arena, Kalamazoo, Mich.
Saturday, 7:35 p.m., Yost Arena, Ann Arbor, Mich.
No matter where each of these teams is in the standings, when the Wolverines and Broncos meet, the games are nearly always close.
While Michigan holds an 11-0-4 advantage over Western in the past 15 games, with the exception of the Broncos' 5-0 win over the Wolverines in Lawson in 1995, seven of the past eight games between Michigan and Western Michigan in Kalamazoo have been decided by a goal or resulted in a tie.
The Broncos haven't lost to the Wolverines in Lawson since Jan. 10, 1998, skating to three straight ties against Michigan in Kalamazoo since then. And since Oct. 1996, the Broncos are 12-11-7 against ranked opponents in Lawson.
"We're really excited," says Jim Culhane. "Yost is a great place to play, and I'm sure we'll sell out here."
In two games played so far this season, Mike Bishai leads the Broncos in points with five assists, and Pat Dwyer leads in goal production, with two. Defenders Mike Jarmuth and Dave Cousineau each have a power-play tally.
In just over 99 minutes of play during the Broncos' two-game set against UAF last weekend, rookie Mike Mantua made 40 saves for a goals-against average of .851, and a 4.23 goals- against average.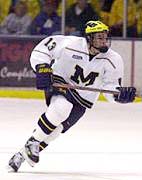 The Wolverines are — as Culhane himself says — "loaded." Mike Cammalleri leads Michigan in scoring with three goals and three assists for six points in three games. Cammalleri's linemate, rookie Jason Ryznar has two goals and two assists for four points in three games; those two goals were the first two scored for the Wolverines in two of their three games so far this season.
Six additional Wolverines have a goal, including several members of Michigan's talented rookie class. Michigan has outscored opponents this season by an 11-9 margin.
Josh Blackburn has seen over 183 minutes in net, with a 2.95 GAA and .859 SV%.
Incidentally, the Wolverines are 45-22-10 against the Broncos, and Michigan head coach Red Berenson (449-221-26) will be looking for his 450th career win this weekend.
Picks: The Wolverines lost last week to Minnesota-Duluth in the title game of the Maverick Stampede in Omaha. How happy do you think they are? Michigan 4-2, 4-2
Grudge of the Week
How much more can a Wildcat take?
Bowling Green (0-1-1, 0-0-0 CCHA) at Northern Michigan (0-0-0, 0-0-0 CCHA)
Friday and Saturday, 7:05 p.m., Berry Events Center, Marquette, Mich.
Two years ago, at the end of the 1999-2000 season, the Northern Michigan Wildcats were denied a post-season trip to Joe Louis Arena when the upstart Mavericks of Nebraska-Omaha beat NMU two of three games in the first round of the CCHA playoffs, in Marquette.
At the end of the 2000-01 season, the Wildcats were once again denied a trip to The Joe, and once again the damage was done at home. It was Mar. 13, and the perpetrators were these same Bowling Green Falcons, who beat Northern 2-1 in the first overtime of the CCHA Play-In game.
If all of this doesn't add up to a grudge, I don't know what does.
These games mark the first Division-I play for Northern Michigan this season. The 'Cats blanked the Lakehead University Thunderwolves 9-0 in an exhibition game Oct. 6.
The Falcons return from last weekend's Ice Breaker Cup play with a 9-1 loss to No. 9 Maine and a 1-1 tie against Clarkson.
Falcon junior netminder Tyler Masters recorded a career-high 51 saves in the game against Clarkson, in addition to seven shootout saves. Masters' 51 saves is four shy of Bowling Green's school record of 55, set by Al Sarachman Dec. 8, 1974 against Michigan State. All told, Masters had 76 saves at the Ice Breaker.
Bowling Green has a 26-18-4 all-time record against Northern Michigan.
Picks: As I've said to anyone who will listen, the Falcons remain a mystery to me. On some nights they play with the fire of champions; on other nights, the Falcon defense is very porous. The Wildcats, on the other hand, bring it on nearly every game. NMU 4-2, 5-2
When the Trees Are Stripped Bear of All They Wear
The month of October has been chosen as a time to spotlight several worthy causes and events. Here are just a few.
National Breast Cancer Awareness Month
October is National Breast Cancer Awareness Month, and as we in the college hockey community have learned recently, the world is small and cancer is indiscriminate. If you are a woman, ask your doctor whether you should get a mammogram. If you are a man who loves a woman, encourage her to talk to her doctor about breast cancer and early detection.
And while the majority of breast cancer patients are women, men are also susceptible breast cancer.
The National Breast Cancer Awareness Month page has information specific to women, while the American Cancer Society page is comprehensive.
National Dental Hygiene Month
Have you been to your dentist recently? The American Dental Hygienists Association wants to remind us all that potentially life-threatening conditions such as heart disease and diabetes have been linked to poor oral health.
National Domestic Violence Awareness Month
According to the U.S. Justice Department, 92% of all reported domestic violence incidents are crimes committed by men against women. The Justice Department also estimates that as many as four million women are physically abused each year by husbands or live-in partners.
The National Domestic Violence Hotline (NDVH) can provide help for any victim of domestic violence. The number for the NDVH is 1-800-799-SAFE (7233).
National Arts and Humanities Month
Americans for the Arts sponsors this month-long celebration of the arts and humanities in the U.S. I can't think of a better way to celebrate this than by spreading poetry all over the place.
John Ashbery writes in his beautiful poem "Some Trees," "That their merely being there / Means something; that soon / We may touch, love, explain."
Poetry not your thing? Click here, or here, or here.
While none of us will recover quickly from the events of September, in October we can at least take a few positive steps. Seek help if you need it. Encourage someone you love to find relief. Read a book. Create a new cheer for your favorite hockey team. Floss.
It's All Trivial
Here are a few extremely easy trivia questions. Send your answers to Paula C. Weston.
And He Sold Insurance, Too
I'm a little disappointed that no one has written about the blatant poet abuse perpetrated in my CCHA season preview, "Thirteen Ways of Looking at the CCHA." I can only assume that this means no one's read the preview, because it's unthinkable that none among my dear readers groaned at the title pun.
This is the trivia question, CCHA fans: To which poet do I owe the bulk of my apology? (No cheating!)
Weather You Like It or Not
Established in October 1890, the U.S. Weather Bureau answers to which U.S. cabinet department?
What U.S. state hosts what is considered to be the wettest (rainiest) place on Earth?
Other than any given press box any night of a game, where is the windiest place on Earth?
And Finally …
Name the band and the song from which I blatantly stole a line for a heading in this week's column.