Serino Continues Treatment
As Merrimack took the ice on Thursday for its home opener against New Hampshire, its patriarch, coach Chris Serino, was beginning the second round of chemotherapy treatments designed to attack the tumors found in his neck in late August.
"I go for chemo six straight days, 24 hours a day," said Serino on Tuesday, Oct. 16, two days before the fact. "I go in the hospital for a whole day [to begin the six-day cycle]. On Thursday, I'll be in the hospital the whole day, getting a large dose of chemo, medication and fluids. The whole business.
"Then they put a pump on me and I go home for another five days worth of chemo. It's a different kind [of chemo]. That goes in me for 24 hours a day for five days. I have someone come to the house to monitor it every day. Then I get off it for 15 days.
"I have to go through three cycles of this and I'm in my second cycle right now. Then I have to go for five weeks of radiation and chemo every day."
Even after just the first round, progress has been evident.
"The tumors in my neck have shrunk," he said. "Knock on wood, other than being tired when it's pumping into me 24 hours a day, as soon as I took it off, I didn't get any side effects from it and I felt great.
"I was on the ice every day before we went to Miami [last week], just doing my normal stuff. How each treatment will affect me, I don't know. But right now I feel great. I'm just disappointed that I can't be at the game on Thursday."
Ironically, a "White Out the Volpe for Serino" night had been planned in a show of support for the Warrior mentor.
"The disappointing part for me is that I've worked hard to get these kids here, we're opening up against UNH and the building looks great," he said. "Everything is there and I can't be at the game. I've got to be at the hospital.
"Those are the kinds of things that eat away at you, but on the other side of the fence, I'm not doing anybody any good if I don't get better."
For someone who has always been accessible and ready to talk about the program he's building, Serino has appeared reserved when it comes to talking about his fight with cancer.

"I don't mind talking about it, but I don't want it to overshadow my team," he explained. "I don't want it to be the focus of my team. We've got a good team. I like my team. We can play. I'm trying to make it so that my team is the focus of what's going on here, not me.
"I just don't want my guys having an excuse for losing or an excuse for why they can't be good."
That said, Serino has been touched by the outpouring of support he's received.
"It's been a humbling experience for me," he said. "You think that people care about you and you know about the hockey community and how close it is. But it's been overwhelming to me the support, [especially] from the people at Merrimack and the people at New Hampshire.
"I've even had hundreds of letters from people at Maine. Players all over the country have been calling back and writing back.
"I sit there sometimes and say to myself, 'Wow! I'm a pretty lucky guy here.' To have people support you like this?
"I have something here that hopefully they can fix. They think they can. I just take it day by day. But I know one thing. There are a lot of people in this world that are a whole lot worse off than I am.
"I appreciate it every single day now."
Get well, coach!
Congrats to Umile
New Hampshire coach Dick Umile celebrated his 250th career win in a 7-1 pasting of Vermont last Saturday. He entered the season with 249 victories, compiled in 11 years at his alma mater, an enviable rate. Umile has guided the Wildcats to NCAA tournament berths all but four times.
"It says a lot for the quality of the players we've had here at UNH," said Umile.
Uh-Oh!
It wasn't a very good weekend for Hockey East supporters. Although the 6-7-1 record doesn't look that bad on the surface, the league posted only a 2-7-1 mark against the Western conferences.
Obviously, it's still early. One week does not make a season. And the two wins against the CHA's Niagara and another two over the ECAC's Renssalaer and Vermont were good signs, not to be dismissed. However, in recent years it's been Hockey East, the CCHA and the WCHA that have taken turns thumping their chest about who's the top dog. If 2-7-1 records against the Western conferences become the norm, the Hockey East Rottweiler will have turned into a Chihuahua.
Considering No. 12 Providence's preseason pick as the conference's top team, the Friars' losses at the hands of No. 5 Michigan and No. 15 Nebraska-Omaha caught the biggest spotlight. PC coach Paul Pooley feels that the league's reputation and the accompanying bullseye for its predicted top team were a factor.
"Because Hockey East has been in the forefront for so many years, people are ready to play us," says Pooley. "[Nebraska-Omaha coach] Mike Kemp commented to one of the reporters before the game about Pairwise Rankings. I don't fully follow all that stuff because I just take care of what we do. But that's what people think about [when it's] league vs. league. It comes into play.
"[People think,] 'We're playing Hockey East and if we beat them, that's going to help our league and our team down the stretch.' Obviously, it's a focus for other teams."
For Providence, though, there were other factors, most notably a defense made up almost exclusively of freshmen and sophomores. Last year's senior captains Matt Libby and Jay Leach held together an otherwise inexperienced group and those two are no longer around to act as the glue.
"We're a very young hockey club and that's what people lose sight of," says Pooley. "The expectations are very high for our program even though we're very young. [We had the bullseye on us last weekend], but I also think that youth was a factor.
"We have to play better defensively to win games. We gave up goals that we shouldn't have given up. That hurts. You can't do that against teams of that caliber."
Four games against Western teams are on tap for this weekend, but don't hold your breath waiting for a big Hockey East comeback. Maine and UMass-Amherst travel to North Dakota and Colorado College for two games apiece. The Fighting Sioux and the Tigers rank as the cream of the WCHA crop, playing in barns where home ice is spelled with capital letters. So it could get worse before it gets better.
That said, we might not really know the relative strengths of the leagues until the holiday tournaments. By then, the rookies will be playing less like rookies and teams will have found their personalities.
Selected Notes
The last time Providence opened the year with a pair of losses was during the 1988-89 season when the Friars started the year 0-6, but advanced to the NCAA Tournament with a final record of 22-18-2.
Peter Fregoe had two goals and two assists in the losing weekend, while Jon DiSalvatore added another two goals, including one while shorthanded. Devin Rask also had one while the Friars were down a man.
Northeastern lost two in Alaska last weekend while integrating four freshmen defensemen into the lineup. "The losses were the big negative," says coach Bruce Crowder, "but we thought Tim Judy and Brian Nathe had pretty good weekends for us."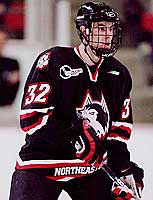 The NU injury list may be getting shorter. Although defenseman Brian Sullivan will be out another three weeks with a shoulder injury, top freshman Jared Mudryk is expected back this weekend after suffering a high ankle sprain in the Huskies' exhibition game. Freshman goaltender Keni Gibson remains day-to-day with a bad back. The biggest move back onto the ice, though, comes from Mike Ryan, who led the team with 17 goals last year, but contracted mononucleosis in late August.
"We've given him the extra time [off], so we hope he can hit the ground running," says Crowder. "Obviously with three goals in two games, we need someone who is going to be a threat."
Ryan Cordeiro led the scoring in Merrimack's split at Miami last weekend. The junior transfer from UNH scored two goals and added two more assists.
"He is what he is," says Serino. "He's a dog. He's good around the net. He's got to improve defensively, but he's working at it. You know what you're going to get out of him every night. And for us, he gives us a little experience. The guy has played in Hockey East for a couple years, which we need up [front]."
The Warriors' youth is best understood when you realize that junior Anthony Aquino (two goals, one assist) is a 1982 birthdate. And freshman Matthew Foy (three assists) is an '83 birthdate. Folks, that's getting them young and getting them good. Real good.
Defenseman Greg Lauze scored a hat trick in the season opener. … Freshman Taras Foremsky certainly seems to have been destined to play for Merrimack. The name "Taras" is in honor of a Ukrainian warrior and he also sports a Warrior tattoo.
UMass-Lowell defensemen Chris Gustafson and Baptiste Amar were in a good mood in the press room following the River Hawks' 7-3 win over Niagara.
When Amar was asked if it looked like the goaltender had been screened on Amar's goal, Gustafson blurted out, "Oh no, it went right by him!"

Gustafson, owner of seven career goals in his first three years, was then asked if he'd picked the corner of the net on his goal. He replied, "You guys should know me better than that by now."
Amar commented on hockey in his native France, saying, "There's no college hockey because there aren't that many hockey players."
Gustafson, mindful that Amar, Yorick Treille and Laurent Meunier are all members of the French National Team that will compete in this year's Olympics, said, "We take all the good ones."
Their coach, Blaise MacDonald — no stranger to comedy, he — banged his legs on the table when he first sat down. The diminutive coach quipped, "When you have long legs, this happens all the time."
On a more serious note, he commented that Amar "can bring his intensity away from the puck up a little bit, but clearly, there's a lot of talent there."
Gustafson and forward Mark Concannon appeared to have made major strides from their performances last year.
"The common denominator," said MacDonald, "is that they thrive on confidence. If they have a few good shifts in a row, that can catapult them into a very good game. Conversely, some bad shifts can lead to a bad game. That will be their challenge: to mentally prepare for tough times, too, [and overcome them]."
MacDonald knows full well that Lowell has had a tough time with Boston College in recent years, losing 15 straight to the Eagles.
"Being a Red Sox fan, you figure it can't get any worse," he said with a grin before turning serious. "I think the players are extremely motivated for the challenge and opportunity to play Boston College, in particular on the road. I would be shocked if we didn't put forth an incredible effort."
This weekend UMass-Amherst faces Colorado College, a team that is simultaneously 0-2-0 yet also ranked seventh in the country. It's the second (and third) meeting between the two schools with the Tigers winning, 4-2, on Nov. 28, 1998. UMass is looking to win back-to-back games for the first time since defeating UMass-Lowell and New Hampshire early last November. The Minutemen will be hoping for a three-goal outburst in the first period like they did against Niagara last Saturday.
Hockey East and the Super Bowl
As a result of the Super Bowl's move to Feb. 3, the Merrimack-Lowell game originally scheduled for 7 p.m. that evening has been changed to 2 p.m.
Trivia Contest
In honor of the late Mark Bavis, last week's question asked: What BU award did he share with his twin brother Mike, not once but twice?
The answer was the Bennett McInnis Team Spirit Award in 1991-92 and 1992-93. The first reader to get it right was Ming Chow, who claimed to have no cheer but offered:
"BU=Premier Hockey School (why not in the nation)"
Ming, surprisingly enough, is not a BU student, but matriculates at Tufts.
This week we'll honor the late Northeastern assistant coach Ed Arrington. The question is: What Beanpot award did Arrington win? Give the official name of the award and what year he won it.
Tiebreakers usually go to the first correct response. This time, however, the tiebreaker goes to the first correct response which also adds the relevant statistics.
Send your answers, with or without the stats, to Dave Hendrickson.
And Finally, Not That It Has Anything To Do With Anything, But …
I've read only three westerns in my entire life and have watched few movies of the genre. It's just not my cup of tea. But the three that I've read — Larry McMurtry's Lonesome Dove, Dead Man's Walk and Comanche Moon — are proof that a great writer can surpass any genre bias. Based on his other work, if McMurtry started writing Harlequin Romances, I'd put on sunglasses, a hat and whatever other disguise I can muster and buy a copy.
Are there any Hockey East observers who are surprised that on a roster loaded with superstars, Chris Drury was the one they called "Mr. Clutch"?
Mark Knopfler's Sailing to Philadelphia is a great CD. My own personal favorites based on lyrical and melodic excellence are "Baloney Again" and "Sands of Nevada." Shoulders for pillows. Lay down your head and dream …
Here's my guide to relationships that I developed during some offseason concerts. If a prospective mate is willing to shell out $130 a ticket to see U2, but has to run out twice during the concert to buy beer, drop that mate immediately. He or she either has a drinking problem or is an idiot. And anyone who would talk during Eric Clapton's Layla guitar solo is not someone you want to spend the rest of your life with.
He annoyed Boston fans for years prior to his death this week, but legendary talk-show caller Butch from the Cape was still worth every minute you listened. You'd hate what he said, but you'd find yourself laughing anyway. After being diagnosed with renal cancer, he quipped that he hoped he'd gotten "Red Sox cancer. The kind everybody beats." Butch was the Babe Ruth of talk-show callers. RIP.