When you mention RIT, most people think the Tigers are almost a shoe-in to get back to the NCAA Tournament and take another shot at the title — but things may not be quite that easy.
The Tigers only lost four players during the off season, but those four players accounted for 154 points of offense. That's more offense than some entire teams had last season. Included in that total was Peter Bournazakis, second on RIT's all-time scoring list with 100 goals and 129 assists over his four year career. "We're going to miss Peter tremendously on the powerplay," said RIT coach Wayne Wilson.
RIT also lost promising backup goaltender Rob Boope during the summer, who will not be returning to the program.
Tiger fans shouldn't despair, though. With Tyler Euverman in net and a host of recruits, RIT should still be the team to beat in the ECAC West.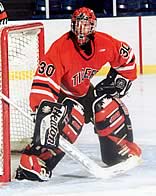 Chemistry
In another change compared to recent history, Wilson feels that the defense will lead the team this year.
"I think defense will be our strongest point this season," he said. "We have eight defensemen that can all play. They will be able to generate offense, both getting more points for themselves, and will be stronger at getting the puck up to our forwards."
RIT only recruited four freshmen this season, and with seven seniors and seven juniors, it has a very experienced squad.
"All of the freshmen are going to do a good job. My problem is going to be getting enough ice time for everyone, which chemistry wise may not be such a good problem to have," said Wilson. "Even those sitting out a game are good enough to play against any given team."
Leading the new faces amongst the Tigers is transfer David Bagley and freshman Roberto Orofiamma. Bagley (19-26–45) played the last two seasons with Geneseo while Orofiamma was a 100 point centerman and captain of the Vaughan Vipers of the Provincial Jr. A league during the 1999-2000 season. Last year he helped out the coaching staff at Vaughan.
With these kinds of additions to an already potent offense, Wilson will be juggling lines and making adjustments through the early parts of the season looking for the right combinations.
"The whole team will need to be flexible this year. We are going to experiment more this year than we ever have," said Wilson. "We don't want to get too set on things right on the get go, and we want to give everyone an opportunity. We're going to mix things up and try and find some chemistry."
Early Challenges
The Tigers will face some early challenges in their schedule. After opening with the Chase Rochester Cup Tournament, RIT travels to Manhattanville for an early league game with far ranging implications.
"I think our schedule is a little bit deceiving. Manhattanville will be our toughest test so far," Wilson said. "I think they are going to be a really good team, and that will, right off the bat, have ramifications in the league. I think that's going to be a hard game."
Then right after Thanksgiving, RIT heads west for a pair of games with Wisconsin Eau-Claire. "[The NCHA] league is really strong top to bottom, and there aren't that many easy games out there," said Wilson.
Rejoining RIT this season as an assistant coach is Chris Palmer. Palmer was a standout for RIT for three seasons back in the late 80's.
RIT's Ritter Arena was renovated this past season. A new sound system (long overdue), a new drop ceiling, and new white lights all combine to make Ritter "brighter than you can imagine" according to Wilson and hardly recognizable to the fans.