League Play in October?
This obviously must be a scheduling mistake. It is unheard of for the ECAC West to be playing league contests in October. Usually it is mid-December, or later, before the teams start to meet each other in meaningful games. Scheduling blasphemy aside, Manhattanville traveled to Neumann last weekend to kick off the 2001-2002 league schedule.
"Lesson No. 1 — Don't play Manhattanville shorthanded," said Neumann coach Nick Russo.
The game last Saturday was close after the first period, at least on the scoreboard, with Manhattanville holding a slim 3-2 lead. But Neumann got into penalty trouble in the second period, and Manhattanville scored three power-play goals to take control of the game for good. Another power-play goal in the third period and a couple of even-strength goals scattered here and there were all that the Valiants needed to take the 9-2 decision.
Freshman Lee Stubbs has been on a tear for Manhattanville so far this season with five goals and four assists in three games.
"We seem to be a bit more offensive this year," said Manhattanville coach Keith Levinthal. "And Lee is certainly a part of that."
Chris Seifert is also off to a great start, tallying 10 points, following up on the 30-point season he had last year.
Points Galore
Prior to the start of this season, RIT coach Wayne Wilson said, "I think defense will be our strongest point this season. We have eight defensemen that can all play. They will be able to generate offense, both getting more points for themselves and will be stronger at getting the puck up to our forwards."
How prophetic can a coach be? Well, after two regular-season games, it looks like Wilson knew exactly what he was talking about. The Tigers scored 14 goals in the Chase Rochester Cup, seven from the offense and seven from the defense. And four of the top nine Tigers in points are defensemen.
Tournament Play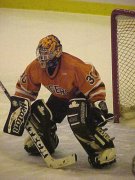 Hobart met Geneseo in the opening game of the Chase Rochester Cup tournament in what turned out to be a very close game. Hobart built up a 4-1 lead early in the second period, only to see Geneseo come storming back to tie it only a couple of minutes into the third period. A timely power-play goal by freshman Andy Boschetto regained the lead for Hobart, on the way to a 7-4 victory.
RIT rolled over Brockport in the other opening-round game, 7-0, earning junior netminder Tyler Euverman his sixth shutout.
On Saturday, the Tigers faced off against Hobart in the championship game. Hobart played tough in the first period, staying tied 1-1. But the RIT steamroller got going in the second stanza and rolled to a 7-1 victory to capture its third straight Rochester Cup title.
Utica began its inaugural season in the Buffalo State All Sport Invitational Tournament, facing host Buffalo State. The Pioneers took an early lead off a goal by Scot Leygraff. Buffalo State rattled off the next five goals, including two on the power play and one shorthanded tally, on their way to defeating Utica 7-2.
"Running around on special teams hurt us," said Utica coach Gary Heenan. "But we learned the lesson, following that game, and talked about it in our team meeting."
Utica returned the next night to face Fredonia in the round-robin tournament, and did indeed learn the lesson from the night before, holding Fredonia 0-for-5 on the power play. The Pioneers showed some early character in this contest, coming from behind twice including tying the game midway through the third period, to earn a 2-2 tie at the end of overtime.
While the game is officially a tie in the NCAA's records, the tournament format called for a shootout to decide a winner. Ryan Dolan was the last shooter for Utica and scored, giving them the 2-1 edge.
"Winning it in a shootout, on our last penalty shot taken, that was a feeling that our guys will never forget," said Heenan.
Elmira Heads West
The Soaring Eagles are playing the most Western teams of anyone in the league, and they started that schedule right out of the gate. Elmira opened play with a pair of games at Wisconsin-Stevens Point.
Coach Tim Ceglarski's new emphasis on the breakout paid dividends right off the bat in the first game. Elmira jumped out to a 2-0 lead less than four minutes into the game with quick goals by Pierre Rivard and Clark McPherson.
"We more or less dominated play in the first period," said Ceglarski, "until things kind of settled in late in the period."
Tied 3-3 early in the third period, Rivard and McPherson worked their magic again as each scored breakaway goals to take control of the game on the way to a 6-3 win.
"We're a good skating team this year, and need to emphasize the breakout to be successful," said Ceglarski.
Saturday's game wasn't as good of a story for Elmira. Steve Kaye got the Soaring Eagles on the board first, but Point came back with four unanswered goals to take control of the game.
"They came out flying in the second game, and we came out a little flat," said Ceglarski. "They haven't lost back-to-back games in their barn in a long, long time." Elmira would eventually lose the contest 5-2 to take a split home.
Game of the Week
"I don't think you are going to get a tougher weekend."
— Neumann coach Nick Russo, on his squad's games with Elmira and RIT.
It's only week two of the season, and already there is a matchup on the schedule with playoff implications.
RIT travels to Manhattanville for a contest on Saturday, and the last two contests between these teams at the Valiant's New Roc City rink have been close affairs, with RIT notching one-goal victories both times. Manhattanville can cement its current position atop the league standings by defeating RIT this time around.
Elsewhere, Neumann gets the award for toughest weekend. The Knights play at Elmira Friday night, which is the Soaring Eagles' home opener debuting their renovated facilities. Then Neumann hosts RIT for a Sunday afternoon matinee. Russo said it best when he quipped, "I don't think you are going to get a tougher weekend."
"We wanted to schedule the games like this to give our players an idea of what it was like to face these teams back-to-back on a weekend," said Russo. "If we are fortunate enough to finish fourth and make the playoffs, they will need to know how to handle great teams back-to-back."