It's a little more than an hour before game time at the National Hockey Center. The building which will soon be alive with excitement is now quiet and empty.
A lone player sits in silence on the Huskies' bench in this still before the storm, soothing his mind, being at peace with himself and his surroundings. For St. Cloud State assistant captain Nate DiCasmirro, a pregame is not time for heavy metal music or talking it up with teammates. Pregame for DiCasmirro is a time to be an island unto himself, perhaps remembering where he's been or where he may go this evening.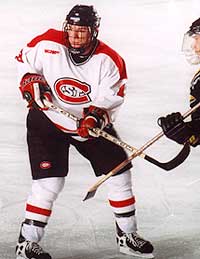 "Sitting on the bench by myself before I get dressed … It just helps to calm me down." DiCasmirro said. "I like the feeling I get."
DiCasmirro, a senior forward from Burnsville, Minn., is currently ranked fifth in the nation in scoring with 36 points and fourth among D-I players with 23 assists. In his stellar career at SCSU, DiCasmirro has 122 points, which places him 8th in the Husky records. His 47 career goals places him 12th on the career charts at SCSU, and his 75 career assists is sixth in team history.
He was born in Ontario before moving to Virginia on [nl]Minnesota's Iron Range, then to Duluth at a very young age. It was at the Duluth Entertainment and Convention Center where he remembers first being on skates.
"I remember hanging onto the boards the whole time," DiCasmirro said.
He and his family moved to Burnsville before he was old enough to go to school. He grew up with friends near Highway 13 in the northern part of the suburb, doing the stuff that boys do. But, even at an early age, DiCasmirro knew he wanted to point his life in a different direction. Instead of following the road most had taken, as a 15-year-old, he and his best friend left Burnsville and their high school girlfriends to play Midget AAA hockey in Marquette, Mich.
"Those first months in Marquette were hard. We had some people we knew there, but, oh, were we homesick. It wasn't until after Christmas that we got used to it," DiCasmirro said. "I realized that you only get one chance at a hockey career, so I want to do everything I can to make that happen. You always hear about the player that will do an extra set of reps and that player will have an edge on you. I never wanted anyone to have that edge on me."
"There's sometimes a feeling I get before I have a really good game. … I don't know how to describe it. That night everything you touch seems to go in. I just don't know how that works."
— Nate DiCasmirro
Being on his own forced DiCasmirro to learn, perhaps by default. He had to learn to manage his money. He had to learn to be away from his mother and father. He had to learn to be alone … Just as he is every game night on the player's bench.
Back in [nl]Minnesota, his life has also taught him lessons, either by bussing tables at Benchwarmer Bob's, or folding jeans at the County Seat store, or laying erosion-control tarps with Ryan Malone and Mike Walsh for five weeks one summer a couple years ago.
"I learned that I don't want a regular job. That's not for me. Hockey is what I want to do," DiCasmirro said. "I want to play for as long as I can."
After playing in Marquette, he played for two years at North Iowa of the UHSL. In his second season he and former Husky Tyler Arnason were the two top scorers in the league.
The combination of Midget and USHL experiences, and now his experience at St. Cloud State, have given DiCasmirro an opportunity to see things and places that many people have only read about. Hockey has taken him all over North America, to Alaska and even to Europe twice. He's met hundreds of people and logged thousands of miles. But on one of his trips, Dicasmirro found himself in a place that has nothing to do with hockey, a place he said he will remember until he is 90 — the Nazi concentration camp at Dachau, Germany.
"There wasn't much talking. It was weird. You look at things you've only read about, like where they incinerated the people and where they slept … seeing pictures of when scientists would come in and do tests to see how cold the body could get … It's something I'll never forget." DiCasmirro said. "To think the way people were treated …"
Hockey has provided access to so much for DiCasmirro, yet one facet that comes across is how cordial and personable he is. He's friendly and outgoing, easy to talk with. He knows how to treat others with respect, and his best role model in that manner may be his mother, Linda, who now works for the [nl]Minnesota Wild.
"She used to work for the North Stars and, when I was young, I'd go outside the visitor's locker room and try to get autographs. Sometimes they wouldn't sign, and my mom said, 'Now remember how you felt when they told you no'," DiCasmirro said. "So every time a little kid comes up and wants an autograph, I picture my mom's face."
The picture most Huskies fans have of DiCasmirro is as a gifted hockey player and fan favorite, his No. 13 flashing up and down the ice. And announcer Chuck Claussen, with the crowd in unison, announcing Nate DI…CAS…MIRRO!! into the starting lineup.
"The first time the crowd did that? I still get chills every time I get to start and hear that," DiCasmirro said. "I have a little friend of mine, Dylan, and I walked into the basement one day and one of his friends did that. He just looked at him like, 'What are you doing?' It was cool."
Cool. Calm. Ideally, DiCasmirro's relaxed and at ease as he gets ready to leave his place on the player's bench. One last thought, one last chance to see if tonight is going to be one of those games where he will bring the crowd out of their seats.
"There's sometimes a feeling I get before I have a really good game. I always feel a certain way before a game, but sometimes the feeling is a little different. I don't know how to describe it," DiCasmirro said. "That night everything you touch seems to go in. I just don't know how that works."
A thought for another moment. The energy is starting to build as fans start to fill the arena, Dogg Pound first. Time for Dicasmirro to leave his place, only to return a short time later to that oh-so-familiar chant of the crowd.