Most of them come from a land with 10,000 lakes, 10,000 rinks and hundreds of thousands of young players who dream of a golden moment like the one Saturday night for someone who isn't even a Minnesotan, but is as close now as any foreigner.
Pulling the M-emblazoned sweater over their heads, then pushing an NCAA championship trophy over their heads.

How many of these Gophers dreamt this dream when they were 4 years old, on a frozen pond in Hastings or Osseo or Wayzata? How many of these Gophers dreamt the same just a night before, when they admitted it would be difficult to sleep, knowing how much was on the line the next day?
How many future Gophers were watching Saturday night, either at the Xcel Energy Center or in front of a television set, starting the next round of dreams?
And how many of those future Gophers will be in their driveways Sunday afternoon, stick in hand, putting a fictitious puck into a fictitious net in a fictitious overtime, giving their fictitious Gophers a fictitious national championship?
That's how some of these real, live Gophers started out. By the time their season was over Saturday night in downtown St. Paul, pandemonium was spelled M-I-N-N-E-S-O-T-A.
These Gophers had been saying all along, "It's time."
Indeed, this was their time.
It was time for Jordan Leopold, the first Gopher to win the Hobey Baker Memorial Award and the national championship in the same season.
It was time for Johnny Pohl, the energetic senior who said before that he couldn't imagine how players from other Minnesota teams could even look at him if he hadn't made a Frozen Four in his collegiate career.
It was time for Matt Koalska — yes, Matt Koalska. Who knew he could jump so high?
It was time for Grant Potulny, the player who has unfortunately received about as many questions this weekend about being from North Dakota as for being one of the best players on the ice. He's got a NCAA title-winning goal to his credit now, and what Minnesotan will ever think of him as a foreigner again?
It was time for Adam Hauser, the goaltender who has been the target of many shaken heads and verbal barbs in his time as a Gopher, but will leave knowing he's a champion.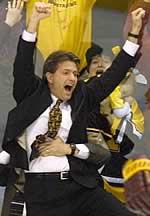 And it was time for Don Lucia. When this national title game went to overtime, he couldn't help but think of 1996 and Cincinnati, when his Colorado College team was so close, but lost in a fourth period to Michigan in the championship game.
These Gophers couldn't help but watch their time unfold again. A television in their locker room some 30 minutes after the game showed highlights of the team's triumph.
It was an arms-around-shoulders moment.
"We made SportsCenter!" Pohl shouted.
But some of them had to admit that they weren't even really sure what they had accomplished.
What they had accomplished was the school's first national title since 1979, erasing the memory of a 4-3 loss in overtime of the 1989 final on this same plot of land with a 4-3 victory of their own.
They had written their names along with those from the glory years of Minnesota hockey: Herb Brooks, Neal Broten, Bill Baker and Tom Vannelli, just to name a few.
Yet some were still a bit confused about their place.
"Looking around the locker room right now," senior defenseman Nick Angell said, "we don't know what we just did. I just talked to some of the ex-Gophers and they said the same thing: 'You guys will realize what just happened 10 years from now.'"

Others will see it sooner. Maybe the kid in Golden Valley, Minn., who will take a stick into the street Sunday afternoon and pretend he's Jordan Leopold. Maybe the kid in Red Wing, Minn., who will say he's Johnny Pohl.
And yes, maybe the kid in Bovey, Minn., who will stand up and proudly say, "I'm Adam Hauser!"
For these Gophers, though, it's time … to enjoy this.
They've looked at the shrines to the 1974, '76 and '79 teams at Mariucci Arena. Now, they'll have their own, something those future Gophers can gaze at in quiet determination.
They've brought the glory back to Minnesota.