Of all the things Glen Williams said in 33 years as the public address announcer at Michgan's Yost Ice Arena, the times he was silent might best describe how much he loves college hockey.
"I was always very emotional, but you didn't notice it over the mike," Williams said from his Ann Arbor, Mich. home. "There were many times when there was a delay in my announcing, and that was because I got so darned excited that I knew my voice would crack if I said something."
The last moment of excitement came this past March, at the 2002 NCAA West Regional, when Michigan defeated top-seeded Denver to advance to the Frozen Four. With that, the microphone, and Williams, were retired.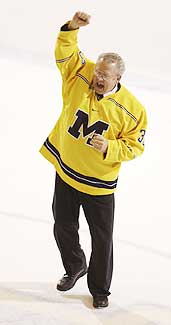 The excitement — and nervousness — of announcing a game at Yost never seemed to wear off for Williams.
"I was always nervous pre-game," said Williams, who has worked for Michigan's alumni association for well over 30 years but is moving north to Boyne City, Mich. to manage a golf course he designed. "I didn't want anyone coming up to say something to me. I didn't even want friends coming in — not before the game.
"I wrote everything down in capital letters, double-spaced, everything from, 'Good evening,' to the starting lineups. Several times I was hit with the puck in mid-announcement, and once I was hit with a water bottle being thrown from one penalty bench to the other. But if I know what I'm reading and my finger is close, I don't have to miss a step."
Thankfully for Williams, many of his, "Good evenings," were followed by memorable moments on the ice.
Williams counts NCAA tournament games held at Yost as some of his favorites, especially those against Cornell in 1991, North Dakota in 1998, and St. Cloud in Michigan's first tournament game last March.
And as exciting as it was for Williams to see Michigan win national championships in 1996 and 1998 under current coach Red Berenson, he said that he recalls the mid- to late-1970s most fondly.
"The very best time I had watching hockey was when Dan Farrell was the coach," Williams said, referring to a time when Michigan was still a member of the WCHA. "That's because at that same time we had Bob Johnson at Wisconsin, Herb Brooks at Minnesota, Murray Armstrong at Denver, Amo Bessone at Michigan State and John MacInnes at Michigan Tech. They were outstanding men and outstanding coaches. They attracted outstanding players.
"But that's not to take anything away at all from Red, and watching youngsters developing now under his tutelage. I take great pride in watching the Stanley Cup playoffs because almost every team has a Michigan player."
From the infamous "Fog Game" in 1991 against Michigan State, to winger Denny Felsner literally deking an opposing defenseman out of his athletic cup, Williams has seen it all.
And while Williams has been a constant at Yost for 33 years, he's seen pretty much everyone else around Michigan hockey come and go, including those that inhabit the Wolverine student section.
Williams said he enjoyed talking to Michigan students in between periods, but that he wasn't always a fan of their chants and cheers, which sometimes include vulgar language.
"When an opposing player is coming over to the penalty box, our team of off-ice officials helped me get ready by telling me the penalty and the player," Williams said, referring to the Yost fans' caustic finger-pointing litany directed at opposing players. "I try to override that because I don't care for foul language. That doesn't stop it, but you do what you can."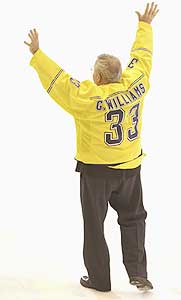 Williams encountered a somewhat less raucous fan atmosphere — but equally intense competition — at Phyllis Ocker Field, where he served at the PA announcer for Michigan field hockey for the last 12 years.
The team sent Williams out with a bang, winning the national title last fall.
"I really love and respect those scholar-athletes more than any other group of individuals," Williams said, emphasizing that three-quarters of the women on the team are academic All-Americans. "In field hockey there is no pro league to go to, so they're just playing for the love of the game."
The Michigan ice hockey program appreciated Williams' efforts over the years, evidenced by the Michigan game sweater they presented him at the Wolverines' final regular season home game last March.
Williams said he was tipped off that something was up at a pre-game meeting between on-ice and off-ice officials.
"I knew something was going to happen, but I had no idea what," Williams said. "When the officials asked before the game if there was anything special going on, [Yost Arena Manager] Craig Wotta said, 'We have something between the first and second periods for Glen.'"
Williams proudly donned the sweater after he was presented with it. Then, he went over to thank the student section before taking a couple turns around the ice.
Finally, standing on the block "M" at center ice, Williams led the Yost faithful in a chorus of "The Victors."
"That was a real thrill," Williams said.
Williams, who hopes to attend some Michigan games next year, is very optimistic about Michigan's chances during the 2002-03 season.
"They'll be even better [than they were this year]," he said. "They haven't lost much at all."
In one sense, Williams is right. Michigan will be a favorite to win the national championship with the likes of Mike Cammalleri, Jed Ortmeyer, and John Shouneyia returning to lead last year's remarkable freshman class.
But with Williams' departure, Michigan hockey has lost its voice. No longer will fans look forward to hearing the familiar way Williams announces the night's scratches as fans file in for the 7:35 p.m. start. It will be someone else behind the mike, and he or she will has a real tough act to follow. It will be hard to duplicate that way in which Williams interacted with both the Michigan pep band and the Yost audience in general.
Led by the band, the student section would count in unison the final seconds before one minute remained in each period before yelling, "How much time is left?"
When Williams announced, "One minute remaining in the period," the students replied in unison, "Thank you!"
Because of all he's done for Wolverine hockey, it's a safe bet Williams won't stop hearing that any time soon.
---
Reach Jon Paul Morosi at [email protected]