Whatever preconceived notions you may have about the WCHA's 51st season, Scott Owens has something to tell you:
"Whatever you think is going to happen usually doesn't."
Think Denver's going to run away with the MacNaughton Cup again, and maybe even win it all this season?
Think Minnesota has a good a shot as anyone, despite the loss of big-name players?
Think St. Cloud won't be as good without gifted scorers named Mark Hartigan and Nate DiCasmirro?
Think North Dakota will be rejuvenated by wonderboy Zach Parise?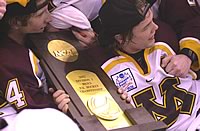 Sure, all of that could happen this season. But with all the uncertainty floating around the WCHA, don't rule out the opposite, either.
Denver wasn't a popular choice to win the league's regular-season title last year, but did so in handy fashion.
Who would have thought Owens' Colorado College team would have started 0-5 in the league? The Tigers were supposed to be one of the league's best, but were essentially out of the race by November.
Minnesota emerged as the national champion from the third spot in the regular-season standings.
Well, maybe that last one wasn't so unexpected. If there's one certainty in the WCHA, it's that any of the teams that make the NCAA tournament has a legitimate shot of winning it all.
"Minnesota's won four national titles. They've never won a national title when they've won the league," Golden Gophers coach Don Lucia said. "Every time, it's been a second- or third-place finish.
"I think what says a lot about our league is Denver was the seventh different team since 1992 to win or get a share of the WCHA title. That shows the depth of our league and that's why I've always maintained that if we can be one of the top teams in the WCHA, we're going to be fine nationally."
"I think what says a lot about our league is Denver was the seventh different team since 1992 to win or get a share of the WCHA title. That shows the depth of our league."
— Minnesota coach Don Lucia
And with the national tournament expanding to 16 teams this season, the WCHA might be able to put five in the field on a regular basis. Barring a down season, four seems to be a given. A strong fifth team has a decent shot.
The league's elite teams from last season appear prepared to hold down those spots. Denver, Minnesota, St. Cloud State and Colorado College made the 12-team field last season, and have expectations to do so again.
Then there's the rest of the league, fighting to get back in the top half in some cases; fighting to establish themselves as a perennial competitors in others.
North Dakota has Parise, one of many new faces who could make a big impact on the league, to lead its hopes of a climb back up the ladder after a disappointing season. New coach Mike Eaves starts the drive to take Wisconsin back to elite status. A new look helped Alaska-Anchorage; can it continue?
Minnesota-Duluth has a young team and could struggle because of it. Minnesota State-Mankato's offseason losses leave it thin. And Michigan Tech is in search of leadership.
Some expect to get to the national tournament; for others, it would be a dream come true. Regardless, if they can make it that far, anything goes. That's the way of the WCHA.
"Playing in this league, if you can survive and be healthy come postseason play, I think you really get a boost in playing in the national tournament because of having competed over the course of the year in this league," Denver coach George Gwozdecky said. "I think Minnesota proved that."
A quick look at the WCHA's teams follows. Click on a team's name to see its preview. Teams are listed in their predicted order of finish.

Denver
Coach: George Gwozdecky, 17th year overall, ninth at Denver
2001-02 overall record: 32-8-1
2001-02 WCHA record: 21-6-1, 43 points
2001-02 WCHA finish: First
2002-03 predicted finish: First
The short story: The Pioneers have great goaltending and offense back; the questions will come with a young defense.
He said it: "There's no question this team, I believe, has good leadership, we've got experience," Gwozdecky said. "Obviously, you never know how the health is going to be, but health a lot of times comes down to what kind of shape you're in, what kind of condition you're in. Our conditioning levels are terrific, the best we've been. Up to this point, our team has done everything they can to be ready to start the season."
Minnesota
Coach: Don Lucia, 16th year overall, fourth at Minnesota
2001-02 overall record: 32-8-4
2001-02 WCHA record: 18-7-3, 39 points
2001-02 WCHA finish: Third
2002-03 predicted finish: Second
The short story: The Gophers' national title experience is priceless; can they overcome big-time losses?
He said it: "We're going to have some nights that we'll shake our head at," Lucia said, "but I think we're also going to have some good nights and I anticipate we'll be a pretty good hockey team come the end of the year."
St. Cloud State
Coach: Craig Dahl, 22nd year overall, 16th at St. Cloud State
2001-02 overall record: 29-11-2
2001-02 WCHA record: 19-7-2, 40 points
2001-02 WCHA finish: Second
2002-03 predicted finish: Third
The short story: Big scorers are gone, but depth remains; defense, goaltending are sticky situations.
He said it: "Most of the veterans that are back have played," Dahl said. "I don't think there's anything new for them. Most of our guys know what their role is."
Colorado College
Coach: Scott Owens, fourth year overall and at Colorado College
2001-02 overall record: 27-13-3
2001-02 WCHA record: 16-10-2, 34 points
2001-02 WCHA finish: Fourth
2002-03 predicted finish: Fourth
The short story: The Tigers don't have some of the stars that led them back to the tournament, but there's plenty of scoring potential.
He said it: "You'd always like to be in the top three," Owens said, "but with nine freshmen … "

North Dakota
Coach: Dean Blais, ninth year overall and at North Dakota
2001-02 overall record: 16-19-2
2001-02 WCHA record: 11-15-2, 24 points
2001-02 WCHA finish: Tie, sixth
2002-03 predicted finish: Fifth
The short story: Can Zach Parise do it all, or will the Sioux be undone by defense and goaltending?
He said it: "Last year wasn't a surprise to me," Blais said. "The focus was on Engelstad Arena, so people in Grand Forks weren't really shocked because they pretty much know their hockey and know that we were young. I would say now this year we'll be a little bit better, but after this year with who's coming in … I would say the next five years look real good."
Wisconsin
Coach: Mike Eaves, first year overall and at Wisconsin
2001-02 overall record: 16-19-4
2001-02 WCHA record: 12-13-3, 27 points
2001-02 WCHA finish: Fifth
2002-03 predicted finish: Sixth
The short story: Much of the offense is gone, which gives Eaves the clean slate he's looking for.
He said it: "We're definitely going to have some rollercoaster rides because it's going to take a while for everybody to get on the same page and play as a team," Eaves said. "We recognize that, but what I think will happen is around Christmastime, we'll start to level off and we'll find the consistency that you need to have to be a good team."
Alaska-Anchorage
Coach: John Hill, second year overall and at Alaska-Anchorage
2001-02 overall record: 12-19-5
2001-02 WCHA record: 10-14-4, 24 points
2001-02 WCHA finish: Tie, sixth
2002-03 predicted finish: Seventh
The short story: A step in the right direction last year; more of the same must happen this season.
He said it: "We need to really establish Sullivan Arena as a tough place for opponents to come in to play," Hill said. "And I think we've got to build on the success we had last year on the road. It's easy to say that, but it's not easy to accomplish it."
Minnesota-Duluth
Coach: Scott Sandelin, third year overall and at Minnesota-Duluth
2001-02 overall record: 13-24-3
2001-02 WCHA record: 6-19-3, 15 points
2001-02 WCHA finish: Ninth
2002-03 predicted finish: Eighth
The short story: Sandelin is taking charge of the defense, so expect some changes there.
He said it: "The guys are committed," Sandelin said. "Their expectations are certainly a lot higher than they've ever been, and that's a real good sign."
Minnesota State-Mankato
Coach: Troy Jutting, third year overall and at Minnesota State-Mankato
2001-02 overall record: 16-20-2
2001-02 WCHA record: 11-15-2, 24 points
2001-02 WCHA finish: Tie, sixth
2002-03 predicted finish: Ninth
The short story: It may be tough for this young team to stay in the race for home ice.
He said it: "I know we'll take our lumps at times because we will be young again," Jutting said. "There'll be nights when inexperience gets you a little bit. But I think we'll play with a lot of enthusiasm, and one thing we have done since we've gotten into this league is we play pretty hard most nights. I think you'll see a team that comes out and plays pretty hard."
Michigan Tech
Coach: Mike Sertich, 21st year overall, third at Michigan Tech
2001-02 overall record: 8-28-2
2001-02 WCHA record: 4-22-2, 10 points
2001-02 WCHA finish: 10th
2002-03 predicted finish: 10th
The short story: The Huskies want the renovation to be completed, but the framework is still in progress.
He said it: "When you're a program that needs to be restructured, it takes time," Sertich said. "You've got to plant those seeds and boy, as much as you water it, you wish it would grow faster, but some things are out of your control, too."