Last year the Tigers needed a strong end-of-the-season surge to earn a berth in the ECAC playoffs. Once there, the toll of the late-season run — including victories in four of the last five regular-season games — came back to haunt the Orange and Black, who were easily downed easily by Rensselaer in the first round.
"I liked the way we finished last season — the regular season," clarified head coach Len Quesnelle, who enters his third season at the helm. "We ran out of gas in the playoffs. We really had to overachieve at our best to pull it off at RPI, but we fell short."
This time around, the Tigers are hoping that a little more depth and an injection of youth will be the difference that will make this the year when playoff positioning, rather than playoff life, will be the subject of discussion come March.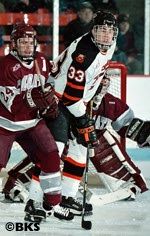 Leading the way up front will be big, burly senior George Parros, who will be looked upon to shoulder the offensive burden now that three of the Tigers' top scorers have been lost to graduation. The 6-5, 220-pound Parros finished with nine goals and 13 assists last season; he and sophomore Neil Stevenson-Moore are the only returning players who finished the 2001-02 with double digits in points.
"George Parros physically is a leader," explained Quesnelle about his captain. "He's probably the best conditioned athlete we had, but Parros is on a level where he will have a chance to play some hockey afterwards. He's trying to have the biggest impact that he can have this year."
Although Princeton was far from an offensive juggernaut last season — the Tigers scored three goals or more in just six of their first 24 games — the coaching staff is keeping its fingers crossed that its youth on the front lines will keep the ship afloat. Heading into the season, the Tigers' offense is made up of 11 freshmen and sophomores and only eight junior and seniors.
"We have 10 freshmen coming in and it will be a competitive group," said Quesnelle. "I like the attitudes that we have in our senior class and that goes a long way towards our leadership. We have 18 freshmen and sophomores. Getting that group of 18 to establish themselves athletically is one thing, but to establish themselves within the team is for the seniors and juniors to help them."
Defensively, the Tigers will be young and anchored by junior Matt Maglione, who posted nine points in 27 games last year. The blueliners will also have to hope that senior netminder Nate Nomeland can fill the shoes left by Dave Stathos. Nomeland played in a total of six games last year to finish with a .877 save percentage and a 3.28 goals against average. Although the job appears to be Nomeland's to lose, the fourth-year goaltender will be challenged by sophomore Trevor Clay.
"One of Nate's biggest hurdles is that he's had to play behind Dave Stathos for three years," said Quesnelle. "I think Nate is looking forward to the opportunity, but he'll be pushed by Clay and the freshman [Eric] LeRoux. On defense, we have seven defensemen and I like all seven. I can throw any combination into the lineup any night and I'm comfortable that they can give us the skill dimension and the physical dimension, which we've lacked."
When you talk to the coaching staff, there is a lot of cautious optimism which is not surprising when you have such a young, untested crew. However, as was the case the last two years, a lot of chips will need to fall into place for Princeton to make a legitimate run.
"If I project ourselves at the end of the season I see a lot of guys contributing," prophesied Quesnelle. "Coming into this year we'll be a little bit more competitive internally at all positions. I don't think we have the clear go-to guy, at least not yet. I think that we're going to have a number of guys contributing."