After reaching the NCAA Frozen Four last season, Niagara returns 15 players and brings plenty of optimism for success to the 2002-03 season.
First off, however, they have to find a way to replace a couple of big holes.
The Purple Eagles lose just six letterwinners but four are significant. Gone are all-time leading scorer Brooke Bradburn, goalie Tania Pinelli, who had earned all but four of the team's 71 wins in four seasons, and team captains Barbara Prall and Stephanie Romain.
"You can't replace some of the players we lost," head coach Margot Page said. "You can look to have everyone contribute more. You want to make the most of the positives from the past and, over the last four years, we've worked hard and gotten a good effort as a team. Chemistry and team dynamics are important."
It is those qualities which Page hopes will carry her team back to the Frozen Four this year. Despite those losses, Niagara has key people returning as well.
Senior Valerie Hall led the team with 24 goals and 44 points last season, as well as topping the nation with 13 power-play goals. Sophomore Teresa Marchese-Del Monte was sixth nationally among rookies with 39 points and tied for the team lead with five game-winning goals. Four of the team's top five scoring forwards return this season.
"Right now, I look at us being able to play four forward lines," Page said. "We'll have three balanced lines and at least two that can do our scoring, so I think we'll be tough to defend."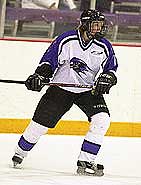 Five defensemen return from a group which helped Niagara rank fourth nationally with just 1.61 goals against per game. Senior Linda Groff and junior Bradi Cochrane led the team's blue-line corps with 15 points each. Moving the puck has been a strength of the Purple Eagle defense in the past so Page brought in some solid, stay-at-home types, to balance the unit, including 5-8 freshman Kate Sweeney.
The most apparent loss from last season is in goal, where Tania Pinelli backstopped the team for four seasons. She ranked sixth nationally in both goals against average (1.52) and save percentage (.933) last season.
However, Page feels junior Jennifer Mascaro, who boats a 1.87 career goals against average, will be able to do the job this season. Behind her are sophomore Lindsey Taylor and freshman Breanne Doyle. Page likes the competition and depth that the three netminders provide.
"Doyle is talented and will push Mascaro for the number-one job," Page said. "Taylor is also in the mix and I think the competition is healthy. With the three of them competing I think we'll get the best out of each of them."
Although they return three-quarters of last year's Frozen Four squad, the Purple Eagles begin the season out of the top 10 in the preseason rankings, a fact which doesn't bother Page. The loss of two of her top players and the uncertainty others have about Niagara's move to the new College Hockey America conference play a role in the team being unranked early.
Page's returning players have proven themselves with last season's success and she is confident in the abilities of her freshman class. She also feels the new league will push people to perform better.
"There is definitely motivation when playing each game," she said. "Each team will be solid and looking to establish themselves in the new league."
The Purple Eagles will find that out early as three of their first four games are against CHA foes, including their season opener, Oct. 18-19, when they host Findlay.