When Early Might Be Too Early
Verbal agreements between schools and recruits have been standard operating procedure for a long time. Coaches can initiate contact with high school players beginning on the July 1 that leads into their senior year, but until the November early signing period when both parties can sign a National Letter of Intent, all agreements are verbal.
The July 1 date is firm unless a student-athlete initiates the contact. In those cases, a school has every right to respond.
In recent years that has led to earlier and earlier verbal agreements even to the point where players not yet in their sophomore year of high school are consummating a deal with their school of choice. One example is Jack Johnson, who prior to entering the 10th grade at Shattuck-[nl]St. Mary's, verbally agreed to attend Michigan, arriving at the school in the fall of 2005.
Yes, you read that right. A commitment by a player not yet a sophomore in high school for the fall of 2005. A comparable example closer to Hockey East is Chris Bourque — yes, that Bourque — verbally agreeing to attend Boston University.
Most coaches see this trend as a bad one, fraught with dangers, but potentially a necessary evil to keep up with the Joneses.
"I think it's unfortunate that this is developing because I'd be very surprised if students that aren't even in their junior year, let alone their senior year, are able to make the educated decision," says Maine coach Tim Whitehead. "They're very impressionable at that age. I don't think they're ready to make those types of serious decisions. Those are big decisions for a family where you've got to spend four years at a university. It can change your life in different ways.
"A lot of these guys that are making these decisions can't really go wrong, obviously, if they're picking a BU or a Michigan. Those are great choices, but, at the same time, at that age you don't know what's best for you. You don't know what the best fit is. There are other choices that are excellent and if you don't give yourself that opportunity and certain teams are pushing students to make those decisions at that young age, I don't think that's right either.
"[At Maine] we're not getting into that right now. Obviously, we're going to be forced to look at guys young because we don't want to miss out on the best players. So we're getting involved to a lesser extent unwillingly, knowing that we don't want to miss out on some very good players. If that's the way it's going, we're going to have to get into that theatre, but I don't really like it.
"I don't think it's great for the kid and the family or the universities because you can't put your best foot forward and bring him in on an official visit. They can't spend as much time with the players that are currently in the school. They haven't even been through their senior year or, in some cases, even their junior year.
"So I think it's unfortunate, but if that's the way it's going to develop, we're going to be aware of it. We'll see if sometimes those early commits are a little too early. We may see the trend go back the other way."
Others, such as Mass.-Lowell coach Blaise MacDonald, see it as a potential positive for the athlete, but a negative for the school itself.
"It's a great opportunity for the student-athlete to commit to a school early if they know it's the right school," says MacDonald. "Most of the kids that grow up in this area here are very well-versed by the time they're sophomores in high school as to what various schools have to offer and what their perception of that school may be. As opposed to a kid from Wilcox, Saskatchewan. He really doesn't know.
"What you see happening is more of the BUs, BCs and UNHs getting some early commitments. That's fine. Then [at Lowell] we know where we need to go for our players.
"It's great for the kids, but for those schools [it's a risk]. There are a lot of kids who change. I remember in high school playing with some kids who were unbelievable when they were freshmen and sophomores, but they just lost their passion. So it's a bit of a risk for the schools."
Some might wonder how binding a verbal agreement is if a kid blows out his knee, loses his scoring touch or decides that what really matters is sex, drugs and rock 'n roll. MacDonald assumes no wiggle room.
"If we pursued somebody and got them verbally committed, we're committed to them regardless," he says. "If something tragic happened or they just flattened out, hey, that's the risk you take. We're only as good as our integrity and our word."
BU coach Jack Parker recognizes other downsides for programs such as his own.
"I think it's a bad trend in some ways," he says. "I'm very, very happy with the four commitments we got early. We got some real good kids. We know every one of them is a real good player and we're very happy with them. We're not going to be worried about whether we made a mistake or wonder if they're good enough. That's no problem at all.
"But I do think that some other guys might get afraid. [They'd think], 'Hey, nobody offered me yet. I better jump at something less than what I really want.' A year later they could have gone to BU or BC and instead they went elsewhere.
"I think that's going to come back to haunt us. We may get the early commitments now, but I think it may scare some kids and we might want to take a look at that.
"In general, other people started this so we've had to keep up. That's all."
A Better First Impression This Time Around
Maine was only one of many schools looking hard at goaltender Jimmy Howard last year when he was playing for the US National Development Program. Now, he's already in the Black Bears' record book, as was noted last week, and on Saturday he ran his record to 6-1-0 (1.39 GAA, .943 SV%) with a win over Boston University. That left a much more favorable impression on the Terrier coaches than what they saw last year.
"We saw him four times last year when we were thinking of recruiting him, and he gave up six goals every time," says Parker. "Then we didn't get him and he turned out to be a great goaltender. He's going to be a real good goaltender, [but] every time we saw him, he didn't play well.
"How can we take a guy when every time we see him play he gives up six goals?"
Another Stalwart on the Eagle Blue Line
BC defenseman Andrew Alberts (6-4, 215) impressed one and all in the contest against BU, earning the number one star for his goal — a rocket from the point — and strong physical play. He's taken a major step forward in his sophomore season.
"Coach [York] has given me the opportunity to be on the power play and that's given me more confidence in my game itself," he said after the game. "We've got a great defensive corps and all of them are playing well. When the whole team is playing well, you end up playing better and everyone gets better. My progress is [because] of the team."
Alberts even had a breakaway, which hasn't been his typical modus operandi.
"That's probably my first breakaway since Bantams," he said with a grin. "I was in foreign territory."
All in the Family
BC goaltender Tim Kelleher took extra satisfaction in his win over BU since his brother Chris starred for the Terriers from 1994-98, including All-Hockey East honors as a senior. Quieting the Walter [nl]Brown Arena crowd prompted him to say, "I've got some bragging rights over my brother because he had a pretty successful career when he was here."
Quip of the Week
Lowell lost a chance last Saturday to gain an important insurance goal when referee John Gravellese blew his whistle prematurely on a delayed penalty call.
Lowell coach Blaise MacDonald's comment?
"Maybe Grav should have drank decaf."
Wally Pipp or Carroll Hardy?
Scott Weighart will be filling in for yours truly the next two weeks. Will I become the next Wally Pipp (the baseball player who Lou Gehrig replaced in the lineup for one game only to remain there for the next 2,129)? Or, as Scott suggests, will he be the next Carroll Hardy (the only man ever to pinch-hit for Ted [nl]Williams)?
You be the judge.
Trivia Contest
Last week's contest asked you to identify the Hockey East players depicted in the photograph below, which dates back to 1995 when the boys were 14. (Click here to see a larger version of the photo)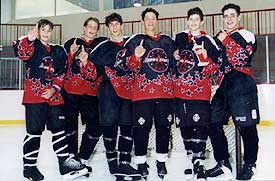 From left to right, the players are: Scott Selig (Northeastern), Freddy Meyer (BU), J.D. Forrest (BC), John Sabo (BU), Todd Jackson (Maine) and Ben Murphy (Maine). For supplying the photo, Tim Doherty deserves a cheer, which is:
"GO BU!"
Two readers got all six players. However, the quickest has yet to supply his (or her) cheer, which will be added as soon as it is received.
This week's question is a trivia question with a capital T courtesy of the Boston Herald's John "Jocko" Connolly. You'll either need a very good memory or, more likely, resort to guessing to get this one.
In last Friday's BC-BU game, Andrew Alberts was assessed a two-minute penalty for playing without his helmet after it was knocked off. (The rule is that a player must either retrieve the helmet or skate to the bench immediately.) Name the last collegiate player given this penalty at Walter Brown Arena. If you can also name the referee that whistled the penalty, you get nominated for the Get-A-Life Hall of Fame. Jocko and BU coach Jack Parker got both off the top of their heads.
Email Scott Weighart (not Dave) with your responses. The winner will be notified by Tuesday; if you haven't heard by then you either had the wrong answer or someone else beat you to it.
Calling All Illiterates…
Last week's passages were:
The hit man's eyes slowly cleared, and he looked at me with the hate that had helped him survive in prison, that had kept him scheming, kept his brain and body working, kept him fighting back against nightmarish conditions. He needed a sensitive social worker to bring out the best in him, so I jammed the machine pistol against his forehead.
and
I gave him the toe of my shoe in the frontal bone of his skull to jar his cerebral hemispheres and make him wonder if perhaps he should have gotten his high school diploma after all.
and
Usually on nights when people try to murder me, I drink extra dry martinis. Now I drank mineral water. This was spiritual progress.
These were from The Game of Thirty by William Kotzwinkle. It's the first book of his that I've read, but won't be the last. Since nobody answered successfully, I encourage you to check out this witty and wonderfully written suspense novel. The next challenge to your literacy will come in a couple weeks.
And Finally, Not That It Has Anything To Do With Anything, But…
I've written before about what a fan I am of audiobooks. Unless you have access to a library with a good selection of them (such as Andover, Mass.), however, you may have found that the audio version is more expensive than the book itself, not to mention that most titles are abridged (boo! hiss!).
However, I've found a much less expensive solution. Check out audible.com and see if they have titles that you're interested in. I opted for their Premier Listener plan, which for $15.95 a month gets me two books a month and (with a year commitment) their MP3-like portable player. So I download two titles a month into my PC and the MP3 player. They also have magazines, newspapers and some unique content that you can subscribe to, such as a biweekly Robin Williams show or the Garrison Keillor monologues, The News From Lake Wobegon.
Check it out. If you sign up, it'd be nice if you noted "hewriter" as the person who referred you since I'll get a book credit, but what I'm really looking to do is let people know just how great audiobooks are.
---
I still have copies available of Food and Other Enemies, an anthology that includes my short story, "Yeah, But Can She Cook?" Publishers Weekly called it a "witty collection." Order it from online booksellers or ask me about ordering information since I can send you a less expensive, personalized copy.