"You think of certain dates," Boston College coach Jerry York says. "July 4th, Labor Day, Christmas and the first Monday in February."
The Beanpot, Boston's celebration of college hockey that pits the city's four Division I programs against each other, shows no signs of age as it enters its 51st year. The first two Mondays in February remain evenings that coaches, players, their families, fans and alumni circle as off-limits for anything short of life-and-death.
That's because in these parts, winning a Beanpot is a matter of life and death.
Ask Wayne Turner, who will forever be a legend at Northeastern for scoring the overtime game-winner that gave the Huskies their first 'Pot in 1980. Never mind that they finished the season with a losing record. A Beanpot championship cleanses all stains.
Not just because the tournament has sold out the Boston Garden and its successor, the FleetCenter, since 1977. Not just because both a book and a video portray its 50-year history. Not just because a lavish luncheon five days before the event douses the media's fire for the event with gasoline. Not just because the crowd noise of the 18,000-plus assembled makes FleetCenter crowds for pro events seem funereal by comparison.
For those reasons and more, the Beanpot is just… special.
"This is the fourth Beanpot that I've had the honor of participating in," Harvard coach Mark Mazzoleni says. "Being a guy that isn't from the Boston Metro area, it's been a learning experience.
"You come in as the new person on the block and you really don't understand the culture. You don't. You think you may have an idea about it, but you don't. I've really learned to appreciate the Beanpot.
"Last year we were able to actually right our ship at the end and win our ECAC tournament championship and lost a great game to the University of Maine in overtime in [the NCAA East Regional].
"But I had a number of people since that happened — alumni in general — whose first comment was, 'Well, you had a good regular season and you started to get it going [in the postseason], but you haven't done anything in the Beanpot yet.' So we know the significance of the Beanpot."
Even so, some fans from other schools will cast envious eyes and contend that the media spend far too much time trumpeting "just another tournament."
"I don't know where anyone would get that notion," Northeastern captain Mike Ryan says. He then adds with a laugh, "I guess they have to be from UNH or something like that."
As Ryan heads to the penalty box, assessed two minutes for that cheap shot, he says, "It isn't [just another tournament]. Those guys can tell you whatever they want, but it's not. You can go around the city of Boston and the schools [and see].
"It's not just a players' tournament. It's the schools and the community, the families. Everyone is involved in this tournament. It's a huge pride factor."
The day after Boston College won the 2001 Beanpot this writer received a joyous email from an Eagles fan. Attached to the email was a photo of an improvised sign on the BC campus. It read:
Boston College
Home of the Beanpot
Ben Eaves, a native of [nl]Minnesota, recalls that year and the thrill of breaking Boston University's six-year stranglehold on the 'Pot.
"It was just an amazing experience," he says. "Guys were really pushing. Something really serious was on the line. That's when I knew there was a lot more at stake than just another tournament trophy.
"When we won it, [it was great] just to see the look of almost relief on the faces of the juniors and seniors and complete happiness on their faces because they'd been working so hard for it and hadn't been able to win it before.
"People went crazy back at school. I knew it had been a long time and there was a lot of frustration back at the school over not being able to win the trophy.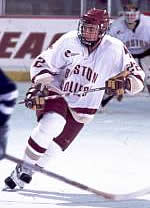 "Back on the campus, people would come up to you congratulating you. You're getting emails and phone calls. They were ecstatic about getting the Beanpot back."
Okay, so a lot of people consider it important. But why?
"They have the same four schools in this tournament every year with the biggest rivalries in college hockey: BC-BU, BU-Harvard," BU coach Jack Parker says. "Those are huge rivalries and since Northeastern has come on in the last two decades, all of it has been fabulous."
York adds, "It's the proximity of the four schools. It's the caliber of the four schools, as far as the tradition. Three of us have won national titles in the last 15 years."
If you listen to York, the Beanpot's importance isn't anything new, either.
"I get offended when people say that it's really grown and it's really special now," he says. "Hey, I'll tell you what. In the mid-'60s [when I was a player] it was real special then. It was one of the highlights of our career at BC and [for those at] all the schools."
Northeastern's Mike Gilhooly puts his two cents in. "When you have the four schools as close as they are, just down the street in some cases, and you put them in a venue like [the FleetCenter] with the excitement level jacked up that high, you're going to get great hockey. You're going to get intense hockey and emotion and everything.
"When you have this type of environment where it's so tight-knit and everyone knows guys from the other schools and guys who played with other guys, I don't think you can rival that in any other tournament."
Gilhooly is looking forward to the reactions of the Husky freshmen.
"I want to see the looks on their faces when they skate out there at 8 o'clock because, I tell you, that late game is something else," he says. "It literally is a jaw-dropping experience."
BU's John Sabo puts it all in a context that perhaps even those who never step foot in New England can appreciate.
"It's the tradition of it that makes it so special," he says. "I played for my country in the world juniors and for the Under-18 team so those things are always going to be the top memory for me, going against teams from other countries. But the Beanpot is right up there because it's so special."
Quotes of Note
Parker on his club: "My team has been playing very well of late and not winning many hockey games…. We're playing our best hockey right now even though it doesn't look it in the won-loss record. We've played extremely well lately.
"The only problem we've had has been our penalty problem that we hopefully will solve, but in every other way we're playing better now for sure than we were playing in October, November and December.
"Nobody is telling anybody that they can't be aggressive, but there's a fine line between being aggressive, being physical and being real stupid. If you want to take cheap, stupid penalties to put us down, we're not going to let you do that. Ice time is always the ultimate convincer. If you don't want to do it my way, then don't."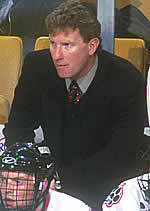 BC's Ben Eaves on the Eagles' play of late: "I feel that we're on an upward spiral right now. We're getting better every day."
Mazzoleni on his team: "We have a chance. We feel good about ourselves. We've taken progressive steps in trying to build this program. You may come in here the first couple years and think you have a chance, but I think you're fooling yourself.
"This year I really think we have a chance. We know that we have to play our best game, but at this point in time we're ready for that challenge."
Crowder on this year's Christmas tournament as a preparation for Monday night: "We played in front of 400 people in Canada so we're ready for that crowd. We can handle 400. The next night was a little tougher. I think they had 600 the next night. There was an adjustment process. They had to make a lot more popcorn."
Comedy aside, he isn't concerned about the crowd impact on his Huskies. "We've had almost five grand at old Matthews Arena and it was rocking. It was like there was 15,000 there. So I don't think the crowd is going to be a factor."
Crowder on what his team's chances: "I don't think there are too many people putting money on the Huskies, but at the same time that's a unique thing for the players in that they can just go play.
"Our kid in the net has to play well. He has to be a difference-maker. We also have to play our system and execute it and not put ourselves in a disadvantage. Boston College has a tremendous power play and we can't give them opportunities like that. We have to play every shift like it's our last.
"We've played very well over the last five games [prior to defeating Providence on Friday]…. We have to continue making little steps and hope they become big steps on Monday night."
Bill Littlefield, NPR commentator and host of "Only a Game" on being asked to speak at the luncheon: "I'm surprised that [Northeastern's] Jack Grinold would invite a writer [as the special speaker]. It was, after all, a writer who predicted 51 years ago that the basketball tournament between the four schools would be a great hit, but the hockey tournament would wither and die pretty quickly."
---
Thanks to Scott Weighart for his contributions.