On Wednesday, December 11, as his teammates and classmates at Cornell University studied for finals scheduled to begin the following day, David LeNeveu laced on his pads in Halifax, Nova Scotia, where the Team Canada selection camp for the World Junior Championships was beginning.
LeNeveu's performance at the summer selection camp, plus his stellar fall-semester record (10-1, 1.18 GAA), earned him an invitation to the December selection camp. The competition in Halifax was fierce. LeNeveu, who the Phoenix Coyotes drafted 46th overall in the 2002 NHL Entry Draft, was one of four young goaltenders vying to represent Team Canada; only two goaltenders would make the team.

The scrutiny from the Canadian media was tremendous, particularly so for the only college hockey player invited to camp.
"You have to get used to the media," said LeNeveu. "There was more media than I've ever seen in my life."
Media interest in the WJC in Canada was exponentially higher than in the United States, where the WJC garners as much attention as a dog show.
LeNeveu described the selection camp as a "high pressure, high intensity situation." Between the start of selection camp and the conclusion of the tournament, the players had little time for anything but food, sleep, and hockey. LeNeveu and other Team Canada aspirants spent at least three hours playing and practicing each day. Ninety minutes of preparation and warmup preceded each hour-long practice. Every game entailed four hours of pregame and postgame preparation.
From Dec. 14-16, each day began with 6 a.m. cuts. Cam Ward and Jeff Drouin-Deslauriers, each of whom was drafted ahead of LeNeveu last June, were the goaltenders who left the selection camp disappointed.
LeNeveu made the team, thereby fulfilling a lifetime dream.
"It was a huge relief getting up in the morning, going into the breakfast room, and seeing the teammates who made it through the ordeal," said LeNeveu. "I felt a huge amount of satisfaction that all the hard work I put in over the years finally paid off."
LeNeveu's accomplishment was rare. No NCAA goaltender had represented Team Canada at the WJC since 1985, when Michigan State's Norm Foster became the first to do it.
LeNeveu was the only NCAA player on Team Canada's roster. Being the lone collegian on the team was not strange, though.
"I had played with a number of the guys before," LeNeveu said. "They know where I was from and the route I took."
The composition of Team Canada differed dramatically from the makeup of Team USA, for which 17 of 22 players play, or plan to play, college hockey. The American players did not face LeNeveu's scheduling predicament; Team USA does not have a mid-December selection camp that conflicts with players' final exams.
LeNeveu believes that the coaching staff and media treated him the same as they treated his teammates who have played major juniors.
"If you are able to play at that level, it doesn't matter where you come from," he said.
He disputed the suggestion that Canadian fans treated him differently from the players who played in the WHL, OHL, or QMJHL.
"I received the same support from the fans that everyone else got," said LeNeveu. "I definitely got huge support from people in Nova Scotia and throughout the country."
LeNeveu's fan support, which he gauged from the influx of e-mails sent to Team Canada's players, was most heavily concentrated in the vicinity of Fernie, his Southeastern British Columbia hometown.
However, it was LeNeveu's fellow Team Canada netminder, Marc-Andre Fleury, who won over the hearts of most Team Canada fans. Fleury plays junior hockey for the Cape Breton Screaming Eagles of the QMJHL. Although the Screaming Eagles are the provincial rival of the Halifax Mooseheads, the Halifax fans were familiar with Fleury's play and wowed by his flashy style.
LeNeveu played the latter of Canada's two exhibition games. In that game, Canada defeated Finland 6-3 margin.
"It was great to be able to finally get in net and get a chance to play," said LeNeveu. "I was able to show that I was part of the team."
He also relished the opportunity to play against Finland's top-notch skaters.
Team Canada coach Marc Habscheid named Fleury the starting goaltender in Canada's first round-robin game against Sweden, which Canada won 8-2 on Boxing Day. Two days later, Fleury and Team Canada shut out the Czech Republic 4-0.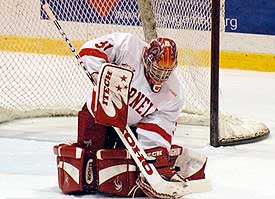 LeNeveu's first tournament action came Dec. 29 against Germany.
"I didn't feel that I faced a ton of shots," said LeNeveu, who made 13 saves in Canada's dominant 4-1 victory. "It was good to get a chance to play and help the team move forward through the round-robin games and toward achieving the goal of reaching the gold-medal game."
Canada faced Finland in its final round-robin game on New Year's Eve. Canada needed a victory or a tie to take first place in the round-robin pool and earn a bye in the quarterfinal round. That morning, Habscheid named LeNeveu the surprise starter because Fleury was suffering from a stomach ailment. After Canada took a 4-1 lead midway through the second period, Finland scored two goals 74 seconds apart on shots that LeNeveu almost always stops. At 11:20 into the second period, Fleury replaced LeNeveu in goal. Canada retained its lead and won 5-3. LeNeveu did not play again at the WJC.
"That was a pretty big disappointment for me," said LeNeveu. "Playing pretty well might possibly have meant that I would have played in one or both of the medal-round games. I had an off-game. Every goaltender will experience an off-game."
Nevertheless, LeNeveu appreciates the positive ramifications of the round-robin win over Finland. He said, "We got the win. That was the most important thing. I still contributed to the team.
"It was my chance to show my strength of character to face the media, answer questions, and face that kind of scrutiny. That experience will make me better off in the future."
On Jan. 3, Canada beat the United States 3-2 in the semifinals. LeNeveu said, "We did what we wanted to do: to make it back to the gold-medal game."
A year earlier, Russia overcame a third-period deficit to defeat Canada in the gold-medal game. This year's gold-medal game between the same nations ended similarly. As the backup goalie, LeNeveu watched Russia score two third-period goals to win 3-2.
"It's definitely very difficult to sit on the bench when you think could contribute … whether in an exhibition, regular-season, or gold-medal game," he said. "I thought Fleury played very well and gave us a chance to win. Unfortunately, we just couldn't come through with a victory."
Last spring, LeNeveu backed up Matt Underhill, who graduated last May, in Cornell's 4-3, double-overtime loss to Harvard in the ECAC championship and in Cornell's 4-3 loss to New Hampshire in the NCAA quarterfinals. LeNeveu said that losing the gold-medal game entailed "the same type of feeling" as Cornell's postseason defeats last season.
"Any loss in a championship game is very difficult," he said.
Despite the disappointment of not winning the gold medal, LeNeveu said, "I was just happy to represent my country and to come back with a silver medal."
Playing for Team Canada in his home country "was definitely a very special experience," said LeNeveu, who lauded the phenomenal fan support. 10,594 fans attended all of Team Canada's games at the Metro Centre in Halifax and millions more watched on television.
"The support our country gives us is a great motivation to play our best," said LeNeveu. "We couldn't leave the hotel room without running into someone who would wish us good luck in our next game."
LeNeveu's participation in the WJC advanced his development as a goaltender. He singled out the benefits of playing with and against the top players in his age group, who have tremendous speed and skill.
"Playing in the WJC will help me down the road for being in high pressure, high intensity situations," he said.
After the tournament ended, LeNeveu's teammates returned to their major junior or, in Pierre-Marc Bouchard's case, their professional teams. LeNeveu, however, returned to Cornell and studied for the final exams he could not take in December. He had no difficultly deferring his exams to January.
"As long as I make the professors' experience easy by doing well in the classes and coming to them with my situation, they are quick to accomodate," said LeNeveu.
As Cornell's starting goaltender, LeNeveu should have an opportunity to capitalize on his WJC experiences later this season, when the Big Red, ranked No. 4 in the nation, is expected to contend for a national championship.
"From day one, our whole focus has been winning the ECAC Championship, making the NCAA Tournament, making the Frozen Four, and hopefully going on to win the championship," said LeNeveu. "That's been the team's goal and my goal."