Norwich will be the host site for the 2003 NCAA Division III Men's Ice Hockey Frozen Four.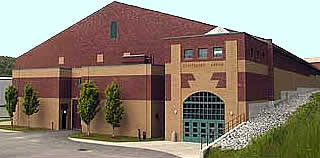 Kreitzberg Arena will play host to the Frozen Four for the second time. Norwich served as the host to the 1999 Frozen Four, the first year the arena was open.
The host Cadets will face top-ranked St. Norbert in one semifinal game on Friday, March 21, with Oswego facing Middlebury in the other.
The championship game will be played Saturday night.
Norwich has a 79-7-1 home record in the five-year history of Kreitzberg Arena, including Saturday's 5-4, come-from-behind win over Trinity in the quarterfinals.
This year's bracket has the potential for rivals Norwich and Middlebury to meet in the championship game should both teams win their semifinal games. St. Norbert is in its first Frozen Four, and Oswego returns for the first time since 1987.
Ticket information and exact game times will not be finalized until Monday. Ticket information will be available on the Norwich University website at www.norwich.edu or by calling 802-485-2500 on Monday afternoon.