Three finalists — the "Hobey Hat Trick" — are left in the race for the 2003 Hobey Baker Memorial Award, presented annually to college hockey's most outstanding player.
Peter Sejna
Team: Colorado College.
Position: Forward.
Class: Junior.
Height, weight: 5-foot-11, 198 pounds.
Hometown: Liptovsky Mikulas, Slovakia.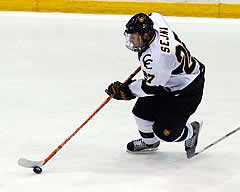 Statistics: 36 goals, 46 assists, 82 points in 42 games this season. 91 goals, 99 assists, 190 points in 126 career games.
This season's highlights: Sejna led the nation in points and goals, and was second to teammate Noah Clarke in assists. He scored at least a point in 41 of the Tigers' 42 games, helping CC to the WCHA regular-season championship. Combined with the last game of the 2001-02 season, he had a school-best 33-game scoring streak.
Why he'll win it: He was unquestionably the dominant player in the WCHA, and his point-scoring streak testifies to his consistency. In gaining 82 points, his game high was four, set twice. He combines the strength needed to fight off defenders with the smarts needed to lead a team's offense.
Why he won't win it: He didn't get a lot of national exposure this season, with only three games against Eastern teams, two of them in October. Also, the last four Hobey winners have played on teams that have advanced to the Frozen Four.
Quotable: "Oh, he's a man. I haven't seen a better player than him." — former Michigan Tech coach Mike Sertich.
Notes: Sejna signed a free-agent contract with the St. Louis Blues on Sunday and, as CC coach Scott Owens expected, will forgo his senior season. He scored a power-play goal in his first NHL game. … He scored 36 points in 19 games against teams that made the NCAA tournament, an average of 1.89 points in those games. … He was named the national player of the month for November by the Ice Hockey Collegiate Commissioners' Association.
Chris Kunitz
Team: Ferris State.
Position: Forward.
Class: Senior.
Height, weight: 6-foot, 186 pounds.
Hometown: Regina, Saskatchewan.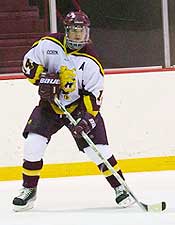 Statistics: 35 goals, 44 assists, 79 points this season. 99-76–175 for his collegiate career.
This season's highlights: CCHA Player of the Year … Won the league scoring race with 24 goals and 27 assists in 28 games … Had career highs for points in a game (2-4–6, Oct. 18 vs. BGSU), multi-point games (24, including 13 multi-goal games), and four-point games (four) … Set school single-season record for points (79) and career record for game-winning goals (19) … Named CCHA Offensive Player of the Week four times … Named All-CCHA First Team for the second straight year … Named to the CCHA Super Six and NCAA West Regional All-Tournament Teams.
Why he'll win it: Arguably the best all-around player in college hockey, as adept defensively as offensively. Outran the next CCHA scorer — teammate Jeff Legue — by 20 points. A key on both the power play and penalty kill, it wasn't unusual for Kunitz to log nearly 40 minutes of ice time in a game.
Why he won't win it: Trails Colorado College's Peter Sejna in nearly every scoring category … by just this much. And Ferris State? Where's that?
Quotable: "He scores two huge goals, sets up the third goal, but when you look at the entire game … he's on penalty killing, he's blocking shots, and he was out there for the five-on-three as well.
"This is why I really believe Chris should win the Hobey Baker. Anybody could look at the numbers and see that Chris … is among the best players in college hockey, but unless you're here to see it live, to see what he does defensively … I don't think you really appreciate Chris's talents." — Ferris State head coach Bob Daniels, after FSU's 4-2 win over Northern Michigan in the CCHA Super Six.
Notes: Signed a two-year contract April 2 with the NHL's Anaheim Mighty Ducks as an unrestricted free agent, and is expected to report for training camp in September … Led the Bulldogs to their first-ever CCHA regular-season championship, and first-ever NCAA tournament appearance.
David LeNeveu
Team: Cornell.
Position: Goaltender.
Class: Sophomore.
Height, weight: 6-foot-1, 170 pounds.
Hometown: Fernie, British Columbia.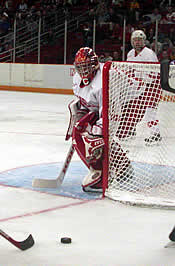 Statistics: 28-2-1, 1.14 GAA, .942 save percentage, nine shutouts.
This season's highlights: Led the nation in win percentage, save percentage and GAA. His nine shutouts are one short of the all-time NCAA single-season record, and eclipsed Ken Dryden's school record.
Why he'll win it: His numbers are ridiculous, and his goals against average, if it stands, will be the all-time NCAA record. He's as technically sound a young goalie as there is in the world, and he has risen to the occasion in every big game he's played. He's the only finalist playing in the Frozen Four. His goals against average is 0.66 better than last year's Cornell All-American, Matt Underhill.
Why he won't win it: There's a tendency to believe his numbers are helped by his great team defense, which, of course, is true to an extent. And will the voters return to rewarding forwards? The last three Hobey winners have been defensemen or goalies.
Quotable: "[On game day] it changes into total focus into what's going on that evening. It's not that I don't want to be talking to anyone, I just don't want to be talking to anyone that's not talking about that game. If it's about school or friends or what you're doing this summer, I don't want to hear it. I just want total, full concentration." — LeNeveu.
Notes: LeNeveu is 8-0 so far this season against NCAA tournament teams. … Cornell was 0-2 against Maine and Ohio State without him at the Florida Everblades Classic, when LeNeveu was with the Canadian World Junior team. He was the only collegiate player on the team, and the first college goalie to make the squad since Norm Foster in 1985. … Has 10 games where he's allowed just one goal. … Highest save total was 33-save shutout to close the regular season against Yale, and break Dryden's school record. … A second-round draft pick of the Phoenix Coyotes in 2002.