Fans watching Thursday's semifinals may feel a little bit of a déjà vu.
Michigan and Minnesota met last year in the one semi — en route to Minnesota's national championship — is memorable in a lot of minds.
But those who remember New Hampshire's run in last year's tournament identify most with its 7-2 loss to Maine in the other national semifinal. But on the way there, the Wildcats won a tough, emotional 4-3 victory over Cornell to advance to the Frozen Four.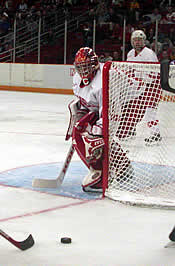 The win for the Wildcats was, in a way, old hat. It gave them a berth in the Frozen Four for the third time in five years.
For Cornell, though, losing that day could be considered one of the best building exercises that a team could experience. The Big Red, at the time, was 22 years removed from its last Frozen Four, and the appearance in the NCAA tournament was a sort-of aberration.
One year later, though, all of that has changed. Cornell turned out one of the best records in school history, captured the ECAC regular- and postseason titles, and fought off MSU-Mankato and Boston College in the East Regional to break the 23-year Frozen Four hex. Now the Big Red stands two wins away from erasing a 33-year drought by capturing its first national title since 1970.
Thursday, the Big Red will complete the second half of the semifinal déjà vu by meeting New Hampshire in the first national semifinal at noon Eastern time to kick off this year's Frozen Four. While last year Cornell was the underdog to a UNH team many thought would win the national championship, one year later, things are different.
Big Red head coach Mike Schafer firmly believes that last year's regional loss to UNH helped build his team.
"I think that going back to last year and playing UNH, and knowing they had a great team and we competed well with them, we stayed the course all season [this year] and gave ourselves the chance to get back to a regional final," said Schafer. "Now as you start to win, you go into every game expecting to win."
Schafer credits high expectations for his team's success throughout the season — the expectation to succeed, to play hard, to win.
So now the accompanying question is how far expectations can take a team.
"I think [Cornell's] more confident," said UNH coach Dick Umile, who arrives in this year's Frozen Four with expectations of his own: a national championship and nothing less. "They were a good team last year and they have a lot of good players back.
"Mike Schafer said it — they're playing with confidence. They're an experienced team with a lot of depth and their goaltending is playing well. They're the number-one team in the country and they're playing that way right now."
"We played good, solid teams all year long," said Schafer. "We played Boston University twice and Maine in the Florida [Everblades] tournament.
"Everyone [coaching in the Frozen Four] expected to get to the Frozen Four and be successful. Just because we're the new kids on the block, we don't sit here thinking anything except that we'd be successful."
On paper the teams look similar, both with strength in goaltending, where Cornell's David LeNeveu and UNH's Mike Ayers are setting records. Both teams have good speed and don't mind playing defensive hockey. Momentum will be one of the biggest factors; if either team can get that on its side, it could decide the game.
And if sheer excitement alone could win games for Cornell, the Big Red would be an automatic playing in its home state of New York.
"We're so excited [because] this is a dream come true," said Schafer. "It's the first time we get here in 23 years and it's in [Buffalo]."
Home state, home crowd, and a good team: an excellent formula for a champion. The deciding factor, though, could be Cornell's confidence.
"We've said all year, 'Stick with what got you here,'" said Schafer of Cornell's year-long battle cry. "This is where you want to be as student-athletes. You want to be in these kind of games, so let's go for it and enjoy it."