It's a rematch of last year's national semifinal Thursday evening, with 2002 titlist Minnesota taking on Michigan, back for its third straight Frozen Four. No matter the winner, youth will be served: neither team closely resembles last year's edition thanks to graduation, early departure, academics and injury.
Minnesota (26-8-9) vs. Michigan (30-9-3)
Thursday, 6 p.m. Eastern, HSBC Arena, Buffalo, N.Y.
University of Minnesota Golden Gophers
National titles: 4 (1974, 1976, 1979, 2002)
How reached Frozen Four: West Regional champion
NCAA tournament results: Beat Mercyhurst 9-2, beat Ferris State 7-4
The Minnesota Golden Gophers are two wins away from becoming the first team to repeat as national champions in 31 years, and, indirectly, they can thank the school's football team.
Coach Don Lucia has made it no secret that he thinks his team plays at its best when it gets physical deep in the offensive zone. At a point in the season when the Gophers were lacking in that tenacity, Lucia got some tackling dummies from the Minnesota football team and put them out on the ice.
Imagine the sight, then: Go into one corner, make a hit into a block of foam. Sprint across the rink to make another hit. Then another hit. Then go to the back of the line and wait for another round. Finishing those checks was a priority.
"It was awful," Gophers captain Grant Potulny said.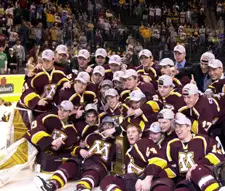 "I thought he was joking at first," Minnesota freshman Thomas Vanek said of his reaction when the dummies hit the ice.
The point of it all, Lucia said, was to change the Gophers' mentality, to get players to do things that were out of character. If they would just be more physical below the goal line, they'd produce more quality chances.
And here they are, at the Frozen Four, looking to become the first repeat champion since Boston University in 1971 and 1972. Minnesota plays Michigan — a repeat of last season's national semifinal, too — at 6 p.m. EDT on Thursday.
"The best thing about that drill was we hated it, but it taught our guys how to finish checks and it's paid off," Potulny said. "Our forwards are the difference in our team. Our defense is going to be solid every night, but if the forwards come out and make the defense pay on the other team, we have a good chance to win the game."
Perhaps the best example of that working in the Gophers' favor was the game many in the Minnesota locker room consider to be the season's turning point.
At Colorado College in early February, Minnesota was looking to gain ground on the WCHA-leading Tigers but was dealt a major setback in a 6-2 loss on Friday. The Gophers hadn't lost consecutive games since the 2000-01 season, but that possibility stared them directly in the face when they left the ice after two periods on Saturday down 2-1.
"That weekend, we wanted to catch CC in the standings and we came out Friday night and just looked terrible," said Vanek, the team's leading scorer with 58 points. "We woke up the next day and just got screamed at by Coach. We were watching tape and we were like, 'Geez, we played awful.' The next night, we came out and we got a 3-2 win. That got our confidence up that we can beat the best team in the nation at that time. From there on, we just kept on rolling."
Two months later, Minnesota is still standing because of the shift in thinking. It's a far cry from the team that started slowly, this team hardened by injuries to Potulny, Barry Tallackson and Matt Koalska.
"I don't know if I would have taken the odds if you would have asked me back in November if this team was going to win our WCHA playoff title, finish second [in the regular season] and be on to the Frozen Four," he said. "But that's a credit to our players, and again it gets back to, I think they developed some mental toughness with all the injuries.
"I think that mental toughness has always been there when you look at every time we lost a game, we found a way to come back and win or tie, never lost two games in a row. We said it all year, when teams back us to the wall, we play our best."
University of Michigan Wolverines
National titles: 9 (1948, 1951-53, 1955-56, 1964, 1996, 1998)
How reached Frozen Four: Midwest Regional champion
NCAA tournament results: Beat Maine 2-1, beat Colorado College 5-3
For the Wolverines, this weekend marks a return to the place where their 2002-03 season began. Michigan skated in the Xerox College Hockey Showcase Oct. 11-12 in HSBC Arena, beating Niagara 3-0 in the season opener before losing to North Dakota 5-4 in overtime of the title game.
Is that an advantage for Michigan?
"There was no environment," said head coach Red Berenson of the season-opening tournament, which drew fewer than 1,000 fans. "There was no one at the games.
"And, of course, we weren't anticipating being back in Buffalo."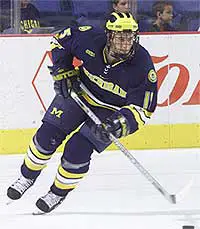 The more familiar territory for the Wolverines is the Frozen Four — no matter where it's played. This is Michigan's third consecutive trip to the Frozen Four; the Wolverines have made it to the NCAA semifinals nine times in all.
Much has been made about the road to Buffalo going through Ann Arbor, but this Michigan team didn't have its ticket stamped to go before the Midwest Regional or because of a home ice advantage. These Wolverines had to work hard to get to the Frozen Four — had to work hard just to get past Colorado College and the Tigers' amazing power play in the Midwest Regional — and they're well aware of what it took to get here.
"This is the year of the team at Michigan," said Berenson. "We are getting key contributions from our role players.
"But we are led by our key players, especially our freshman sensation Jeff Tambellini, [and captains] Jed Ortmeyer and John Shouneyia."
Tambellini leads the Wolverines in scoring with 26 goals and 18 assists, but more importantly the CCHA Rookie of the Year possesses smarts, skill, and finesse — and will eventually develop into the kind of player who can make or break a game. And he shoots from anywhere, leading the team with 182 shots on goal for the season. No one else on the squad comes close.
Ortmeyer (17-16–33) and Shouneyia (7-28–35) both play solid offense as well as defense, each is fearless in the corners, each will sacrifice his body to block a shot.
But the Wolverines are more than the sum of three terrific players. Michigan is a team that does everything but tend the net by committee. Seven Wolverines have netted 10 or more goals this season. The fifth-leading scorer on the team is the fourth-line center, David Moss (14-17–31). The blue line, led by junior assistant captain Andy Burnes, had to compensate for the offseason departure of Mike Komisarek and midseason loss of Eric Werner.
And in net, the Wolverines possess a star in the making in Al Montoya (.911 SV%, 2.32 GAA), who turned 18 less than two months ago and who has proven beyond a doubt that he not only has ability, but that he's a playoff, clutch goaltender. Montoya was named the CCHA's Super Six MVP after allowing just three goals in two games, en route to Michigan's second consecutive post-season league title.
"I said at the start of the season that I wasn't worried about goaltending," said Berenson of his young netminder, "and I'm still not."
But forget that Michigan finished second in the CCHA, came into the Super Six and Midwest Regional as the underdog. Even if the Wolverines hadn't had to work hard to get to the Frozen Four, even if the Wolverines weren't a team of blue-collar role players, even if the Wolverines didn't have Tambellini, they'd still have something that no other team in the Frozen Four has.
Michigan's secret weapon is Red Berenson.
This is Michigan's 13th consecutive NCAA appearance, thanks to Berenson, an NCAA record by a single head coach. Berenson has averaged 26 wins per season in his 19 years as Michigan head coach, and is currently in 12th place on college hockey's coaching win list, one of 14 head coaches in the game's history to have amassed 500 or more victories.
Berenson's Wolverines have captured the national title twice (1996, 1998), and he is directly responsible for the enthusiasm this current team brings with it to the Frozen Four.
"How can you not respect a coach like that?" said sophomore forward Eric Nystrom. "He rebuilt the Michigan hockey program, played and coached in the NHL, was president of the NHL Players' Association.
"Our love of the game comes from the coaching staff on down."
So if Michigan, the longshot of this Frozen Four tournament, has one advantage over Minnesota, New Hampshire, and Cornell, it's not on the bench, but behind it.