You could almost see it in Cornell coach Mike Schafer's eyes.
Halfway through the press conference after his Big Red trounced Minnesota State in the East Regional semifinal, a Minnesota State reporter asked Mike Knoepfli and Shane Hynes if the ease at which they handled MSU's attack surprised them, "since Minnesota State was faster and more skilled than the teams they see in the ECAC."
Schafer struggled to maintain his dispassionate visage, but when it was his turn, he made sure to respond:
"The ECAC prepared us very well for this game. There are teams with plenty of skill. Vermont and Yale are very fast, Dartmouth is talented. Our conference has gotten us ready."
He did not even have to mention Harvard, a team ranked higher than Minnesota State that was 37 seconds away from defeating the Big Red the previous weekend in the ECAC conference final — a feat the Mavericks could not approach.
In other words, stop with the "EZAC" crap.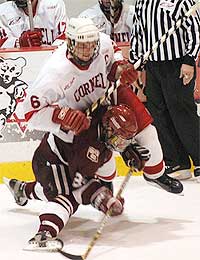 Cornell not only enters the Frozen Four with the usual burdens of being the number-one overall seed, but it also, more than any other team, represents its conference. The Big Red's 30 wins — as well as its nation-leading defense — seem to require an asterisk until it produces on the NCAA stage.
The ECAC has long been the stepchild to the other three major Division I conferences. Its "Big 4" interconference record is a laughable 21-51-10. A cursory glance at recent tournament history is not flattering either. Cornell is the first ECAC team to make the Frozen Four since St. Lawrence did in 2000. Should it advance, it would be the first team since Colgate in 1990 to qualify for the finals. The last ECAC NCAA champion, Harvard, came the year before that.
Individually, the Hobey Baker Award has left the ECAC behind as well. While Harvard won three of the first 10 Hobeys, since Lane MacDonald skated away with it after the Crimson's championship season, nobody from the conference has been deemed the nation's best player.
This track record follows Cornell whenever it takes the ice, from whispers that the team is overrated to a devaluation of the fact that goaltender David LeNeveu's 1.14 goals against average is the best in NCAA history.
"I think if we were talking about an offensive player scoring the most goals against ever, there would be no question who would get the Hobey," Schafer said. "David deserves to be the Hobey Baker winner."
The ECAC has endeavored to improve its national reputation. The conference moved its championship tournament from sleepy Lake Placid, N.Y., to urban Albany in order to draw more fans. It finally inked a television contract, broadcasting a weekly game on the YES network and NESN. The official website was redesigned and made sure to post press releases and its Player of the Week awards in a consistent, timely fashion.
The on-ice product has progressed as well. Besides Cornell's excellence, Yale and Dartmouth flirted with the top-15 and the Bulldogs' Chris Higgins received attention as one of the nation's elite talents, evidenced by the Montreal Canadiens selecting him in the first round of last year's NHL draft.
Harvard continued its stride towards recapturing past glory. Although it did not defeat a ranked opponent this year, it impressed enough to remain in the Top 15 all season and earn an elusive at-large bid for the conference. The Big Red's road to the Frozen Four was rockier than its record indicated and it suggests that Cornell will have company among the nation's elite soon.
"That's what you build for," Schafer said. "If you look around the ECAC there are a lot of teams that are building towards that, and there's a lot of great young talent. It's big for our program but it's also big for our league and the up-and-coming teams in our league to play well."
Most impressively, the Ivy League has carried the conference, even though its rules place it at a competitive disadvantage. Those six teams adhere to more rigorous admission standards, cannot offer scholarships, and play fewer games than other schools.
The reward? Criticism for requiring the "student" in "student-athlete."
The middle of the conference may be interchangeably mediocre, and Princeton was putrid, but were the Tigers that much worse than, say, Lake Superior? The Big Red felt no competitive disadvantage.
"We expected to win," Schafer said after securing his Frozen Four bid. "We expected to have success. Some of our toughest games this year, like a 2-0 win over Brown and their goaltender, and the Harvard game last week, have proven to be great preparation."
Cornell skates on Thursday to dispel the stigma that accompanies representing the ECAC. Should it win, it will not only prove its own squad's merits but also elevate the reputation of its league-mates, who, save Harvard, Dartmouth, and a freak performance from the Raiders' Steve Silverthorn, ultimately withered when facing Stephen Baby, Doug Murray, and company.
The Big Red have all the elements of a national champion. It is a veteran team that can skate, play strong defense, score the timely goal, and almost never relinquishes a lead. And Cornell has one of the best fan followings in the country.
The conversion process has already begun:
"Cornell has as good a power play of any team we've played this year," said Minnesota State coach Troy Jutting. "And we played Colorado College.
"They don't give you much," he added. "And when they do, they've got good strong goaltending."
Boston College's Jerry York made a blunt assessment after falling in overtime in the East Regional: "Cornell is an excellent hockey team."
Schafer certainly welcomes the well-deserved encomium from his vanquished foes. However, he also eagerly anticipates the fast-approaching day when he can stop defending his conference cronies.
"I've said all along that our league has taken a lot of heat and a lot of crap from a lot of other leagues around the country and media," he said. "There's only one way to not, and that's to win. We've got a lot of good young teams and we don't need to be talking about that any longer. We have proven ourselves and there will be other teams in the coming years that will prove themselves as well."
"EZAC" will dog whomever emerges from the conference for a long time. In truth, its overall skill level and depth do not equal, say, the WCHA, but Cornell has a chance to prove that when a team from the ECAC is good, it can be very good.
Just like the WCHA, CCHA, or its semifinal opponent, New Hampshire, from Hockey East.