In one corner, the number-one team in the nation, sporting the top defense and a Hobey Baker finalist in goal. In the other — the favorite, New Hampshire? Maybe not, but Thursday, Cornell will look to silence the naysayers while simultaneously exacting revenge for a loss in last year's NCAA quarterfinals. The Wildcats, meanwhile, seek to move a step closer to their first national championship.
Cornell (30-4-1) vs. New Hampshire (27-7-6)
Thursday, noon Eastern, HSBC Arena, Buffalo, N.Y.
Cornell University Big Red
National titles: 2 (1967, 1970)
How reached Frozen Four: East Regional champion
NCAA tournament results: Beat Minnesota State 5-2, beat Boston College 2-1 (2ot)
It may have taken an extra 22 minutes, but Cornell got to the Frozen Four in dramatic fashion, a double-overtime win over Boston College. After a 23-year wait, the feeling is great for the team and its fans.
"We're excited in the fact that it's a dream come true with the Frozen Four, the one time we get it here [at Cornell] in the last 23 years that it's in the state of New York," said head coach Mike Schafer. "It's a great opportunity for us."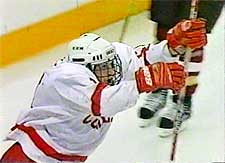 Before the weekend started, many focused on the hoopla of the first-round matchups, but that was over within minutes for the Big Red.
"When the decision came down, I wasn't just going to sit there and say I was happy with it," explained Schafer. "I wanted to say my piece and be done with it. I didn't want to come out on that [ESPN selection] show and say we're happy with it, I wanted to say we were disappointed and then concentrate on who our opponent was going to be."
That was Minnesota State, and after some tense moments, the Big Red pulled away. Then Cornell was taken to overtime before defeating Boston College. Now the Big Red are going to the Frozen Four.
"The regional was a great preparation for where we're going right now," said Schafer. "We got to play a very difficult team in Minnesota State-Mankato and obviously a great team in Boston College in a double-overtime game. It was fantastic hockey at the regional."
The Big Red now face New Hampshire, the team that ended Cornell's season last year in Worcester, Mass. In that matchup, the Big Red fought back to tie in the third period, but fell when the Wildcats scored a late goal.
"I expect a very similar game to the game we played [against Boston College]," said Schafer. "They're a great defensive team, they've got Ayers in goal and they play a similar style to Boston College. They have great team speed and great transition, so we'll try to do the same things we did tonight and I expect it to be a low scoring game."
Leading into the semifinal, the Big Red are looking to put some misconceptions about them aside.
"Teams think we're defensive," said Schafer. "We come after teams and force them to make plays. Everyone thinks we're big and slow, let them keep thinking that. Our defense is mobile."
But then, perhaps they might not be that different.
"For the fans who saw us play [UNH] last year, we haven't changed a lot as a hockey team," said Schafer. "We've got good size and a physical hockey team. We pride ourselves on defense and have great goaltending.
"In those kind of aspects with the great defense and goaltending, we very much mirror the University of New Hampshire. They've got a great defensive team and Ayers is playing very, very well. We know that they have a lot of speed and they are great on transition. We'll obviously be trying to limit that and I'm sure with our down-low play that they'll try to nullify that. Much like Boston College, it'll be a contrast in styles."
Last year's loss to New Hampshire has been one of the driving forces for the Big Red, so a rematch is only fitting.
"Going back to last year and playing against New Hampshire and knowing that they had such a great team, we felt that we competed very well with them," said Schafer. "We felt coming into the season that if we stayed the course and stayed focused we'd give ourselves the opportunity to get back to a very similar situation — a regional final.
"With the success we had throughout the course of the year, all the coaches will tell you that once you start to win, a good sign for your team is you go into every game expecting to win and nothing else. That's the difference from a year [ago], going against New Hampshire last year and wondering what the outcome might be versus going in and expecting to win the regional."
The No. 1 Big Red might be expected to win this time, but Cornell is taking it all in stride.
"We've played good solid teams all year long," said Schafer. "We played against Boston University here this year. We played Maine down in the Florida [Everblades] tournament. Obviously, we just played two good solid teams, one from the WCHA and Boston College. All those teams have had success.
"I don't think that just because we're the new kid on the block that we go in and are going to wonder what's going to happen. I believe our guys have full expectations like everyone else of going in and having success."
Everyone now knows the Big Red — the goaltending, the defense, the heart and grit. It's time to get down to business.
"Our goal wasn't just to get to the Frozen Four, it was to win a national championship, and our guys are ready for that," said Schafer.
University of New Hampshire Wildcats
National titles: 0
How reached Frozen Four: Northeast Regional champion
NCAA tournament results: Beat St. Cloud State 5-2, beat Boston University 3-0
New Hampshire enters the Frozen Four as perhaps the best balanced of the four teams. The Wildcats miss by only the slimmest of margins being Hockey East's top ranked overall team in all four of the major statistical categories: 3.80 goals per game (second only to Boston College's 3.82), 2.22 goals against per game (1st), 24 percent on the power play (1st) and 86.9 percent (1st) on the penalty kill.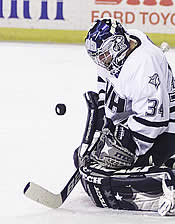 They're also on a defensive roll, having shut out their opponent in two of the last three games.
"We're playoff ready," says UNH coach Dick Umile. "The team is playing well here in the playoffs. We're looking forward to playing the No. 1 team in Cornell. They're a big, strong, skilled team with great goaltending and good specialty teams so it's a good challenge."
Although Cornell goaltender Dave LeNeveu may win the Hobey Baker Award on Friday, UNH netminder Mike Ayers is hardly chopped liver. Ayers (2.14 GAA, .927 Sv%) was named Hockey East co-Player of the Year.
"There's no question that goaltending gets you here," says Umile. "It's going to be a great matchup between those two goalies."
While veteran lineups, great defense and great goaltending are common traits, the two teams otherwise provide a contrast in styles. Cornell's game is to use its size and strength along the walls and down low to wear down opponents while UNH likes to use its speed to beat teams on the transition. Which is not to say that either team is one-dimensional.
"Playing down low has become important for all the teams the last couple of years," says Umile. "In our league we have some teams that are very good at it. … UMass-Lowell does it probably as good as anybody. So you get a lot of experience at it in your own league. We're going to have to handle Cornell [down low] because they're one of the better ones at it but it's not like it's unfamiliar territory for us.
"[At the same time], I know Cornell is a big, strong team and people talk about them playing along the wall, but they've got a lot of skill to go along with it."
As a result, this matchup could see both teams trying to play their opponent even when the game is played in "their" style, while trying to capitalize when it reverts to "our" game. In other words, a reprise of the Boston College-Cornell double overtime regional game.
"Boston College has a lot more skill," says Umile. "They've got pure goalscorers on their team. The difference between UNH and BC is that we might not have as many pure goalscorers, [but] defensively we might get the edge and that starts from the net out."
One of UNH's best pure goalscorers, Lanny Gare (22-29–51) is doubtful after injuring his shoulder on the first shift of the regional's championship game.
With his likely absence offsetting UNH's offensive strength, the deciding factor could be Frozen Four experience. While Cornell is the only new face at this year's festivities, UNH players are looking to avenge their disappointing performance in the 2002 semifinal.
The margin of victory could be having been in that environment last year.
"I think that's about all we did last year," counters Umile with a rueful laugh. "We were in the environment and that's about it. I think we were excited to be there last year, but we didn't play very well.
"We have senior leadership and I think there's only one guy on our team who wasn't with us last year, so they understand it and are more comfortable going there and having more of a purpose. When I say 'purpose,' I mean not being excited going out there, but going to win."