New Hampshire leading scorer Lanny Gare took the stage at the Frozen Four on Wednesday, telling the media at HSBC Arena that he will not play in Thursday's semifinal versus Cornell. That seemingly answered the most asked question he and UNH coach Dick Umile have faced since winning the Northeast Regional 10 days ago.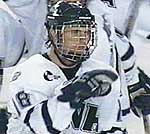 Gare suffered a dislocated shoulder 35 seconds into UNH's 3-0 win over Boston University in the regional final and his condition since then has been doubtful.
"I think it has been kind of known that I can't play [Thursday]," said a disappointed Gare. "This is a day that I've had circled on my calendar since last year [when UNH lost in the semifinal to Maine] in Minnesota."
But even the words from the horse's mouth wasn't enough to convince Cornell's Doug Murray.
"I don't think UNH is going to be without Lanny Gare, no matter what they say," said Murray. "Come playoff time, guys just go out and play, so I think we'll see him out there."
But what if Gare doesn't play?
"If he doesn't actually play, then I'm sure they'll have a 13th guy who maybe isn't Lanny Gare but will still be good enough to do the job."
Watch the Start
Michigan coach Red Berenson doesn't appear to be as concerned with Minnesota's recent trend of starting fast as he is in preventing the Wolverines from falling into another semifinal hole.
Against the Gophers last season, Michigan found itself trailing 3-0 early in the third period after a pair of Grant Potulny goals and one from Jeff Taffe. With Minnesota scoring inside 89 seconds in each of its last three games, Berenson is wary of a hot Gophers start in Thursday's semifinal.
"If we don't get started, then we won't have a good finish," he said. "If we're going to have a chance in this game, we're going to have to get off to a better start."
Michigan captain Jed Ortmeyer wasn't sure how far to go in describing the Wolverines' feelings toward that game and what it means to them now.
"I think there's definitely a sense of motivation. I don't know if it's so much revenge," said Ortmeyer, who scored to bring Michigan within 3-2 a year ago. "It's two different teams. They lost key players and so did we. But they ended our season last year, and I think guys remember that."
Minnesota's recent early-game surge is just part of a late-season run that's helping to erase memories of a skittish start. The Gophers were 9-4-4 at Christmas and hadn't had much jump to start games.
"If it happens, wonderful," Gophers coach Don Lucia said of an early goal in the semifinal. "I know that it was frustrating in the first half of the year. We couldn't score a goal in the first period, and it was embarrassing. It just seemed like we'd always give up the first goal."
Minnesota defenseman Paul Martin said: "It would be huge. They're going to come at us the whole game and for us to get on the board early, it's going to come down to the forwards and how far they're going to carry us. If they get that puck in deep and work it down low against their defensemen, that's when we're successful. We've got to come out flying."
New Kids on the Block
With UNH, Michigan and Minnesota all veterans to the Frozen Four, it led Cornell head coach to label himself and his team the "new kids on the block."
Schafer's Big Red return for the first time in 23 years, but according to the players, that hasn't added angst.

"We're very comfortable being here," said senior Stephen Baby. "As for the 1980 team and the fact that it's been a long time since we've been here, we'd rather be compared to the 1970 [the only NCAA team to go undefeated and Cornell's last national champion] team."
With the Frozen Four being played at the HSBC Arena, Cornell is geographically the closest to home-ice advantage. The Ithaca, N.Y., campus is three hours from Buffalo, which may provide some semi-familiar settings for the players.
However, the arena itself, with a capacity in excess of 18,000, is nothing most of the Big Red have been exposed to.
"The building is almost so big that you won't notice how many people will be in here tomorrow night," said Cornell goaltender David LeNeveu, who himself saw plenty of big crowds this year playing for Team Canada in the World Junior Championships. "We're so focused on the job at hand that it doesn't matter whether we're playing in this arena or on a pond outside."
Finding the Niche
To get to this point, Michigan has found its niche and run with it, Ortmeyer said.
The senior forward was pressed on what exactly that niche was.
"We realize how important it is to play at both ends of the ice, tightening up in the [defensive] zone," Ortmeyer said. "Guys are doing all the little things, winning battles. It comes down to hard work and finishing checks and burying our opportunities."
Freshman goaltender Al Montoya figures into the mix as well. "When you come to Michigan, you expect to be in games like this," he said.
Added Ortmeyer: "We know we have a goalie that can stand in there and keep us in the game. So we're not going to try to do anything fancy or get out of our game. I think that's when we're successful."
Weber Starts for Gophers
Lucia didn't duck the question this time.
The Minnesota coach named sophomore Travis Weber his starter in goal for Thursday's game. When asked for a similar response before the West Regional final against Ferris State, Lucia was evasive.
"The reality is his finger was probably a lot more injured than what we let on," Lucia said of Weber, who missed the WCHA Final Five with an injured digit on his catching hand.
"The two-week break really allowed it to heal 100 percent. He's been our No. 1 goaltender all season long, and had he not been injured he would have been playing all the way up until now."
Sophomore Justin Johnson filled in for Weber at the Final Five and was named to the all-tournament team. Johnson started the regional final, but was pulled after allowing two first-period goals.
A reporter suggested the Gophers may have the fourth-best goaltending in the Frozen Four. "Sounds similar to last year, doesn't it?" Lucia responded, a reference to questions on Adam Hauser's ability before the goaltender won the national championship last season.
Two Out of Three Ain't Bad
This year's host city, Buffalo, and HSBC Arena can be classified under "rookie." This is the first time the town has played host to an NCAA Frozen Four; it is considered by the NCAA as a "non-traditional" city (Anaheim, Calif., was another non-traditional host, in 1999).
So with the rookie experience go some growing pains, and the staff working the event experienced that early Wednesday in media credentialing.
The process is being staffed by one of the Frozen Four's three hosts — the Metro Atlantic Athletic Conference (Niagara and Canisius are the others).
According to those doing the distributing, one out of every three credentials didn't print, leaving some media types waiting at the gates for a while.
Baby Please Don't Go
Berenson has been known to speak out against players leaving school before they've completed their eligibility. He did so again Wednesday when talking about players his school has sent to the NHL.
"The kids that graduate, the players like [goaltender] Marty Turco that stayed four years, have proven there's no rush to play professional hockey," Berenson said. "I fight that battle every year. So it's nice to see the kids that stay and pay their dues … we'd have an even better team if our senior class were here, and even parts of our junior class. But that's the reality of college hockey today.
"Last year, Minnesota's seniors stayed — I thought that was the difference. They had [defenseman Jordan] Leopold and [forward Johnny] Pohl and their senior class was intact and they stayed. And I'm glad they did."
Deflections
The Minnesota contingent is trying to get as far away as possible from being labeled as the favorite in Thursday's game.
"I don't think anyone's made us the favorite," Gophers captain Potulny said. "Last time I checked, Cornell was the No. 1 team in the country. I don't even know if you can call us a favorite in this [semifinal] game. Michigan came into our building in the middle of the season and beat us in our own rink. And to be honest with you, you beat Minnesota in Mariucci Arena and you've played a pretty darn good game."
A Sign?
The rolling doors in the bowels of HSBC Arena were made by Cornell Iron Works.