Instant replay disappointed Cornell fans when Shane Palahicky's apparent goal was disallowed in the first period in the early semifinal. But not-so-instant replay was pure joy for New Hampshire fans later that afternoon at Buffalo's Dunn Tire Park, home to the Buffalo Bisons, the AAA affiliate of the Cleveland Indians.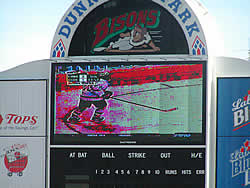 A few hundred hockey fans got a chance to relax in the sunshine, listen to the UNH and Cornell bands, and watch a repeat of the afternoon's semifinal on the stadium's video scoreboard. Concession stands were open and doing a brisk business.
"This is pretty cool, huh?" asked Quinnipiac athletic director Jack McDonald when he stopped by to check out the scene. "The UNH band is here, the fans are relaxing in the sun, and having a beer."
"This is the greatest thing, to be out in the sun, and watching the replay," Wildcat fan Brad Todd from Newmarket, N.H., said as he was enjoying himself under cloudless skies with some fellow UNH supporters.
Companion Michelle Morin added, "… and seeing things we missed!"
For Michigan fans, the gathering was more of a tailgate party for the second semifinal.
"We've got better attendance here than the opening day for the Detroit Tigers," exclaimed Eric Abrams, an Ann Arbor, Mich., native and a Syracuse University student.
"I saw a 'Cuse [basketball] championship on Monday, and I'd like to see a Wolverines championship here on Saturday," he added, while fellow Michigan supporters who feared a jinx tried to shush him.
Abrams also had high praise for Buffalo organizers. "The local committee has done a great job this year. This is a terrific place to have the Frozen Four."
UNH fan Warren Ikawa, of Hampton, N.H., had sunny comments to match the sunny skies. "This is like a family. [Fans] root for their own teams, but they also just love hockey and love being here."