Dr. Heechin Chae entered Joe Exter's room at Spaulding Rehabilitation Hospital to deliver the prognosis. "You will never play hockey again," the doctor told him.
Considering Exter, 24, was clinging to life just days earlier after a near-fatal head injury, this bit of news might have seemed irrelevant. But it wasn't.
Joe Exter lives to play hockey.
In fact, during his career at Merrimack College, especially this past season, the senior goaltender and his team reached heights nobody ever expected.
As Dr. Chae exited the room, Joe began to cry.
But then the team captain inside him took over.
"I gave him the same speech that I gave the team at the start of the season," an alert and determined Exter said last week while continuing his remarkable recovery at his Cranston, R.I., home.
"I told him, 'I've got to trust you and you've got to believe in me. If we don't do that, I'm not going to get healthy and you're not going to do your job.'"
Before last month's frightening high-speed, on-ice collision with Boston College's Patrick Eaves, which left the all-star goalie in critical condition with a skull fracture and severe brain swelling, the visionary in Exter adopted "Trust and Believe" as his team's catch phrase, trying to convince the youthful and underrated Warriors they could compete in college hockey's toughest league.
"I loved that I came to Merrimack. Merrimack is the place I had to go," says Joe. "That was the place that needed me. And the place I needed."
Now throughout the close-knit hockey and Merrimack College communities, "Trust and Believe" has become the slogan for his miraculous recovery.
"When the doctors tried to tell me that I won't play again, the first thing I told them: 'I will be back,'" declares a grinning Exter, who attended both his team's awards banquet and the senior class formal this weekend.
Witnessing his incredible progress since the shocking March 7 accident, his many loved ones — both related and otherwise — can attest he's already back.
"I don't think he had a grasp of what he went through until the morning he was crying at Spaulding," says Exter's girlfriend, Erin Van Bruggen, a fellow Merrimack student. "We watched him in a coma for 10 days, and none of us will ever look at him the same way again."
'Come on Joe, Move'
Donna Exter doesn't mince words when reliving those terrifying 25 minutes her son lay on the Boston College ice, violently convulsing with blood streaming from his left ear. At the same time, her husband, Mark, has had difficulty finding any.
"I thought he broke his leg or something, because he was moving," says Donna Exter, who anxiously prayed alongside her son during his entire 28-day hospitalization. "Then it got so quiet. When I got down to the ice, I thought he was dead."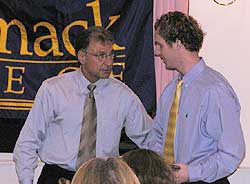 Meanwhile, her husband slowly made his way down from the top of Conte Forum's stands, muttering to himself, "Come on, Joe, move" every few steps.
"I've seen him go down before, but I've always seen him get up," Mark Exter recalls. "I'd walk and wait, and kept on going closer. But he didn't get up this time."
As his parents blankly stared, holding each other closely on the ice, medical teams from both Merrimack and Boston College worked on Exter. After suffering the seizure, he went into respiratory arrest as a result of the head injuries caused when his helmet was knocked off as he collided with Patrick Eaves, with his unprotected head striking the ice twice.
Exter's older brother David was also in the stands that night. The 26-year-old is still amazed at the surreal scene of players from both teams squaring off in skirmishes that typically follow hard contact on a goaltender while both medical staffs frantically attempted to save his brother's life.
"Originally, nobody knew what was happening and people told me there was no blood," David Exter says. "Somebody then told me they thought his throat was cut. I was asking people down there if he was going to die.
"Then they turned him over and there was all that blood. It wasn't the type of blood when you cut your hand. This was blood."
While his team played out the game's final minutes, Exter arrived in critical condition at the intensive care unit of Beth Israel Deaconess Medical Center in Boston.
"There's no way people understood how critical a situation it was," David Exter says. "I'll always remember going to the hospital listening to the BC play-by-play and color commentator saying how embarrassing Merrimack was acting. In my opinion, Merrimack reacted the way they should have reacted.
"For those guys to keep harping on that, I knew they didn't understand we were in a life-threatening situation. They're talking about winning a hockey game and this kid could die."
"Hockey's a great world, a great game and it should be played. This was an accident … I don't know how, but something so horrible like this was a wonderful experience … If [that boy] loves to play hockey, he has to play."
— Donna Exter
Dr. Matthew Smith, father of Merrimack assistant captain Lucas Smith, accompanied the Exters at the hospital, volunteering to serve as a medical liaison for the family as a retired neurosurgeon and expert in the area of head injuries.
"The immediate treatment of life-saving measures was really on the ice, especially the intubation and administration of oxygen," says Dr. Smith, soon welcomed as part of the Beth Israel team of doctors working Exter's case. "He had a seizure and that in itself can cause respiratory arrest, so I think they saved his life on the ice when they put the tracheal tube in."
According to Smith, Exter suffered an extensive fracture above the left ear, extending behind it to the base of his skull. The force of the blows against the ice also caused severe bruising and hemorrhaging of the brain followed by rapid swelling, the cause of most deaths in this type of head injury.
Fearing the Worst
For the first 24 hours, doctors put Exter in a coma-like state through sedation drugs and used a paralyzing agent to relax his chest wall in order to stimulate his natural breathing. The procedure is also designed to help relieve pressure buildup in the brain, allowing for the patient's condition to gradually improve.
However, the next night, just as his team was lining up for Game 2 of their playoff series at Boston College, Exter slipped back into critical condition. His family feared the worst.
"I didn't want to see him like that," says Mark Exter, who like his elder son refused to step inside the intensive care unit room with Joe still unconscious.
"It felt to me like we were having a big wake with all the people around," he says. "It was great that they were there, but I didn't want to see him like that and be thinking like that."
In the waiting room, his father anxiously squeezed the tennis ball Joe had written "Believe" on as part of a preseason inspiration project he planned for the team ("I wore the letters off that one pretty good," Mark Exter says). Meanwhile, Joe's girlfriend, Van Bruggen, clung to the one reading "Trust" at his bedside.
The 22-year-old Minnesota native had received an alarming call in Florida moments after the March 7 game from Lucas Smith, Exter's roommate for four years at Merrimack. He told her not to board a cruise ship bound for a Bahamas spring break retreat with her four roommates.
Van Bruggen was back in Boston by game time the next night and, along with his mother, has rarely left Exter's side.
"Even though it seemed so hopeless many times, Joe would never want us to give up — ever," Van Bruggen says. "So I just kept that in my mind."
When Exter began regressing, doctors installed a catheter in the front of head to drain the excess fluid and ease the swelling pressure. By the end of Merrimack's second and final game against BC, he was upgraded to serious condition, still in the coma state, but stabilized for the next several days.
"The most effective treatment of brain swelling is hyperventilation or blowing off carbon dioxide," Smith, the neurosurgeon, explains. "The only way you can do that effectively is by (temporarily) paralyzing a patient. They used that agent for the better part of a week and also drained his fluid spaces, which is another effective way of treating brain swelling. Those two measures were the things that kept Joe alive."
Van Bruggen admits peace of mind was hard to come by during those early days as coaches, players, family and friends held a makeshift vigil inside the sixth-floor waiting room of Beth Israel's west campus.
"We knew he was fighting, but it was scary," she says. "Medicine can do a lot, but it was a concern that, yeah, he was alive, but was he going to be Joe? Is he going to be the Joe we knew before the accident?"
Faith, Family, Friends
As Beth Israel doctors weaned Exter off both the sedatives and paralyzing agent, Merrimack's most valuable player slowly regained consciousness.
"I would tell him to move his eyebrows, and he would," Van Bruggen still says excitedly.
Noting her son's deep religious beliefs, Donna Exter maintains that Joe's condition significantly improved within hours of the priests from Merrimack College holding a prayer service over his intensive care bed.
"It's not like a broken bone that will take six weeks or eight weeks to heal," she says. "It's just wait and see with a lot of unknowns.
"But that Sunday night when the priests went to pray, his eyes started moving. Then a little bit more on Monday, and on Tuesday he was just like Superman!"
Within days, Exter was listed in fair but stable condition and moved to Beth Israel's intermediate care unit. Although still contending with difficulties swallowing and talking, his condition continued to improve so rapidly that in less than two weeks after the injury, Exter was under the care of Dr. Heechin Chae, a specialist in brain injury therapy, across town at Spaulding Rehabilitation Hospital.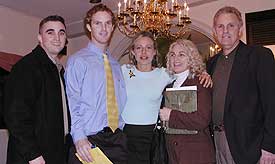 In both hospitals, at the college and on the school's Web site, the Exters have been inundated by thousands of cards, letters, gifts and prayers from concerned people the world over. The envelopes — many of which are yet to be opened — reveal return addresses as far away as Orono, Maine; Anchorage, Alaska; and Frankfurt, Germany; and as close as a local fourth-grade classroom.
People whose lives don't even involve hockey simply felt the need to express their deepest concerns through prayers, poems, art and inspirational thoughts.
"I never realized there were so many printed cards that had exactly what you needed to hear at the moment," Donna Exter says. "But I guess the one that really stuck with me throughout the early days was one sent by a BC fan. It quoted somebody who said, 'Sometimes it takes more courage to live than to die.' That said it all."
Bitterness towards Patrick Eaves or the sport that nearly led to their son's death is nonexistent in this thankful family.
In fact, Donna Exter was told the story about a mom of a 6-year-old hockey player who attended the Merrimack game Joe was hurt, and how that mom was thinking of stopping her son from playing hockey any more.
"Oh no, she can't do that," said Donna. "Hockey's a great world, a great game and it should be played. This was an accident … I don't know how, but something so horrible like this was a wonderful experience … If [that boy] loves to play hockey, he has to play."
Back home last week wearing the autographed New York Rangers game jersey delivered to him in the hospital by former Cushing Academy teammate and NHL star Tom Poti, Joe Exter began thumbing through the baskets of letters in astonishment.
He could understand why his high school buddy drove eight hours round trip from New York City just to spend 30 minutes with his family, but Exter continued to fail to realize just how many lives were enormously affected by his tragic injury.
"The worst for me is when I see what everybody around me has had to go through," he says. "I know the only reason I survived is because God took care of me. He blessed me with people here, he blessed me with the people at Merrimack, he blessed me with the people on my team; and he blessed me with my coaches."
Van Bruggen recalls the emotional reaction she and Exter's family had to a letter from Greg Lauze, a former Merrimack player who transferred to Boston College before the season began.
"Greg Lauze wrote something that made most of us cry," she says. "It said he thought Joe was such a great person and that he respected him. That card meant a lot because Greg left Merrimack and I know how that made Joe feel. For all those guys to write something like 'I love you' and that they respect him as a person was just unbelievable."
Future in Hockey
His mental faculties intact, Exter earned his release from Spaulding Hospital in less than a week by putting a complete effort into every trial and test, no matter how mundane or annoying.
"For the last swallow test I took, they sat me next to two older people," he recalls. "They said to me, 'Hey, we read about you in the paper. You have a problem.' I go, 'What? No I don't!'
"They'd ask me to do something and I just did it because I wanted to prove to them I was going to get better. They didn't believe I was going to. It was like somebody telling me, 'You can't stop a hockey puck.' The first thing I do is get on the ice and show them I can."
Exter made a deal to return to Chae's office every two weeks for the time being for further testing. Having completed all his core classroom requirements in December, he will receive his degree May 18 with the rest of the Merrimack senior class.
Soon he will begin work with a therapist in the Cranston area as well as with Merrimack trainers with the goal in mind that in two months he'll be back on the ice resuming his hockey career.
Scouts from the pro teams that were chasing him to sign a free-agent deal before the injury have started to inquire about his condition, asking whether a complete recovery and comeback is possible.
"Dr. Chae's never been to a hockey game in his life," he says. "And Dr. Chae doesn't know me that well yet. I'm either going to coach or play hockey, and that's it. My future's in hockey, whatever God wants me to be, coach or player.
"God puts you in positions that you can handle," Exter adds. "He also surrounds you with people who are going to get you through it. That's what happened, and I have gotten through it."