Yale forward Chris Higgins has decided to forgo his final two years of collegiate eligibility to sign a three-year deal with the Montreal Canadiens, the organization announced Thursday. Terms were not disclosed.
"It's a dream come true, obviously," said Higgins during a media conference call Thursday afternoon. "To be under contract with this team is an amazing feeling. Right now, I just want to work as hard as I can in the local rink, the local gym … I want to do everything I can to make the team as soon as possible."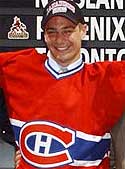 Asked for key reasons in his decision, Higgins said, "I just felt like I was ready to move to the next level, and become more adapted to the rigors of professional hockey. Since I want do to that for a living, I want to get started as soon as possible."
Higgins, who — like his father — has been a Montreal fan all his life, leaves behind a Yale team that, had he stayed, would have returned four of its top five scorers after averaging 4.27 goals per game in ECAC play and winning more games (18) than all but three teams since coach Tim Taylor took over in 1976.
"I talked to a few of the guys [on the team] about my decision, just the ones that were still around school, working out, and they were real excited for me," said Higgins. "But I'm definitely going to miss the camaraderie with the guys at Yale … seeing them around the classroom, living with them all the time. I'll miss that closeness our team had."
Higgins gave Yale coach Tim Taylor the news on Wednesday morning.
"We wish Chris the very, very best," said Taylor. "It was a difficult and emotional decision for him, and it's certainly been very emotional around here today. He's just a wonderful young man.
"It's just unfortunate that, in this day and age, 19- and 20-year-old men have to decide between turning pro and making a lot of money and continuing with their education, because they're both important to their lives."
Taylor said earlier this week that he hoped, if Higgins left early, that it would be directly to Montreal, without any stopover at Hamilton of the AHL. However, with Hamilton on the verge of reaching the Calder Cup finals, Higgins will be assured of some very difficult competition for any openings on the Habs' roster.
"Right now, I'm just going to work out and come to camp, work very hard over the summer, and just see where I'm at against the players," said Higgins. "Hopefully it works out."
Higgins, who will turn 20 on June 2, was a Hobey Baker finalist, All-American and ECAC Co-Player of the Year last season. He led the Bulldogs in all major offensive categories as a freshman (14 goals, 17 assists, 4 power-play goals) and sophomore (20 goals, 21 assists, 6 power-play goals), and was both ECAC and Ivy League Rookie of the Year in 2001-2002.
Even with all of those accolades at Yale, Higgins' exploits wearing red, white and blue at the 2002 IIHF World Junior Hockey Championships might've been the biggest factor that convinced the Canadiens that he belonged in bleu, blanc, et rouge. Higgins scored two goals and assisted on four others in the tournament, leading Team USA in scoring and impressing Montreal enough that it engineered a trade with Edmonton to nab Higgins with the 14th overall pick in last June's NHL Draft, making him the first-ever Eli to go in the first round.
"We are pleased to have reached an agreement with Chris Higgins," Montreal GM Andre Savard said in a statement Thursday. "Chris is a young talented hockey player. He showed character and leadership qualities with Yale and with the US team at the World Junior Championship this season. We look forward to seeing him at training camp."
And as Montreal waits with high expectations for its top draft pick arrive, Yale must now prepare for next season without its star.
"He's a great player and a great young man," Taylor said. "He was a great Yale hockey player for the two years he was here. He did a lot of wonderful things for us. We're going to miss him a great deal."