After five years of living under someone else's rule, the nine remaining members of the MAAC hockey league became independent this summer. The resulting conference — Atlantic Hockey — is set to take its first leap as its inaugural season commences.
No venture of this sort comes without headaches. Even the simple stuff, such as finding office space and making sure phone, fax and data lines work, proved difficult for new commissioner Bob DeGregorio. A veteran of college hockey and a former Hockey East commissioner, DeGregorio moves into Atlantic Hockey with one major goal: improvement.
"Hockey hasn't been a priority for these schools. I want to help make it a priority on their campuses."
— Bob DeGregorio, Atlantic Hockey commissioner
The most noticeable area for improvement begins with investment in the sport. When the MAAC was formed, it was believed that a hockey program could operate successfully at the Division I level without dedicating full resources to the program. Issues such as scholarships, quality of rinks and overall financial investment are things that concern DeGregorio.
"The biggest thing that needs to be changed is the thought process," said DeGregorio. "Hockey hasn't been a priority for these schools. I want to help make it a priority on their campuses.
"Out of the nine members, only four have their own rinks. In order to be competitive, you have to be able to attract the best athletes. On-campus rinks help do that."
On Wednesday, Sept. 24, the nine Atlantic Hockey athletic directors came together to discuss the commissioner's concerns. On the agenda were scholarships, expansion and the tournament format. Scholarships have long been an issue for these teams, thanks to a limit of 11 — seven short of the NCAA cap. Expansion to include schools such as Robert Morris and Navy has been discussed for the past 18 months.
Surprisingly, both of those issues were tabled, meaning that more than likely there will be no short-term changes.
The tournament format, though, was finalized. First, all nine teams will be included. The opening rounds of the tournament will be played at one site — Army. Friday night will be a play-in game between seeds No. 8 and No. 9, Saturday will be the quarterfinals and Sunday the semifinals. The following week would be the championship game, most likely played at the highest seed's venue to ensure attendance. At press time, this format had not been verified with the league.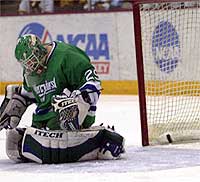 Stepping outside of the front office for a moment, the on-ice action for Atlantic Hockey promises to be exciting. Parity is the order of the day, according to most coaches, with an order of finish nearly impossible to predict.
One thing is certain: Mercyhurst is the favorite to capture its fourth straight regular-season title. The club that rolled through the regular season a year ago will be challenged, but the ability to return a top-notch goaltender and a potent offensive attack is enough to give the early nod to the Lakers.
Past that, it's a crapshoot. Will Sacred Heart continue its strong play with its graduation losses? Can UConn's revamped lineup carry the Huskies back to glory? Will teams like Canisius or Bentley take the step forward to prove they're serious contenders?
Those questions will be answered in the coming months, but for now, we'll have to guess. Your guess is as good as mine, but mine is listed below. Click on each club's name for its individual team preview.
1. Mercyhurst
Location: Erie, Penn.
Head coach: Rick Gotkin (16th season)
Last season: 22-13-2 (19-5-2 MAAC, 1st)
Returning/graduated lettermen: 17/5
Key Losses: Adam Rivers, F; Marc Chambers, F; Mike Muldoon, D; P.J. Hiscock, F
Key Recruits: Pat Henk, D; Scott Champagne, LW; Kyle Gourgon, C; Jordan Wakefield, G
2. Quinnipiac
Location: Hamden, Conn.
Head coach: Rand Pecknold (10th season)
Last season: 22-13-1 (18-7-1 MAAC, 2nd)
Returning/graduated lettermen: 22/4
Key losses: Brian Herbert, F; Dan Ennis, D; Wade Winkler, D; Matt Erhart, D
Key Recruits: Mark Hallam (transfer/Iona, Sr.); Dustin Hughes, C; Reid Cashman, D

3. Bentley
Location: Waltham, Mass.
Head coach: Ryan Soderquist (second season)
Last season: 15-19-0 (13-13-0 MAAC, 5th)
Returning/graduated lettermen: 21/2
Key Losses: Marcus Willy, F
Key Recruits: Brendan McCartin (transfer, Fairfield), RW; Carmen Posteraro, C; Kyle Larman, D
4. Holy Cross
Location: Worcester, Mass.
Head coach: Paul Pearl (ninth season)
Last season: 17-18-1 (14-11-1 MAAC, T-3rd)
Returning/graduated lettermen: 20/6
Key Losses: Brandon Doria, F; Chris Smith, D; Joel Robbins, D
Key Recruits: Jimmy Sixsmith, LW; Sean Nappo, C/LW; Rob Godfrey, D
5. Sacred Heart
Location: Bridgeport, Conn.
Head coach: Shaun Hannah (eighth season)
Last season: 14-15-6 (13-10-3 MAAC, T-3rd)
Returning/graduated lettermen: 17/8
Key Losses: Martin Paquet, F; Eddy Ferhi, G; Les Hrapchuk, D
Key Recruits: Jason Smith, G; Charles Villeux, D; Pierre-Luc O'Brien, F; Kalen Wright, D; Todd Spencer, D; Chris Connerty, F (transfer from Iona)
6. Canisius
Location: Buffalo, N.Y.
Head coach: Brian Cavanaugh (23rd season)
Last season: 12-21-4 (11-13-2 MAAC, 7th)
Returning/graduated lettermen: 20/5
Key Losses: Tom Wnuk, D
Key Recruits: Max Buetow, G; David Kasch, F; Joey Coccomiglio, F; Michael Cohen, D; Bret Norris, D
7. Army
Location: West Point, N.Y.
Head coach: Rob Riley (18th season)
Last season: 15-16-0 (13-13-0 MAAC, T-5th)
Returning/graduated lettermen: 17/3
Key Losses: Joe Dudek, F; Nic Serre, F, Derek Hynes, F
Key Recruits: Ryan Cruthers, F; Casey Bickley, D
8. Connecticut
Location: Storrs, Conn.
Head coach: Bruce Marshall (16th season)
Last season: 8-23-3 (7-16-3 MAAC, 10th)
Returning/graduated lettermen: 12/9
Key Losses: Kurt Kamienski, F; Ron D'Angelo, F; D.J. Miller, F
Key Recruits: Bill Magnuson, F; Eric Helstedt, F; B.J. Crum, D; Scott Tomes, G
9. American International
Location: Springfield, Mass.
Head coach: Gary Wright (20th season)
Last season: 10-20-2 (9-16-1 MAAC, 9th)
Returning/graduated lettermen: 15/6
Key Losses: Mike Bujdos, D; Andy Luhovy, D; Alex Walsh, D
Key Recruits: Jeremy Leroux, F; Jeason Lecours, F; Ben Ellsworth, D; Ryan Carr, D