There's a reason coach Don "Toot" Cahoon earned Hockey East Coach of the Year honors last season. The Minutemen roster included only five juniors and seniors combined, yet he led the team to a midseason national ranking, its highest finish in the league standings, a Hockey East quarterfinal sweep of Maine at Alfond Arena, and a 4-4 third-period tie with eventual champion New Hampshire in the semifinal game.
And although that's now ancient history, there's reason aplenty to believe that more good things are in store for the Minutemen. Most notably, they graduated only Tim Turner and Kelly Sickavish, the latter of whom they lost to injury for the second semester anyway. If you add in the natural maturation of a young roster, UMass has all the makings of a home ice team.
The first bump in the road, however, came when Matt Anderson, who scored 31 points in his freshman campaign, underwent late-summer surgery.
"He's a significant player for us, playing on the top line with [Greg] Mauldin and [Stephen] Werner," Cahoon says. "Right now he looks to be a redshirt.
"Having said that, we still bring back the majority of the players we had and we've added a couple players to the equation."
Without Turner and Anderson, the scoring punch becomes thin. Only four forwards remain who achieved double figures in points last year. This begs for the emergence of a returning player.
"Tim Vitek is a player who enrolled as a 17-year-old," Cahoon says. "We're looking toward his junior year as being a breakthrough type of season for him."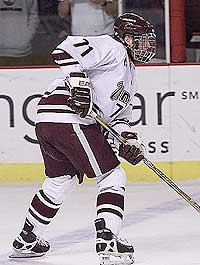 The mother of all breakthrough seasons came on the UMass blue line last year when Thomas Pock moved back from forward. His 37 points led all league blueliners and earned him a berth on the All-Hockey East team.
While the team struggled for a while without Sickavish in the lineup, the extra ice time likely sped the maturation process for the young group which now includes only one senior other than Pock, Nick Kuiper.
"The biggest change last year obviously was moving Thomas Pock back to the defensive position and he's going to stay there," Cahoon says. "We have gained a lot of experience because of the kids who played minutes who wouldn't have gotten that time if Sickavish hadn't gone out.
"We've also added [rookie] Mark Matheson. He'll go through all the trials and tribulations that freshman defensemen go through, but we think he's got the game sense and skill level to be able to play at this level."
In goal, Gabe Winer seized the job early last season and, just a freshman, surprised many by playing in 31 games. Although his numbers — a 3.10 GAA and an .871 save percentage — weren't overly impressive, he still was an important cog in the team's rise in the standings.
"You hope that all that playing time helped him," Cahoon says. "Numbers are deceiving, too. Gabe, for the most part, played extremely well in critical situations. That tells you a lot about a goaltender. He was a very good third-period performer and a good big-game performer. Hopefully, he can build off of that."
Building will continue to be the operative word this season. Many a program has taken one step forward only to slide two steps back, unable to deal with a measure of prosperity. If the Minutemen can keep the positive momentum going, though, they could be on the verge of something special.
"Everyone realizes across the board that it's a great league and no one is going to roll over," Cahoon says. "That should keep them very honest. But more than anything, these players in our program have to realize that you start all over from scratch.
"You're not going to pick up where you left off. There's no such thing; no one does it. Starting from scratch and keeping it simple and moving it forward, as we would any year regardless of the finish the previous year, is the only way that I know to keep these guys honest and keep them working their hardest to become the best team they can become by the end of the year."