Northeastern senior goaltender Chanda Gunn might be a two-time Patty Kazmaier nominee, a U.S. national team selection, and an All-American, but none of those achievements make her immune to self-doubt, or to a constant desire for improvement.
When Gunn turned Hockey East on its head by stopping 46 of 47 shots in a 1-1 tie at defending league champion Providence, her feelings were dominated by the sting of the coaches' preseason poll, which picked Northeastern dead last in the six-team league.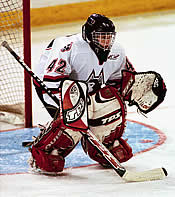 "[The tie] makes being No. 6 seem a little less …" Gunn cuts that sentence short to elaborate on the sting of No. 6. "Being No. 6 makes you feel like you're the worst team in the world and the worst player in the world."
Even Gunn, who led the nation in save percentage in just her first year as a starter, feels at times like she's the worst player in the world. That is her nature — always looking for improvement.
"She's a rink rat, and I mean that in a complimentary way," said Providence coach Bob Deraney following the tie. "She loves to play the game. She's always looking to play better, and she's never satisfied with her ability, and these are the kind of results you get."
Given Gunn's high standards for herself, the end of her sophomore year was tough to handle. A season that started 23-2-0 ended 4-4-1. In a flash, Northeastern lost the Beanpot to Harvard, the ECAC East regular-season title to Niagara and the ECAC East postseason title to Providence. In retrospect, Gunn looks at her sophomore year as one where she just showed up to play, where she did not know what to expect in her first year as a starter.
Then there was her junior year. Northeastern went 9-18-4, the worst mark in school history. The Huskies, picked to finish second in Hockey East that preseason, placed fifth and out of the playoffs. The season was colored by off-ice problems, which became very public when head coach Joy Woog cut captains Pamela Pachal and Michelle Lorion in January. The two fired public criticism back at Woog, and Lorion filed a lawsuit.
As for Gunn, she still placed third nationally in save percentage, but that was not enough to rescue Northeastern from its offense, which ranked 25th in Division I. Northeastern lost to Boston College for the first time ever in the Beanpot semifinals by a 3-2 margin, and Woog said Gunn was no longer the stone wall she had been in the past.
"My junior year I struggled a little bit." Gunn said. "I went through a couple of things off the ice and I lost my competitive edge."
That baggage seemed a distant memory when Gunn made those 46 saves against Providence. The edge was back.
"I think anyone who plays against us will tell you, she'll steal a game," said Woog, who bubbled with joy all day. "We're proud to have her on our team."
Few players in college hockey have been more valuable to their teams than Gunn, the lone senior on a squad where 20 of 23 players are freshmen and sophomores. She has been entrusted to prevent youthful defensive mistakes from showing up on the scoreboard.
So far, she has been up to the challenge.
"This year, it's my senior year, I definitely want to win. I definitely know that we can. We have a good team, good players, and a good coach." Gunn says that last word with emphasis, sticking up for Woog. "I'm a lot more competitive. I'm definitely there to win games. I'm not there just to play well."
Expect Gunn to continue to make strides both on the ice and off it. Before interviewing after the Providence game, Gunn twice claimed she wasn't any good at giving interviews. Turns out she proved her own harshest critic wrong once again.