Minnesota announced today that sophomore forward Natalie Darwitz, the leading scorer in Division I women's hockey, will likely miss the remainder of the the 2003-04 season due to torn ligaments in her right elbow. The injury was suffered on Jan. 10 during the No. 1 Gophers' 4-3 overtime victory at No. 4 Minnesota-Duluth.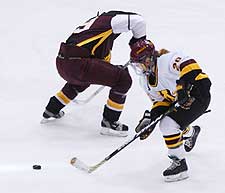 Darwitz, a native of Eagan, Minn. and an Olympic silver medalist in 2002, leads the nation at the time of her injury with 41 points and 26 assists. Her seven power play goals lead Minnesota and place her third in the nation. She was the USCHO.com Offensive Player of the Week on Oct. 28 for her role in the Gophers' sweep of No. 5 Wisconsin.
Darwitz was a member of the Gophers' top player unit which featured four 2003 U.S. national team players — herself, Krissy Wendell, Lyndsay Wall and Kelly Stephens. All but Stevens were also members of the 2002 Olympic team. Darwitz had played most of the season on a top line with Stephens and co-captain La Toya Clarke.
This is not the first time Minnesota has suffered from a serious injury to one of its Olympians. In the 2002-03 season, Wendell missed the last six games of the regular season and the WCHA tournament with a fractured clavicle, though she recovered in time for the Frozen Four.
As a freshman, Darwitz led Minnesota with 33 goals and 35 assists and earned distinction as a First Team All-American, WCHA Rookie of the Year and First Team selection, and a Patty Kazmaier finalist. Prior to coming to Minnesota, she led the U.S. with seven goals scored during the 2002 Winter Olympics.