For the second straight year, Norwich will be the host institution for the NCAA Division III men's ice hockey championship.
The semifinal games will be played Friday, March 19, at Kreitzberg Arena.
Top-ranked St. Norbert (26-2-2) will face Plattsburgh (23-4-3) in the 3:30 p.m. game, while defending champions Norwich (24-3) will face arch-rival Middlebury (25-3) at 7:00 p.m. on Friday.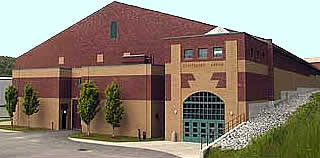 Norwich was chosen because "they were the highest remaining seed that met the site selection criteria," according to Chris Schneider, NCAA assistant director of championships. The NCAA men's D-III hockey championships manual states that "the highest seeded team that meets all site selection criteria will be selected as the host institution, provided geographic proximity is maintained."
Middlebury has announced that it will host the women's D-III championship, but no official word from the NCAA had been released at the time of the men's announcment.
The championship game will be Saturday night at 7:00 p.m.
This will be the third time that Norwich has hosted, and the first time that any institution has hosted the Divsion III men's championship in back-to-back years.
Last year, Norwich knocked off Oswego, 2-1, in the championship game. Norwich also hosted in 1999, when Middlebury defeated Wisconsin-Superior, 5-0, to win the title.
Complete ticket information will be available Monday afternoon on the Norwich University web site at www.norwich.edu and at 802-485-2500.